Turns Out Hayden Christensen's Daughter Doesn't Even Know He's Star Wars' Darth Vader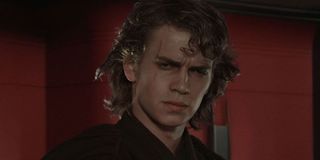 Playing one of the most iconic movie villains of all time definitely comes with some bragging rights or if you're a parent, the unique responsibility of having to figure out when to tell your child that all their classmates might grow up hating you. That might be why Hayden Christensen hasn't yet let his daughter know that he's Anakin Skywalker, a.k.a. Star Wars' Darth Vader.
Even though he's famous, it seems like Hayden Christensen is committed to making sure his 6-year-old daughter with ex Rachel Bilson has as normal a childhood as possible. That apparently means easing her into the idea that her dad is actually pretty infamous. Rachel Bilson recently told US Weekly that while their daughter knows her parents are actors, they're waiting a while before they make her completely aware of the full extent of her dad's career highlights:
It is safe to say that Career Day at school might take on a new meaning for their daughter (especially if Hayden Christensen decides to bring his lightsaber). And the actors won't be able to keep their daughter in the dark forever. While Hayden Christensen has taken a pretty low-key approach to his career since his Star Wars days, he hasn't stayed out of the spotlight entirely. He's also made sure to show fans how much the series means to him.
The Star Wars prequels have played a unique and often controversial role in the franchise. Once viewed as a blight on the beloved film series, they're now viewed a bit more favorably by many fans (including, believe it or not, Kanye West). With the renewed interest in the Star Wars prequels has come news that Disney+ will be delving further into Obi-Wan Kenobi's story with a limited series, and it was just announced that Hayden Christensen will be reprising his role as Darth Vader in the show as well.
Though we don't know exactly how big a role he'll play in the new series, only that Obi-Wan Kenobi and Anakin Skywalker's reunion will be "the rematch of the century." Still, it seems like a given that his daughter will soon have to learn that her dad is also Darth Vader. It may be a difficult trade-off, but it seems like one that's well worth it, since it gives everyone, including Hayden Christensen, a chance to delve into the character's backstory one more time.
We don't know for sure when Obi-Wan Kenobi will debut, though Disney did just roll out a confirmation that a ton of new Star Wars content is coming. Maybe that news will help Hayden Christensen and Rachel Bilson explain to their daughter why her dad is kind of a big deal.
Your Daily Blend of Entertainment News