Hayden Christensen And Rachel Bilson Have Split After 10 Years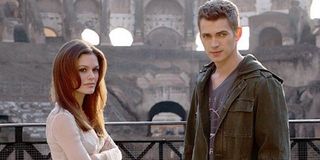 New reports say Rachel Bilson and Hayden Christensen are the latest celebrity couple on the outs. People close to the actors have confirmed that the pair split up a couple of months ago after ten years in a relationship. Supposedly, Bilson is now living in Los Angeles, California, while Christensen is residing in Toronto, Ontario. Bilson and Christensen share a two-year-old daughter, Briar Rose, but there is no word yet what the custody arrangement looks like at this time and will look like moving forward.
Back in 2008, Rachel Bilson and Hayden Christensen became engaged for a while, but then in 2010, they privately called off the engagement and parted ways for a few months. They eventually got back together and had their daughter. However, they did not get engaged again or marry. So, it is not the first time Rachel Bilson and Hayden Christensen have called things off; still, it seems this breakup most likely will be the last.
This time, the word on the street is that Rachel Bilson and Hayden Christensen separated because of major differences in their lifestyles. Someone close to the pair told E! that Bilson is a social butterfly who likes to spend a lot of time with her colleagues. Christensen, on the other hand, places a high value on his time alone. They made it work for years, but eventually, it became too difficult for them to balance each other's competing interests. From the sounds of it, Bilson may have been the one who called things off, as she decided it would be easier and healthier to move on.
Although Rachel Bilson and Hayden Christensen kept a relatively low profile for celebrities, they did like to praise each other in interviews during happier times. For example, Bilson has said how "supportive and considerate" Christensen was during her pregnancy, and she referred to him as "my partner, my support." Similarly, Bilson once touted herself as "a good girlfriend" in another interview. She explained that she always put her relationship with Christensen first, and she enjoyed doing things like cooking for him and then watching a movie together.
Furthermore, Hayden Christensen previously told reporters how much he loved being a parent with Rachel Bilson. Then this year, Bilson wished Christensen a brief but thoughtful happy birthday on Instagram, writing "Happy birthday, handsome." Apparently, Bilson was also close to Christensen's family, and spent a lot of time with them.
Rachel Bilson gained fame on The O.C. in the early 2000s, while fans of the Star Wars franchise got to know Hayden Christensen as Anakin Skywalker in Star Wars: Episode II -- Attack of the Clones and Star Wars: Episode III -- Revenge of the Sith. Bilson and Christensen met in 2008 on the set of the film Jumper.
Rachel Bilson and Hayden Christensen's separation adds to a growing list of celebrity couples who have moved on to Splitsville in the past year. Most recently, Fergie and Josh Duhamel revealed they decided to divorce after eight years. Also, Anna Faris and Chris Pratt recently announced they plan to separate legally. Plus, Angelina Jolie and Brad Pitt got divorced last year after a decade in a relationship.
While it is sad to hear Rachel Bilson and Hayden Christensen are calling it quits, it appears these stars of the aughts are moving on for the right reasons. Hopefully, the separation has not had any negative impact on their young daughter.
Your Daily Blend of Entertainment News
Thank you for signing up to CinemaBlend. You will receive a verification email shortly.
There was a problem. Please refresh the page and try again.