10 Best Action Movies Of 2020, Ranked, Including Netflix's The Old Guard And More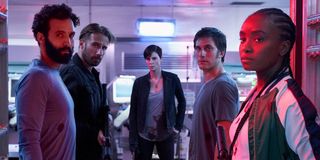 In a year where many people may have spent more time indoors than they're accustomed used to, the world needed action now more than ever. Unfortunately, there were some big-ticket items on the docket for action that were sidelined due to the pandemic, so audiences were tasked with seeking out things that could deliver at least the punch of James Bond, if not the class and high-quality suits.
Fortunately, 2020 still had a relatively good year in action, and there are certainly more than a few released that will stand the test of time as quality movies that will be revisited for generations to come. The following is a list of the best 10 films, ranked from good to greatest, with a bit of additional commentary on what made these movies such fun rides from start to finish.
10. Mulan
Even if 2020 wouldn't have happened, it's hard to believe Mulan wouldn't have delivered some of the best martial arts fight scenes we'd see all year. It's not often that Disney goes this hard on the action and, while in a normal year this film may have not made the list due to other offerings, I absolutely think it deserves a spot on the list of top action films of 2020. I could probably watch Liu Yifei kick objects at people all day, so it's a good thing this movie gives us plenty of it.
9. Honest Thief
Honest Thief is a movie that, to be completely honest, may be familiar with some viewers. Liam Neeson is the aged action hero in a plot that revolves around him being a badass and dealing out justice where needed. It won't win an Oscar but, at its heart, it's exactly what a classic action film is. It doesn't have to be great, it just has to deliver action in spades, and this movie certainly does that. Go in with the right expectations, and this is certainly a film worthy of a spot on the list.
8. Jiu Jitsu
Jiu Jitsu is the definitive movie for anyone who is a super fan of Nicolas Cage. I guess if there were one thing I could say to sell you on this movie, it's that there's a scene where Cage respectfully bows to a murderous alien Predator-type, and then the two proceed to have an epic katana fight. That's just the tip of the iceberg when it comes to the zany off-the-wall action in this movie, all of which seems to be at least somewhat tongue-in-cheek.
7. Project Power
I can't say Project Power was the best superhero movie I saw in 2020 (not many will), but I will say it was one of the better action movies I saw. The high-intensity action mixed with superpowers made for some especially entertaining sequences, with the fire in the apartment being one of the highlights that had me on the edge of my seat. I also liked the idea that everyone only had their powers on a temporary basis, which forced the movie not to just shower viewers with CGI heavy scenes but to rely on some good old close-quarters combat to keep the action rolling.
6. The Old Guard
The Old Guard was one of the most hyped Netflix (opens in new tab) releases of the year, and with good reason. The world got to see Charlize Theron bringing her badass energy to an action film yet again, in a Highlander-esque ensemble that really went for it with the gun battles. It was great, and it will be even greater if Netflix is able to get a sequel going, especially after that teasy post-credits scene.
5. Tenet
Christopher Nolan's Tenet was obviously going to make the list, and the action that happens in it is great. With that being said, I mentioned earlier that story isn't always important when it comes to a likable action film and, in this case, the plot did seem to get in the way of some people's enjoyment in the movie. For that reason, it's definitely a Top 5 contender for the best action film of 2020, but I can't in good conscience give it any higher than that.
4. Birds Of Prey
Birds Of Prey (And The Fantabulous Emancipation Of One Harley Quinn) certainly ranks on the higher end of this list and features some of the most brutal action scenes we saw in 2020. I don't think I'll ever be able to rest my legs on anything where there's a space in between my ankles and thighs for fear of someone jumping down and snapping them in half.
3. Bad Boys For Life
It took damn near two decades for Bad Boys to get another movie, but it finally happened and was well worth the wait. The action was top-notch, the tension between Mike and Marcus was a nice touch and overall, it was like the franchise hadn't lost a step in its time away. I guess if there's one complaint I can lodge, it's that I didn't like the main song from the soundtrack nearly as much as "Shake Ya Tailfeather." But hey, not everything is perfect.
2. Extraction
When I saw a kid get thrown off a roof in Extraction, I knew shit was going to get intense. In terms of balls-out action, this movie does not disappoint in the slightest, though I did have beef with it killing off so many characters that I would've loved to seen make a return in the sequel. I also thought it was a bit crazy how Chris Hemsworth's Tyler Rake managed to survive that whole ordeal at all, but I guess if John Wick can keep on ticking after three movies, he can, too.
1. Wonder Woman 1984
2020 was a downer year for film, but even one of the worst years on record managed to save its best or last. In Wonder Woman 1984, Gal Gadot is kicking ass, taking names, and reminding us along the way that movies are coming back in a big way in 2021, even if the future of theaters may still be up in the air. Even so, this one is definitely the newest on the list but without question, the best bang for your buck when it comes to superhero action.
Any picks you think were left off the list? Feel free to throw them into the comments below, and continue to stick with CinemaBlend for more on the best of 2020, and everything ahead in movies and television.
Mick likes good television, but also reality television. He grew up on Star Wars, DC, Marvel, and pro wrestling and loves to discuss and dissect most of it. He's been writing online for over a decade and never dreamed he'd be in the position he is today.
Your Daily Blend of Entertainment News
Thank you for signing up to CinemaBlend. You will receive a verification email shortly.
There was a problem. Please refresh the page and try again.