Black Beauty Ending: How It Differs From The Previous Versions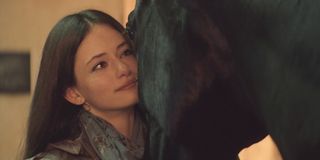 CinemaBlend participates in affiliate programs with various companies. We may earn a commission when you click on or make purchases via links.
Black Beauty is Anna Sewell's beloved classic novel. It's the story of a horse's journey and the good and bad people he encounters on the way. The story is like a PSA against animal cruelty and for being respectful of the animals that give us so much. It's also a story of hope and perseverance. Black Beauty is a timeless tale that has been adapted in many ways, including a few film versions. In 2020, Disney+ released a modern version of the story, and it yet again reinvented Black Beauty (and this time her story). Each new Black Beauty ending adds new depth and layers to this profound story.
I watched three of the most recent film adaptations of Black Beauty (which are all available to stream or rent on various platforms) and explored how their Black Beauty ending compares to the original 1877 novel and the other film versions.
The Black Beauty Book Ending
For those who are unfamiliar with the book, the entire story is told from Black Beauty's perspective. Readers follow Beauty through several different homes, jobs, illnesses, health, happiness, and sadness. It feels less like following an animal's journey, and more like any poor mistreated orphan story. The book starts its final journey when Beauty ends up with a kind cab driver and his family named Jerry.
Jerry becomes very ill and cannot drive a cab anymore. He and his family move away so that he can work for Mrs. Fowler as a coachman. Beauty is then sold again and continues to move from one bad situation to another, until his body is badly worn down from being overworked and abused.
Eventually, a young man, Willie, and his grandfather, Thoroughgood, see Beauty at the market. Despite being in bad shape, they see the potential with him and buy him. At Willie and his grandfather's farm, Beauty is able to recover back to health. They then plan to sell him to three ladies in search of a horse. Their coachman, Joe Greene, goes to see the horse before purchase.
Joe recognizes Black Beauty from when he was owned by Squire Gordon (one of Beauty's first homes and one of his best). The book then ends with Beauty telling the readers how his home with Joe and the three ladies is his final home. He stays there for the rest of his life and lives a happy life.
The Black Beauty Ending In The 2020 Film
Disney+'s Black Beauty reinvents the story by making it modern and taking it from England to America. One of the many changes involves turning boy Joe Greene into girl Jo Green (Mackenzie Foy). Black Beauty also goes from a male horse to a female horse (voiced by Kate Winslet). This version makes many changes, including the Black Beauty ending. It keeps Beauty's brief time with Jerry and his family, and then shows Beauty living with a few cruel owners, except for a kind stable boy.
The stable boy Manuel (Nahum Hughes) alerts the police of the inhumane treatment of the horses. The police raid the place and the animals are freed. Jo shows up at the stable and takes Beauty. It's revealed prior to their reunion that seven years have passed since Jo and Beauty were together. Jo brings Beauty to Birtwick. She has worked hard and bought the place, and she works full-time to rehabilitate horses. While trying to find Beauty, she found the other former Birtwick horses, like Merrylegs.
Jo is also now married to George Winthorp (Calam Lynch), the kind young man whose family once leased Beauty. Black Beauty 2020 follows in the book's footsteps by ending with Beauty's dialogue explaining how she lived there until her last days and had a happy life.
The Black Beauty Ending In The 1994 Film
The 1994 Black Beauty ending is probably, of the films listed, most faithful to the book ending. We meet kind Jerry (David Thewlis) and his family. Then Jerry becomes ill, and he must sell Beauty (voiced by Alan Cumming). Beauty is mistreated by several different owners until he meets Farmer Thoroughgood (Niall O'Brien) and his grandson. This film changes from the source material in Beauty spots adult Joe (Ian Kelsey) several times before they reunite.
Also in this version, the three ladies don't exist. Instead, Joe works for farmer Thoroughgood and Beauty moves in with him, his grandson, and Joe. They become his forever home.
The Black Beauty Ending In The 1971 Film
The 1971 version of Black Beauty ends with Beauty going to war when he ends up with a man named Gervaise (Peter Lee Lawrence). Gervaise dies in battle. Because of his bravery, Beauty is allowed to leave the war. He's shipped back to England and then sold to cruel owners. One day, a friendly old woman and her employee spot Beauty being mistreated.
They intervene and buy him. It turns out that the employee is Joe as an adult. The farmer is also Anna Sewell (Margaret Lacey), book author. Once again, Beauty spends the rest of his days with Joe, and this time with Anna Sewell on her farm.
The Evolution of Jo/Joe Green
Interestingly, Joe wasn't an important character in the Black Beauty book. Reading the book, I didn't see him as being any more important than any other of Beauty's kind owners or caregivers. I saw Squire Gordon and Birtwick Park being Beauty's most significant place and caregiver/owner. Joe became important because he is tied to Beauty's happiest times. However, with each new film adaptation, Joe becomes more important to Beauty's story. The 2020 version basically makes Jo and Beauty kindred spirits.
In an interview with Polygon, Black Beauty 2020 director and screenwriter Ashley Avis shared this about making Jo and Beauty's bond even stronger this time around:
Personally, I think making Joe/Jo a more important character with a stronger tie to Beauty really helped make the ending more satisfying. Due to the films, it feels like Beauty belongs with Joe/Jo, and at the end, he finally finds a place where he is loved and appreciated.
Which Version Captures The Essence Of The Book And Black Beauty Best?
All different film versions of Black Beauty that I've seen have taken the source material as more of a blueprint than something to faithfully follow. The 1971 Black Beauty shouldn't even be called Black Beauty, it should be called Black Beauty-ish. It takes the general concept of a black horse with various owners and goes mad. It only includes a few elements of the book, but this is the most unique version in my opinion. It also doesn't include Beauty's narration, so he feels less vital than he does in the other versions.
The 1994 version comes closest to being a direct adaptation, but it takes a few liberties itself, like how it incorporated Joe into the story. It's also a bit more comedic at the beginning and seems to hint towards Beauty having a crush on Ginger. The 2020 version of Black Beauty combines the book elements with its own identity. It has the spirit of Black Beauty, even if it is not a straightforward adaptation. I also preferred Winslet's Beauty narration.
Mackenzie Foy said this about the modernization of Black Beauty in an interview with Cowboys & Indians:
I believe each Black Beauty adaptation has some things to admire, but if you want the most faithful version, the 1994 Black Beauty is the best choice.
The 2020 Black Beauty is available to stream on Disney+. The 1994 and 1971 versions are both available to rent or buy on Amazon Prime (the 1971 version is temporarily available to stream on Prime Video, but will leave the service at the end of December). Stream Disney+'s Black Beauty here (opens in new tab).
Your Daily Blend of Entertainment News
Spent most of my life in various parts of Illinois, including attending college in Evanston. I have been a life long lover of pop culture, especially television, turned that passion into writing about all things entertainment related. When I'm not writing about pop culture, I can be found channeling Gordon Ramsay by kicking people out the kitchen.
Your Daily Blend of Entertainment News
Thank you for signing up to CinemaBlend. You will receive a verification email shortly.
There was a problem. Please refresh the page and try again.