Why Sacha Baron Cohen's Borat 2 Director Tried To Convince Him Not To Make The Sequel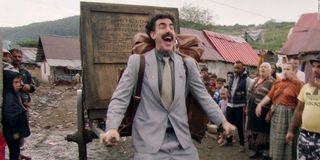 Most fans knew before they even watched Borat 2 that they'd be in for a wild ride. After the long-awaited sequel dropped on Amazon this October, the internet was abuzz regarding its most memorable scenes -- if nothing else, that's proof of its success. For Borat 2's director, though, the film's accomplishments weren't a sure bet -- in fact, he initially tried to convince Sacha Baron Cohen not to make it.
Borat Subsequent Moviefilm, or Borat 2, had the second biggest digital premiere of the year. That's an impressive enough feat as is but even more so when you consider how many films had to shift to digital release this year due to COVID-19. But Jason Woliner, who directed the film, was initially hesitant to jump on board. He told Insider that he had some serious concerns about the prospects for the sequel:
Jason Woliner's concerns are understandable -- there have been plenty of terrible comedy sequels. He later explained that Sacha Baron Cohen's own perspective on the film was what ultimately helped him decide to get on board:
While Jason Woliner's concerns were valid, they turned out to be unfounded where Borat 2 is concerned. In addition to being a huge success with fans, critics - including CinemaBlend's own Sean O'Connell - praised the film for its brash, if controversial, approach to comedy.
Do you think Borat 2 broke the sequel curse? Let us know in the comments!
Your Daily Blend of Entertainment News