Chris Pine Shares Hilarious Thoughts On The Best Chris Debate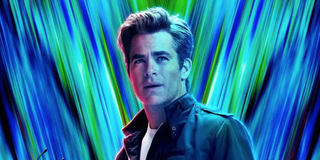 With Wonder Woman 1984 hitting theaters and HBO Max last Friday, leading actress Gal Gadot and director Patty Jenkins have been getting a lot of attention. The cast of the new Wonder Woman is actually pretty well rounded, with the addition of lady of comedy Kristen Wiig and The Mandalorian's Pedro Pascal. Are we forgetting someone, though? Oh yeah, Chris Pine reprises his role as Wonder Woman's decades defying love interest, and he's now sharing his hilarious thoughts on the best Chris debate.
It would seem the cast of Wonder Woman 1984 isn't the only group Chris Pine is competing with for the spotlight. In the great "which Chris is the best Chris" debate, Pine is up against Chris Pratt, Chris Hemsworth, and Chris Evans, all of whom have popular roles in the Marvel superhero universe. This leaves out Pine once again, as he is a member of the DC universe. Pine had this to say in a Stir Crazy interview about his place in The Great Chris Debate:
Chris Pine may, indeed, be the underdog in the Chris debate, but it's not for lack of talent. Pine may have previously just been the odd man out, the other Chrises being huge stars who are regularly seen together in their franchises. And when I say "huge stars," I mean that they're super popular and have massive physical marvels to behold. (Heh. "Marvels," get it?)
All jokes aside, no one in their right mind is forgetting about Chris Pine. Although he may not be saving the world alongside the other Chrises and getting buff before doing it, Pine is a legit contender to take the King of Chrises title.
While it's easy to see Chris Pine as just another one of the good guy Chrises with his role as Steve Trevor in Wonder Woman, and Captain Kirk in the iconic Star Trek reboot films, he is a proven wildcard.
Remember him as one of the Tremor brothers in Smokin Aces? He gives an all-out shell-shocking performance that makes viewers question if he is an actual insane person, and I mean that in the best way possible. If just to hit that idea home, he played a different kind of crazy in Stretch as an eccentric millionaire whose opening scene has him parachuting into a limo while naked. In that film, he turned a small role into one that was completely unforgettable. We mustn't also forget that Pine is the only Chris to officially go full frontal on film.
Chris Pine is the low key bad boy in a group of otherwise good guy Chrises. While he may be playing the hero now, it would not be surprising if he plays that wildcard we know to be up his sleeve to jump up the ranks in the Best Chris debate.
For more on any of the Chrises, or updates on either the DC or Marvel universes, check back with us here at Cinemablend.
Constantly thinking about books, coffee, and the existential dread I feel from Bo Burnham's Inside. While writing I'm also raising a chaotic toddler, who may or may not have picked up personality traits from watching one too many episodes of Trailer Park Boys.
Your Daily Blend of Entertainment News
Thank you for signing up to CinemaBlend. You will receive a verification email shortly.
There was a problem. Please refresh the page and try again.