Robert Downey Jr. Shares Lovely Throwback Photo To Stan Lee On His Birthday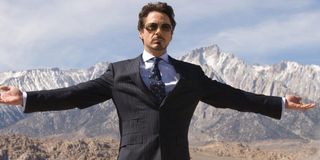 It's been just over two years since the legendary Stan Lee passed away, but the sting is still there from his loss. With every Marvel movie made after his passing that lacks his signature cameo, the wound gets opened a little more, with fans and stars alike missing the major creative vision behind the Marvel universe. Robert Downey Jr, who is Iron Man / Tony Stark, has shared a sweet throwback of himself with Stan Lee, to celebrate Lee's birthday this year.
Tony Stark - I mean, Robert Downey Jr., may be very into himself, but he is also a pretty sentimental guy. Among the photos of himself from the past and present, his Instagram is also full of photos of the people he loves and the good times they have shared. Most recently, Downey shared a throwback photo on his Instagram of himself with Stan Lee on the late legend's birthday as a tribute:
Robert Downey Jr's caption on the photo of "Are you Tony Stank?" refers to one of Stan Lee's MCU cameos. In Captain America: Civil War, Lee is seen delivering a package to Tony Stark and hilariously gets his name wrong.
Robert Downey Jr. goes on to caption the shot further with "proof that Tony Stark has a heart," which is engraved on the prop he is holding, the very first arc reactor that saves Tony Stark's life, and brings Iron Man into existence. This is both clever and super sweet of Downey, as that first arc reactor has come into play at very sentimental moments for Tony Stark. Downey is tying himself in with Stark in a tribute to the man who created his other half, while saying just how much Lee meant to him.
It's to be expected that Robert Downey Jr has a close bond with Stan Lee, as he is the avenger who has been with him the longest. He may not be the first avenger (that's Captain America's title), but Iron Man was the first movie to be released in the Marvel universe we know and love. That was back in 2008, giving Downey the role of Tony Stark for over ten years.
That's over ten years of working with and portraying a character that Stan Lee had a major hand in creating himself. Robert Downey Jr's life would look completely different if Stan Lee had not been in it, that is very much evident just by looking at Downey's Instagram. It's been a year since Iron Man met the big one, but he is still very much alive in Downey, with lots of Marvel love being scattered throughout his social media.
Robert Downey Jr. isn't the only one who is keeping Stan Lee's memory alive. Fans all over the world have a special place in their hearts for the legendary creative mind behind some of the biggest superhero characters. So, Stan Lee's work will continue to live on and gather new fans.
For more Marvel updates, keep checking back with Cinemablend.
Constantly thinking about books, coffee, and the existential dread I feel from Bo Burnham's Inside. While writing I'm also raising a chaotic toddler, who may or may not have picked up personality traits from watching one too many episodes of Trailer Park Boys.
Your Daily Blend of Entertainment News
Thank you for signing up to CinemaBlend. You will receive a verification email shortly.
There was a problem. Please refresh the page and try again.