Hugh Jackman Kicked Off 2021 With Another Polar Bear Plunge, And It Has Me Shivering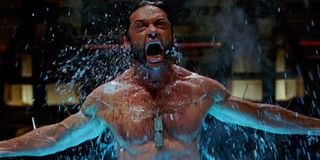 Some of us celebrated our entrance into 2021 by quietly reflecting on the past year and our hopes for the days to come. Others, namely Hugh Jackman, took a bit more raucous approach. The former Wolverine decided to welcome the new year with another polar bear plunge -- and of course, he documented it on social media. As you would expect, the footage is more than enough to make you feel cold while watching.
Hugh Jackman's first polar bear plunge was back in December, and he documented both the before and the after to give fans a real first-hand experience of just how cold it was. Apparently, that one polar bear plunge was not enough, though, because he chose to start 2021 off by once again submerging himself into a lake.
In the video -- which, this time, was taken by someone else -- he stands by the body of water as he tells fans it's January 1, 2021, before wishing us all a happy new year. He then tears off his Laughing Man Coffee sweatshirt and marches into the lake, before diving headfirst into the water. While we can't feel the cold water ourselves, the shocked noises he makes as he splashes around give us a pretty good idea of just how cold it was. Take a look at the video below and see if you can get through it without shivering:
If Hugh Jackman wasn't feeling his decision to start the year off in water with subzero temperatures, it does not show in the video. After popping his head up to check in with his videographer, he dives back in once more just for good measure. Hey, the man is a legend for a reason.
If you haven't been watching Hugh Jackman's Instagram account lately, you've missed out on a lot. The star has shared behind-the-scenes footage from his advertising campaigns, flashback photos with friends, and messages that encourage (socially distanced) activities like volunteering during the pandemic. He's also continued his feud with Ryan Reynolds and updated fans on how he's incorporated his iconic X-Men character into his holiday celebrations.
So will this polar bear plunge become an annual event for Hugh Jackman? He's no stranger to showing off his athletic prowess or adventurous spirit, so it wouldn't be surprising if that's the case. Or maybe he'll up the ante for the next polar bear plunge -- the possibilities are endless.
Maybe the most surprising thing about Hugh Jackman's recent penchant for polar bear plunges is that he hasn't goaded Ryan Reynolds into following in his footsteps. Though given their long history of antagonizing one another on social media in the name of their incredibly elaborate feud, perhaps it's only a matter of time.