Looks Like Ryan Reynolds Has Resumed His Feud With Hugh Jackman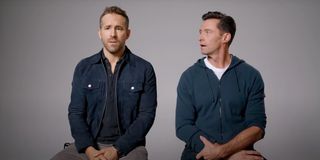 For years now, Ryan Reynolds and Hugh Jackman have been locked in a feud that, while not entirely serious (to put it mildly), nonetheless requires a lot of commitment. So while there have been instances where these two have declared truces for the greater good, you can eventually count on them exchanging barbs and jabs again. Such is the case now, as Reynolds has ignited the latest round of his amusing clash with Jackman with a picture shared on social media.
For context, in 2018, Ryan Reynolds acquired a stake in Aviation American Gin, leading to him filming a variety of humorous ads for the brand. This past August, Reynolds sold Aviation American Gin for an estimated $610 million, but he still has, as new owner Diageo put it, an "ongoing ownership interest" in the company. So it's understandable why the Deadpool actor was pleased that someone promoted Aviation Gin at Hugh Jackman's expense, as shown below.
Of all the places one could have shown off a bottle of Aviation Gin, right on top of Hugh Jackman's star on the Hollywood Walk of Fame is unquestionably one of the best places to stick it to the Wolverine actor on behalf of Ryan Reynolds. I would say this escalated things, but then again, this feud has been open to other participants for a while now. Not only has this conflict seeped its way into children's birthday parties, but Reynolds' own mother complicated this affair when she briefly sided with Jackman.
In any case, Ryan Reynolds would be delighted to not frame the above photo, but to turn it into a billboard, presumably for the Los Angeles crows. Hugh Jackman, however, will not allow that to happen. Here's how he responded to Reynolds' inquiry on Twitter:
The way I see it, the only way this Aviation Gin stunt can be appropriately responded to in kind is if someone goes to Ryan Reynolds' star on the Hollywood Walk of Fame and places a hot cup of Laughing Man Coffee on top of it, as that's the beverage company that Hugh Jackman owns. Then, everything will be even… until either Jackman, Reynolds or someone serving on their behalf makes the next move. Whether that happens or not, even though 2020 is just weeks away from ending, it won't be surprising if Reynolds or Jackman manage to sneak one last retaliation in before the year is over.
If you couldn't tell already, this feud between Ryan Reynolds and Hugh Jackman is really all in jest and good fun, making it all the more hilarious that it's dragged on for so long. At least it provides a way for these two to "collaborate" given how they didn't spend that much time together in the X-Men franchise. Reynolds briefly appeared in X-Men Origins: Wolverine as Wade Wilson, but that version of the character barely resembled his comic book counterpart, especially once he had his mouth sewn shut and was given multiple mutant powers.
Seven years after X-Men Origins: Wolverine's release, Ryan Reynolds finally got to play a faithful version of Wade Wilson in Deadpool, followed by Deadpool 2 in 2018. Reynolds' is gearing up for his third outing as the Merc with the Mouth, but over the years, he's expressed interest in having a proper Wolverine and Deadpool team-up unfold on the big screen. Alas, 2017's Logan marked Jackman's final time as the clawed mutant, so unless someone is able to change Jackman's mind and come up with a way to either resurrect Wolverine or revisit him at an earlier point in time, such a reunion won't happen.
As for where one can see Ryan Reynolds and Hugh Jackman in the cinematic realm next, the former's next movie, Free Guy, has been rescheduled for May 21, 2021, while the latter will be back for Reminiscence on April 16, 2021. Keep track of the other movies arriving next year with our 2021 release schedule.
Your Daily Blend of Entertainment News
Connoisseur of Marvel, DC, Star Wars, John Wick, MonsterVerse and Doctor Who lore. He's aware he looks like Harry Potter and Clark Kent.
Your Daily Blend of Entertainment News
Thank you for signing up to CinemaBlend. You will receive a verification email shortly.
There was a problem. Please refresh the page and try again.