Dwayne Johnson Shows Off Sentimental Holiday Gift In Sweet Post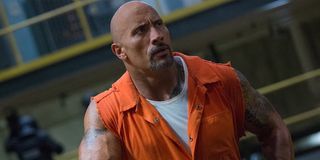 Dwayne Johnson went out of his way to keep fans updated about his life in 2020. That meant sharing both the good and the bad, both personally and professionally, through updates on social media. The actor ended the year much like he started it, too, by sharing a sweet and sentimental gift he received for Christmas.
When Christmas morning hit, Dwayne Johnson was busy being "Dwanta" Claus to his adorable daughter, Tia. While he shared several updates on Instagram commemorating the memories they shared together, it appears that his loved ones also took the time to make sure the day was special for him, too. The actor shared an Instagram update with a picture of a thoughtful gift he received from a friend:
The sweet gift shows Dwayne Johnson as a child with his late father, trailblazing wrestler Rocky Johnson. In addition to the photo, Johnson also shared a message that explained that the gift symbolizes a sweet childhood memory:
Rocky Johnson unfortunately died suddenly last year, and The Rock was unable to say goodbye, a point that he mentions in the post. He finished out the message with a NSFW reflection on 2020 as a whole, before doubling down on the fact that the paperweight will be a gift he always cherishes.
Though he had to start work on Red Notice just days after his father's death, the actor took time to open up about how grateful he is to fans and those around him for supporting him. He's also given back by offering advice for navigating Father's Day when you no longer have a father to celebrate with.
Anyone who's lost a parent knows that it takes a while for the grief to subside and, in some respects, it never goes away. Dwayne Johnson's willingness to open up about his own loss sets a great example for others who may be struggling, too, because it shows that it's normal and healthy to feel a range of emotions.
It isn't the only way the star has shown appreciation for his family, either. Throughout the year, he's shared hilarious and heartfelt updates about his children and reflected on how much they mean to him. He's had a huge year professionally, too, with the continued success of Jumanji: The Next Level, production on Red Notice, and progress with Black Adam -- so the fact that he's put so much emphasis on family is especially sweet. Hopefully, Dwayne Johnson's 2021 -- and everyone else's too -- will bring more joy and success.
Your Daily Blend of Entertainment News