Black Adam's Cyclone: Everything You Need To Know About The Justice Society Member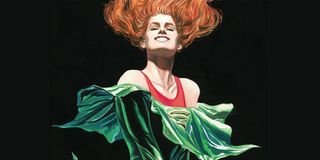 In the past year, we have seen some very exciting developments to the casting line-up of Black Adam, including Aldis Hodge's Hawkman joining Dwayne Johnson as the titular anti-hero. The character most recently confirmed as being cast in the highly anticipated DC movie is Cyclone - a fellow member Justice Society of America whom you may be less likely familiar with and understandably so.
Following the casting of Netflix's go-to rom-com hunk Noah Centineo as Atom Smasher in Black Adam, the role of Cyclone (the alter ego of Maxine Hunkel) will be portrayed by Quintessa Swindell - who is best known for playing kleptomaniac on Tabita Foster on the streaming giant's short-lived original teen drama Trinkets. Initially, this lesser-known DC superheroine seems to be an obscure choice to join the DCEU's line-up for the Justice Society of America considering how relatively new she is to the comics (depending on which iteration you are referring to). However, the character is part of a legacy that exceeds even her own existence.
We will look deeper into the eye of that storm, as well as other details related to the young crimefighter that should be just what you need to properly acquaint yourself with her before she makes her big screen debut in Black Adam. The following are six of the most essential and fascinating facts about Cyclone, starting with insight into the famous comic book arc that introduced her to the world.
Cyclone First Appeared In DC's Kingdom Come Storyline
It was in writer Mark Waid and legendary artist Alex Ross' four-part Elseworlds story Kingdom Come that saw the debut of Cyclone into DC Comics. Of course, Maxine Hunkel (who initially fought against the aged Justice League before fighting with them in the acclaimed 1996 mini-series) went by the alias Red Tornado II, for reasons I will get into soon.
It was not until February 2007 when writer Geoff Johns and artist Dale Eaglesham reimagined her as the New Earth's Justice Society of America member that she known as today. The revival even saw her debut under the new Cyclone, instead of Red Tornado II, out of respect for her fellow crimefighting ancestor.
Cyclone Is The Granddaughter Of An Original JSA Member
Indeed, Cyclone is actually a legacy superhero who, like a few other modern members of the Justice Society of America, followed in the footsteps of a family member by joining the legendary team. In this case, it was Maxine Hunkel's grandmother, Abigail Hunkel - who was also known among friends as "Ma" and even better known among superheroes as Red Tornado.
First debuting in All-American Comics in June 1939 and created by Sheldon Mayer, Ma was originally an average New York housewife who, despite her clumsiness, was skilled enough in hand-to-hand combat to earn a spot as a founding member of the JSA and, later in life, the team's caretaker. Red Tornado also had a pair of young sidekicks (much like Robin to Batman) known as the Cyclone Kids, which inspired the alias of Maxine Hunkel who, unlike her grandmother, actually is a hero with superhuman abilities.
Cyclone Can Control The Wind, Among Other Powers
It would be cheap to refer to Maxine Hunkel as DC Comics' answer to Storm from Marvel's X-Men series. However, in terms of superpowers, they are quite similar to one another. In fact, outside of adopting her alias as a tribute to her grandmother's child sidekicks, Cyclone's name really comes from her ability to manifest actual windstorms small enough to blow hair out of your face or large enough to blow your face off.
The aerokinetic superhero can also use her powers to deflect incoming objects away from her and can fly by simply gliding along a current by happenstance or creating a gust of wind powerful enough to guide her way. Sometimes even Cyclone's sneezing has been enough to tear down entire buildings, proving a certain downside to her gifts.
Cyclone's Powers Were Given To Her By An Evil Scientist Kidnapper
Of course, any superhero should be proud of their gifts. Yet, the way that Cyclone acquired her extraordinary abilities falls short of what one might call a "blessing."
It started in her earlier youth when mad scientist Thomas Oscar Morrow kidnapped Maxine and injected her with the same nanobyte technology he used to create the android Red Tornado - the superhero's second official iteration. It would take years but, eventually, Maxine developed the same wind manipulation as that android creation and went on to use them as a force for good - but not without devoting some time to get a proper education.
Cyclone Is Highly Intelligent For Her Age
In addition to her supernatural gifts, Cyclone is also gifted with brains. Her 4.0 grade point average in high school and score of 1300 on the SATs earned her admission at Harvard University. Outside of juggling her collegiate studies and responsibilities as a superhero, Maxine Hunkel also indulges in an avid love for theatre, especially Wicked - a Tony Award-winning stage musical that acts as a prequel to her favorite movie, The Wizard of Oz.
Unfortunately, she rarely has someone to share this fascination with as her overly cheerful personality and tendency to be extremely talkative (and quite boastful) often leaves her socially isolated and depressed by proxy. However, there is one fellow superhero whom Cyclone has been able to call a friend, and much to her excitement.
Cyclone Has A Deep Admiration For Stargirl
When Cyclone was first invited to join the Justice Society of America, her fangirling motormouth tendencies went through the roof upon meeting her crimefighting idols. None had a more profound effect on her than Stargirl, who was able to relate to Maxine Hunkel as a fellow teenager and went out of her way to console the new recruit up after witnessing the death of a Mr. Terrific - one of the superheroes who personally invite her to join the JSA.
Cyclone's reputation as a die-hard fan and friend of Stargirl is so well-known that it is almost hard to believe that her live-action debut will be in Black Adam and not on the hit CW series named after the young JSA member. Of course, Stargirl is still in its infancy and takes place in a reality outside the DCEU, so who knows what other new characters we should expect to see in future seasons?
What do you think? Does Cyclone deserve to exist on the big screen and small screen simultaneously or would you rather see the original Red Tornado make a comeback instead? Let us know in the comments and be sure to check back for additional information and updates on the upcoming Black Adam movie, as well as even more insight into the origins of your favorite comic book characters, here on CinemaBlend.
Jason has been writing since he was able to pick up a washable marker, with which he wrote his debut illustrated children's story, later transitioning to a short-lived comic book series and (very) amateur filmmaking before finally settling on pursuing a career in writing about movies in lieu of making them. Look for his name in just about any article related to Batman.
Your Daily Blend of Entertainment News
Thank you for signing up to CinemaBlend. You will receive a verification email shortly.
There was a problem. Please refresh the page and try again.