Chadwick Boseman's Widow Simone Tearfully Accepts Award For Late Actor, Asking Him To 'Keep Shining Your Light'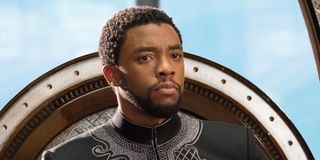 The 30th annual Gotham Awards aired Monday night and celebrated Chadwick Boseman's life and work with a tribute award. The actor may be most well known for his titular role in Marvel's Black Panther, but the honor he was posthumously awarded was for his role as Levee in Ma Rainey's Black Bottom, his final performance before his sudden passing. His co-star, Viola Davis, was also honored for her role in the film, but all eyes were on Chadwick Boseman's widow, Simone Boseman, as she tearfully accepted the award on Chadwick Boseman's behalf with an emotional, yet strong, speech.
Streaming from her home, Simone Boseman appeareed reflected on late husband Chadwick Boseman in a powerful address. Her speech, which was shared via The New York Times writer Kyle Buchanan's Twitter accoutn, conveyed nothing but love and respect for the actor. In her own words:
One can't help but get chills when reading Simone Boseman's beautiful words, and watching her speak made for an even more emotional experience. You can check out the video down below:
Simone Boseman put it beautifully, Chadwick Boseman had a light that seemed to shine on everyone he was around. Boseman passed away last year at the young age of 43 after fighting colon cancer. An intensely private person, Boseman only disclosed his illness to those closest to him. He suffered in silence but, even while he was sick, he was a positive figure to those around him. And since his death, we have heard stories that exemplify the light his widow speaks of.
Those who have worked with Chadwick Boseman have great things to say about him. His Ma Rainey's Black Bottom co-stars were some of the last people to work with him, and they have spoken of his dedication to his craft and how he inspired them to work harder, even inspiring the cast to actually learn the instruments they play in the film.
Even though months have passed since his death, Chadwick Boseman continues to steal headlines and is still putting his mark on this world. As the Oscars get closer, his name is being frequently mentioned alongside other awards hopefuls. With the actor tribute award going to him at The Gotham Awards, that puts him in an even better position to posthumously grab an Oscar for his final performance. The nominees for the 2021 Oscars have yet to be announced but, if we had to guess, we would say Chadwick Boseman has a place among them.
To keep updated on any future stories involving the late Chadwick Boseman and to keep on top of any upcoming Oscar news, check back with CinemaBlend, your source of TV, movie, and pop culture news.