How Harry Potter's Rupert Grint Feels About His First Post Beating Jennifer Aniston's Major Instagram Record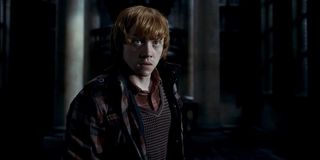 Social media has become a huge part of our lives -- so much so that whenever a celebrity who isn't online decides to show up, it's kind of a big deal. That was definitely the case when Harry Potter's Rupert Grint joined Instagram last year and immediately broke Jennifer Aniston's record for accumulating followers on that platform. When asked recently how he felt about being a Guinness World Record holder, he had a surprising response.
When the last Harry Potter movie hit theaters nearly a decade ago, Instagram was still in its infancy. So it's no surprise that Rupert Grint and his castmates weren't sharing snaps from the premiere on that platform then. It is a little surprising that it took him almost ten years to join his co-stars on Instagram -- but he finally made the leap in November 2020. In his first Instagram post, Rupert Grint expressed his own disbelief that he was joining "the Gram" 10 years late and took the opportunity to introduce the world to his new daughter, Wednesday with a selfie of himself holding her. It was, to put it mildly, adorable.
If there was any doubt whether Potterheads are still a formidable presence on the internet, the response to Rupert Grint's first social media post easily put it to rest. In just four hours and one minute, he racked up a million Instagram followers, beating out Jennifer Aniston's previous record. He now has more than four million followers. When asked about the momentous occasion, Rupert Grint told ET that his introduction to social media was shocking:
Rupert Grint's disbelief at his instant Instagram popularity is pretty understandable. While he's still one of the most recognizable faces in the world thanks to his role as Ron Weasley, he's kept a decently low profile in the years since Harry Potter wrapped, sticking mostly to smaller budget movies and TV series.
His arrival on Instagram came at a good time for his career -- he's currently starring in the Apple TV+ series Servant, and a link to the series is in his bio. In the time since his arrival on Instagram, he's shared a few more updates with fans -- but it doesn't look like he'll be quite as prolific as, say, Tom Felton, who has kept fans entertained on the platform for years.
At this point, it looks like the only social media holdout in the Golden Trio is Daniel Radcliffe -- though it sounds like Harry Potter himself is actually making the right call when it comes to staying off the internet.
Your Daily Blend of Entertainment News
Thank you for signing up to CinemaBlend. You will receive a verification email shortly.
There was a problem. Please refresh the page and try again.