Dakota Johnson: What To Watch Streaming If You Like The Fifty Shades Of Grey Star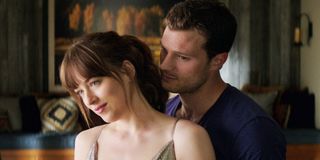 CinemaBlend participates in affiliate programs with various companies. We may earn a commission when you click on or make purchases via links.
When it comes to certain actors, sometimes you think of the roles that made them famous. For Harrison Ford, instantly Han Solo comes to mind. For Daniel Radcliffe, I think of Harry Potter and the crazy saga that he starred in. When it comes to Dakota Johnson, though, I always think of Fifty Shades of Grey. And, while it was never my particular favorite film, I always could admire Johnson for her acting skills, and for other roles she has had in the past.
Just because she is known for the popular explicit series, though, doesn't mean that she hasn't done some other awesome films. From comedies like 21 Jump Street to horrors like Wounds, Johnson has some serious range and it's a shame that people don't talk about it more. But that's why this list exists, for us to talk about the best performances of Dakota Johnson, and where to watch them.
The Social Network (Netflix)
I feel like everyone in the world has heard about The Social Network at this point, considering it's a fantastic movie. Even so, The Social Network is about the birth of Facebook and the early years of the youngest billionaire ever, Mark Zuckerberg. Businesses rise, friendships fall, and people get sued pretty consistently in this drama – all based on a true story.
You might not believe it, but this was actually Johnson's breakout role. While she had her film debut back in 1999 in Crazy in Alabama, this was the first time Hollywood got to see her skills, and while her role was minor, it was only the beginning of her career.
Stream it on Netflix here (opens in new tab).
The Five-Year Engagement (HBO Max)
A classic comedy, The Five-Year Engagement is a great time for anyone to watch. It follows the lives of Tom and Violet, and the story of how their relationship becomes strained as their engagement goes on.
While Johnson does have another minor role in this, she stands out among the others in the film, showing her staying power as an actress. And, who would have ever thought of her as a comedic actress really? It's funny to see her in something so different.
Stream it on HBO Max here (opens in new tab).
Suspiria (Amazon Prime)
Bit of a change in direction here, as Suspiria is a supernatural horror film following the story of a young woman who enrolls in a prestigious dance academy. It sounds normal until she finds out that it's actually a coven, and the school is run by witches, which bring about threats that she never thought she would have to face.
If you're into horror, this is the movie for you. Not only is Johnson the star of this film, but plenty of critics have gone on to say that the visual effects of the film were pretty great, too, something that is always essential for a good horror movie.
Stream it on Amazon Prime here.
Wounds (Hulu)
Another horror film on this list, Wounds mixes the genre with psychological terror to provide an intense thrill in a movie that is only available on streaming. A bartender in New Orleans begins to experience strange occurrences in his life after he brings home a phone left at his bar. Over time, the situation gets worse and worse.
One of the more recent entries on this list that features Johnson, she definitely shows that horror is something that she is not afraid of. While the first entry on this list that specialized in horror was good, this movie sort of takes it to another level and almost gets trippy after a while, but it doesn't stall her. The plot can sometimes be confusing, but that's usually what happens during a psychological thriller. Even so, Dakota Johnson still shines.
Stream it on Hulu here (opens in new tab).
The Peanut Butter Falcon (Hulu)
I'm always a fan of sleeper hits, and The Peanut Butter Falcon is the pure definition of that phrase. The film tells the story of a young boy with Down syndrome who escapes an assisted living facility and stumbles across a friendly fisherman. But, of course, not everything can go as planned, as a social worker is trying to track him down.
One thing that makes this film so great is that it was an independent film, but it received so much praise that it grossed over $23 million despite it not having a big release, which shows how amazing it is. Johnson's performance was praised, and this was one of her first roles post-Fifty Shades of Grey. Not only is Johnson great in The Peanut Butter Falcon, but she is also joined by many stars who shine around her, and she has some great chemistry with, such as Shia LaBeouf and Jon Bernthal. It's really worth the watch.
Stream it on Hulu here (opens in new tab).
The High Note (HBO Max)
I never thought of Dakota Johnson as someone who was close to music, but after seeing this movie I believe that she could be a part of that world if she wanted to. The plot of The High Note focuses on Johnson's character Maggie, who has been a longtime assistant to a famous R&B singer, Grace Davis. While her job is great and all, Maggie's big dream is becoming a music producer, and the film follows all the different ways in which she tries to reach that goal.
It's a shame that the movie came out in 2020, where it didn't get to have a splashy theatrical release. However, this film was still released in a few theaters, and Johnson definitely shows a different side of her acting skill in it. I quickly believed her in this role, and I think that no matter what, everyone always loves the origin story of watching someone grow as they do what they love. And, that's what The High Note is about. Whether you're a music fan or not, this movie is still a good time.
Stream it on HBO Max here (opens in new tab).
21 Jump Street (Starz)
It's amazing what you notice upon re-watching of these movies, and I honestly only just recognized that Dakota Johnson had an appearance in 21 Jump Street. The film follows the story of two buddy cops, Schmidt and Jenko, as they go undercover as high school students to try and prevent the outbreak of a new drug, while also finding out who the supplier is.
We've already seen that Johnson does have some comedy chops in here from her appearance in The Five-Year Engagement, but no one ever said you could have too much comedy in your life. While her role is smaller in this one compared to others on the list, it's most certainly memorable. The cast that stands beside her also makes the movie a fun watch. Channing Tatum and Jonah Hill have amazing chemistry, and Dave Franco is awesome as well – it's just all-around great.
Stream it on Starz here (opens in new tab).
The Fifty Shades Of Grey Movies (Peacock)
I mean, duh.
Arguably this is the film series that made her famous, and while it's not necessarily the best out there, she does perform the role well. Fifty Shades of Grey tells the story of Anastasia Steele, a young woman who meets a billionaire, Christian Grey, during an interview she was covering for her journalist friend. From there, she realizes she just can't stay away, but Christian has a dirty little secret – he's into BDSM and she's quite the opposite - at least at first.
Look. I'm going to be honest. I was never the hugest fan of these movies just because the plot has been done before I think that it could have been written better. I mean, it did start out as Twilight fanfiction, didn't it? But that doesn't take away from the fact that, despite the storyline and what happens, Dakota does a kick-ass job at portraying the character from the books, all the other issues with the films aside. Even here, she does show she can act, and that speaks volumes considering the rest of the film, and the trilogy as a whole. If erotic dramas are something that you're into, it's definitely worth the watch for her acting.
Stream it on Peacock here (opens in new tab).
Dakota Johnson Movies Available To Rent Or On-Demand Through Streaming TV Services
While these movies listed above are easily available to stream on regular streaming sites, all of the ones below you can access through certain add-ons to streaming services or cable companies, or if you wish, you can rent them as well. It's completely up to the viewer.
Bad Times At The El Royale (Rental (opens in new tab))
How To Be Single (Rental (opens in new tab))
Need For Speed (Hulu (opens in new tab), Live-TV)
Cymbeline (Hulu (opens in new tab), Live-TV)
A Bigger Splash (Rental (opens in new tab))
Whether you're into horror, romance or comedy, Dakota Johnson has got you covered no matter what. Take your pick!
Big nerd and lover of Game of Thrones/A Song of Ice and Fire. Will forever hate season eight. Superhero and horror geek. And please don't debate me on The Last of Us 2, it was amazing!
Your Daily Blend of Entertainment News
Thank you for signing up to CinemaBlend. You will receive a verification email shortly.
There was a problem. Please refresh the page and try again.