Upcoming Will Smith Movies And Shows: What's Ahead For The Bad Boys Star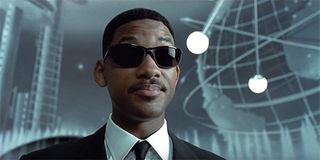 At a time where movie stars aren't what they used to be, Will Smith remains incredibly productive and proactive in his endeavors, showcasing a desire to branch off into new and exciting endeavors while also returning to previous hits and established franchises. The actor/producer is the man behind films like Independence Day, Men in Black, I Am Legend, Hitch, I, Robot, Bad Boys, Suicide Squad, and, recently, Aladdin (2019), all of which become enormous box office successes.
Will Smith continues to find commercial success with this year's surprise smash, Bad Boys For Life. Smith's future is filled with several sequels, one or two remakes, and a few new titles and biopics that make us curious. He's also producing several new movies and shows as well. If you love Big Willie Style and Will Smith movies, here's what you can look forward to seeing in the near future, including Bad Boys 4.
King Richard - November 19th, 2021 (Filming)
Venus and Serena Williams are heading to the big screen, albeit not in the way that you might expect. The story of Richard Williams, the coach and father of these two world-famous tennis players, will get his story told in King Richard, the new biopic drama from director Reinaldo Marcus Green (Monsters and Men, Good Joe Bell). Smith is on-board to star and produce this new movie, which previously started filming earlier this year before production shut down due to the COVID-19 pandemic.
Filming has since resumed, however, as the filmmakers are hoping to reach its November 19th, 2021 release date. Saniyya Sidney and Demi Singleton play Venus and Serena Williams, respectively, while Jon Bernthal, Aunjaneu Ellis, Liev Schreiber, and Dylan McDermott round out the supporting cast. The screenplay comes from Zach Baylin, who is also attached to write the upcoming Creed III.
The Council - TBA (Announced/Possibly Pre-Production)
Telling the true story of a crime syndicate consisting of seven Black men who ruled Harlem in the 1970s and 1980s, The Council will see Will Smith adopting the role of Nicky Barnes, a crime boss deemed Mr. Untouchable, in this new Netflix crime drama. The project will reunite Smith with screenwriter Peter Landesman, who wrote and directed 2015's Concussion.
It's unclear at the moment if Landesman is expected to direct this movie as well, but he will also serve as an executive producer. Likewise, Smith is on-board to produce in addition to star in this new streaming movie, which will reunite the A-lister with the company behind Bright. New developments on the project have been hard to find, though it's possible that the movie was entering pre-production prior to COVID. In any case, it's unclear when they're expecting to shoot this new film.
Emancipation - TBA (Announced)
Earlier this summer, it was announced that Will Smith would work with director Antoine Fuqua to produce and star in the new thriller, Emancipation. Written by William N. Collage, the story follows Peter (Smith), a runaway slave forced to outwit cold-blooded hunters after a harrowing escape and joins the Union Army.
Based on a true story, this upcoming title inspired a major bidding war, with AppleTV+ paying a reported $120 million to distribute the new movie. Clearly, the company's new film distribution has big hopes for this movie, so we should expect it to start filming soon. The filmmakers are hoping to enter production in early 2021, once Smith finishes filming King Arthur. It's uncertain if COVID will prevent that from happening, but the producers appear to be determined to get the movie rolling in the next few months. Expect more developments to arrive next year.
Bad Boys 4 - TBA (Announced)
Currently, Bad Boys For Life sits as the highest-grossing domestic release of 2020. Granted, this year has been anything but ordinary, but it's a credit to Will Smith's continued star power, as well as audience reverence for his nostalgic presence, that audiences flocked to theaters in a pre-COVID timeline to see this long-delayed sequel. Therefore, it's not surprising to learn that Sony is eager to make a fourth film.
This year's trilogy capper teased the potential for a fourth installment, though it also suggested that future additions to this franchise may focus more on the new recruits shown in supporting roles. Nevertheless, it's hard to imagine a Bad Boys sequel without Will Smith and Martin Lawrence — particularly with Smith serving as a producer on the third movie. When time allows in his always-busy schedule, he'll get to work on this newest sequel.
Planes, Trains, and Automobiles - TBA (Announced)
We don't have too many Thanksgiving movies, nor do we have too many Thanksgiving movies that can reasonably be called "classics." Wedged between Christmas and December festivities, Thanksgiving is basically the forgotten middle-child in terms of seasonal holidays, and the modest, food-filled day doesn't warrant too many cinematic classics. But it's safe to say that if there's one movie that people associate as a Thanksgiving classic, it's John Hughes' Planes, Trains, and Automobiles.
Starring Steve Martin and the late, great John Candy, this road trip comedy is a regular favorite for many homes during November, which is why the promise of an upcoming remake might make many people nervous. Nevertheless, Will Smith and Kevin Hart are signed on to produce and star in a modernized re-telling of this Thanksgiving tale. Aeysha Carr will write the screenplay. Let's hope it's worthy of the original.
Aladdin 2 - TBA (Announced)
While 2019's Aladdin didn't necessarily show us a whole new world, it did bring in a massive audience eager to revisit the classic tale. The live-action remake to Disney's immensely popular 1992 animated film made a whopping $1 billion dollars worldwide, so you better believe Disney is making a sequel.
Earlier this year, it was announced that Aladdin 2 was in the works at the Mouse House, with Guy Richie returning to the director's chair while John Gatins (Flight) and Andrea Berloff (Straight Outta Compton) are writing the screenplay. Details are limited otherwise, but it's been confirmed that Mena Massoud, Naomi Scott, and Will Smith are reprising their roles. While reviews were mixed on this cinematic redo, many critics were kind to Smith's Genie, believing it was a return to the type of charismatic roles he played in the 1990s and 2000s. His return, therefore, was a given.
Brilliance - TBA (Announced)
In addition to all the sequels, remakes, and other IP-based properties lined up in Will Smith's future, the Gemini Man actor is also looking to produce and star in Brilliance, an intriguing new sci-fi property based on Marcus Sakey's 2013 novel of the same name. Reuniting with screenwriter Akiva Goldsman, who co-wrote I Am Legend and I, Robot and directed Smith in Winter's Tale, his new movie takes place in a world where one percent of population is born with special powers since 1980.
As THR reported last September, Smith would play the role of Nick Cooper, a federal agent tasked with keeping tabs on individuals with these special gifts. The project has been in development for years with several false starts, so it's hard to know if it's still moving forward. But it's certainly intriguing. If it's successful, it could spark another franchise for Smith.
Bright 2 - TBA (Announced)
Though it wasn't met with the brightest reviews (hardy har har), Bright was certainly a major hit for Netflix. The Will Smith-Joel Edgerton buddy cop fantasy-drama was one of the streaming service's first blockbusters, with a reported 11 million people watching it within the first three days. Sure enough, it didn't take long before sequel talks started happening.
While it only took two days for Netflix to announce the sequel, developments have been slow-going. No major updates were provided in 2018 or 2019, though director David Ayer claimed it's still happening as early as this January. There will be some major creative differences for this upcoming sequel, however. For instance, Ayer and Evan Spiliotopoulos have taken over writing duties from Max Landis. And this summer, Louis Leterrier entered negotiations to direct. It's not clear when production starts, but Smith is expected to reprise his role.
This Joka - TBA (Announced)
Will Smith is heading to Quibi! While the billion dollar investment hasn't necessarily found the success that its backers were hoping for, it's soon set to be infused with some Big Willie Style. Specifically, Smith is expected to produce a new stand-up comedy series, This Joka, which he'll also host.
The 16-episode quick-bite series will find Smith curating a line-up of up-and-coming, established, and legendary comedians to explore the nature of comedy and the ways it brings people together. It will be a mix of stand-up comedy sets and one-on-one conversations between the comedian and the host in various cities across the country. The project was announced earlier this year, thought it's unclear what the status is in these uncertain times. Especially with many comedy clubs only doing virtual shows, it's hard to know when this Quibi show will come together.
Additional Upcoming Will Smith Producing Credits:
In addition to all the various titles listed above that Will Smith is attached to, bouncing between actor and producer duties, there are several more movies and shows coming up from Smith's Overbrook Entertainment division. Perhaps the most notable is the upcoming show, Bel-Air, based on his career-making sitcom, The Fresh Prince of Bel-Air. This newly-announced series is said to be a dramatic reinterpretation of the beloved sitcom. It'll premiere on Peacock for at least two seasons. Whether or not it matches the original's success remains undetermined.
He's also an executive producer on Life in a Year, an upcoming dramatic romance starring Cara Delevingne and Jaden Smith, Will Smith's son. The film is complete and it's expected to come out sometime in the near future. Additionally, Smith is an executive producer on Cobra Kai. Its third season is in post-production and it'll stream on Netflix sometime next year.
Which upcoming Will Smith project are you looking forward to the most? Let us know in the comment section below!
Will is an entertainment writer based in Pittsburgh, PA. His writing can also be found in The Playlist, Cut Print Film, We Got This Covered, The Young Folks, Slate and other outlets. He also co-hosts the weekly film/TV podcast Cinemaholics with Jon Negroni and he likes to think he's a professional Garfield enthusiast.
Your Daily Blend of Entertainment News
Thank you for signing up to CinemaBlend. You will receive a verification email shortly.
There was a problem. Please refresh the page and try again.