What The Memento Cast Is Doing Now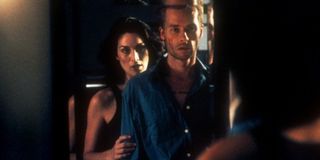 There was a time, before he redefined the comic book movie, the war-era period piece, and, pretty much, the sci-fi genre in general, when Christopher Nolan destroyed the rules of film noir and rewrote them from scratch. He did so with a thriller starring Guy Pearce as a man struggling to overcome horrific short-term memory loss in order to find his wife's murderer. For just about every member of the Memento cast, the extraordinarily clever, turn-of-the-century indie darling was not really a big break, but one of the brightest highlights in each of their careers.
As I mentioned before, Guy Pearce's character in this sleeper hit from 2000 does not have the most reliable memory, typically lasting a good five minutes before anything that happens to him within that time it is completely wiped away. To put you in his shoes, Christopher Nolan and Jonathan Nolan's Oscar-nominated screenplay for Memento (based on the latter brother's short story) brilliantly tells the story in reverse so that you always know only what he knows.
What sounds like a tedious process on paper is widely considered one the most engrossing brainteasers ever put to celluloid, leading many cinephiles to dedicate colossal amounts of time to gaining a deeper understanding of what it all means. Well, at this point the only mystery I am interested in getting to the bottom of is what the cast of Memento has been up to lately. Let's breakdown the careers of this criminally entertaining crime thriller's most memorable performers, starting with one whose character can't remember a damn thing.
Guy Pearce (Leonard Shelby)
This Emmy-winning Australian broke out on popular soaps Neighbours and Home and Away (like many from down under) before landing films like 1994's The Adventures of Priscilla, Queen of the Desert and L.A. Confidential in 1997. Guy Pearce has since been two comic book movie villains (in Iron Man 3 and Bloodshot, as a sort of reverse of his Memento role), joined the Alien franchise as Peter Weyland, and even played Ebenezer Scrooge in 2019. He will next play an exorcist in The Seventh Day, a cult leader in a series based on Alantown, joins a voice cast of other Aussie A-listers in Back to the Outback, and teams up with a machine to solve a mystery in the futuristic crime thriller Zone 414.
Carrie-Anne Moss (Natalie)
Machines were the enemy to Carrie Anne-Moss in 1999's The Matrix, which, coincidentally, is also the title of one of the Canadian actress' TV series. Since playing a suspicious bar waitress in Memento, the now 53-year-old has played Shia LaBeouf's mother in Disturbia, the love interest of a domesticated zombie in an alternate 1950s in Fido, an alien "pirate queen" in the Mass Effect games, and also (technically) joined the MCU as a lawyer, showing up in three Netflix original Marvel series. Moss will soon return to her best known role of Trinity in the highly anticipated fourth installment of the Matrix movies.
Joe Pantoliano (Teddy)
The Ringer's The Rewatchables podcast has an "award" named after Carrie Anne-Moss' The Matrix and Memento co-star, Joe Pantoliano, (which is given to the best "that guy" from a movie) because of his recognizable face and prolific character acting career. He's popped up in favorites like Risky Business and The Goonies, and scored an Emmy-winning stint on The Sopranos. The 69-year-old recently returned to the Bad Boys franchise as Captain Howard and will soon play a cop again in the upcoming comedy Spring Break '83.
Jorja Fox (Leonard's Wife)
Outside of her tragic role at the center of Memento, Jorja Fox is probably best recognized as Sara Sidle from CSI, of which she starred in 296 episodes total, including a few guest appearances while she took a leave from her position as a regular cast member from 2007 to 2012. Since the long-running CBS crime procedural solved its final case in 2015, the Canadian-American has also pursued music and continues to promote various causes benefitting humanitarian and animal rights. As for her regular job, Fox recently appeared in a gender-swapped remake of the 1983 miniseries Chiefs and will star in the upcoming Amazon Prime original romantic fantasy The Map of Tiny Perfect Things as the mother of Kathryn Newton's character.
Mark Boone Junior (Burt)
Christopher Nolan cast Mark Boone Junior as a veracious motel clerk in Memento and as a dirty-as-they-come cop in Batman Begins - both of which easily provide a convenient summation of the majority of roles the 65-year-old has played in his 40-plus years in the business. These include "Greasy F.B.I. Man" in Se7en, Detective Whitworth in 2 Fast 2 Furious, and Robert 'Bobby Elvis' Munson on Sons of Anarchy, to name just a few. His most recognizable appearance as of late was on Season 1 of The Mandalorian and he will soon reprise his role from 2017's American Satan in the upcoming series spin-off Paradise City.
Thomas Lennon (Doctor)
Another Memento star who also appears in Christopher Nolan's Dark Knight trilogy is Thomas Lennon, who plays a doctor in both - leading the Emmy-nominee to believe that they might as well be the same person. Easily his most iconic role to date, however, is Lt. Jim Dangle on Reno 911!, which he also co-created in 2003, and came back to for a seventh season in 2020. However, drama is not lost on the versatile comedic talent just yet, as he will soon appear opposite Tom Holland in Anthony and Joe Russo's gritty crime thriller Cherry, which premieres exclusively on Apple TV+ in February 2021.
Stephen Tobolowsky (Sammy Jankis)
Another highly prolific "that guy" from Memento is Stephen Tobolowsky who, before playing a man who supposedly suffered from Leonard's same memory condition, also appeared in crime thrillers like Basic Instinct, but was best known for comedies such as Groundhog Day, in which he played Ned Ryderson. The 69-year-old still switches between genres often, but, he is best recognized lately from TV roles, such as Jack Barkeir on Silicon Valley's third season, Dr. Leslie Berkowitz on Netflix's short-lived One Day at a Time, and Principal Ball on both The Goldbergs and its sequel spin-off Schooled. His next big projects are Stay@Home, a comedy set during the Covid-19 era, and the John Kennedy Toole biopic Butterfly in the Typewriter, which is now in post-production.
Harriet Sansom Harris (Mrs. Jankis)
Playing Stephen Tobolowsky's ill-fated wife in Memento is Harriet Sansom Harris, who made her film debut in Addams Family Values in 1993 before going on to star in acclaimed modern classics like the Oscar-nominated Quiz Show in 1994, and Phantom Thread opposite the great Daniel Day-Lewis in 2017. Of course, like her onscreen husband Stephen Tobolowsky, the Juilliard-educated actress has best made a name for herself on television, especially on Frasier and Desperate Housewives in memorable recurring roles. Harris still thrives on the small screen to this day, having recently played Eleanor Roosevelt in two different series in 2020 alone and a melancholia patient on Ratched, Netflix's hit prequel series to One Flew Over the Cuckoo's Nest with Sarah Paulson in the title role.
Callum Keith Rennie (Dodd)
Memento might hold a record for the most "that guys" in a single film, considering the impressive career Callum Keith Rennie has led without becoming a household name before or after playing a drug dealer at odds with Leonard Shelby, including the 1996 film, Unforgettable, which sounds a lot like a more sci-fi take on Christopher Nolan's 2000 flick. The 60-year-old Canadian has since starred in TV favorites like Battlestar Galactica, 24, The Man in the High Castle, and Jessica Jones, but as for work on the big screen, you may recognize him from 2016's Warcraft movie, a detective in 2017's Jigsaw, or as Anastasia Steele's father, Ray, in Fifty Shades of Grey and its sequels.
Marianne Muellerleile (Tattooist)
If, like Leonard Shelby would, you also found yourself trying to figure out where you saw the woman tattooing him in Memento before, it is surely not by accident. Marianne Muellerleile has more than 200 acting credits to her name dating back to the late 1970s, including 1984's The Terminator as another Sarah Connor Arnold Schwarzenegger kills before finding Linda Hamilton's character or Max's teacher in the opening scene from Jim Carrey's 1997 hit Liar Liar. The 72-year-old most recently lent her voice to Disney's animated The Rocketeer series and will next be seen in the seniors-centered rom-com Never Too Late.
Russ Fega (Waiter)
You may recognize Russ Fega, who has a brief role in Memento as a waiter at a diner Leonard stops at to see Natalie, from the other times he has popped up in a Christopher Nolan movie - namely The Prestige, Inception, The Dark Knight Rises, and Interstellar. He has done plenty of acting elsewhere, but most of his work in Hollywood has been in set locations management, from 1989's Bill and Ted's Excellent Adventure to episodes of Curb Your Enthusiasm and even for Memento, as well.
Larry Holden (Jimmy Grantz)
The role of a drug dealer named Jimmy in Memento was also the first of multiple appearances in a Christopher Nolan feature for Larry Holden before he played a detective in Insomnia and in Batman Begins as a Gotham City district attorney. Today, we can only imagine how many more times the actor, writer, and director could have collaborated with Nolan if not for his untimely death due to cancer in 2011 at only 49 years old.
At least we can say that Larry Holden will never be forgotten thanks to his famous appearance in Memento, which clearly has its fair share of memorable actors. If there are any more talented people from classic movies and TV shows whose whereabouts you have been curious about lately, you can find plenty of other lists like this, as well as more news and information related to Christopher Nolan's brilliant American debut, here on CinemaBlend.
Jason has been writing since he was able to pick up a washable marker, with which he wrote his debut illustrated children's story, later transitioning to a short-lived comic book series and (very) amateur filmmaking before finally settling on pursuing a career in writing about movies in lieu of making them. Look for his name in just about any article related to Batman.
Your Daily Blend of Entertainment News
Thank you for signing up to CinemaBlend. You will receive a verification email shortly.
There was a problem. Please refresh the page and try again.