What's Happened To Kat Dennings' Darcy Lewis Between Thor: The Dark World And WandaVision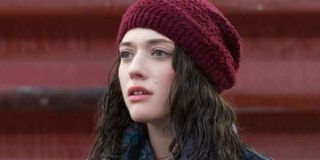 One of the things MCU fans are looking forward to the most with WandaVision is how big the ensemble is. The new Disney+ miniseries promises to give us glimpses of quite a few fan-favorite characters. That includes Thor's Darcy Lewis, played by Kat Jennings. While there's been a bit of mystery surrounding exactly how she'll fit into the show, we're now learning what she's been up to since 2013's Thor: The Dark World, her last MCU appearance.
None of the human characters from the first two Thor movies appeared in Thor: Ragnarok. So it's been quite a while since we've seen Darcy Lewis, Jane Foster's eccentric-yet-brilliant and hilarious intern. While we've known for a while that Kat Dennings would be reprising the role in WandaVision, she was a no-show in the first trailer for the series, which only added to the mystery surrounding her part.
Now, we're getting a bit more clarity surrounding how she'll fit into the new Disney+ show. In a production brief for WandaVision, Director Matt Shakman primed MCU fans for what to expect when we finally see Darcy Lewis again -- and it sounds like she's made some huge professional strides:
Matt Shakman also said that Darcy will be teaming up with Jimmy Woo (Randall Park), of Ant-Man and the Wasp fame, to solve an as-yet unspecified mystery in WandaVision. So that sounds promising -- both characters have been popular with fans due to the unique energy they brought to the screen. Together, the pair has some real potential to make things interesting, especially since they're teaming up on what sounds like an exciting adventure.
In Thor: The Dark World, Darcy Lewis was there mostly to help astrophysicist Jane Foster (and act as comedic relief). So it will be interesting to see what happens if she takes on a more defined role in WandaVision. Darcy was always smart but, now that she's gained more experience, she could be a force to be reckoned with. Plus, it goes without saying that she and Jimmy Woo together will probably make for some pretty funny moments. It remains to be seen whether we'll get to see Darcy in other MCU stories in the future -- as of right now, it doesn't look like she'll make an appearance in Thor: Love and Thunder.
There's a lot we still don't know about how WandaVision will work and fit into the overall framework of the MCU. Luckily, we won't have to wait much longer to find out. The first two episodes of WandaVision will be available on Disney+ beginning January 15. You can also revist Darcy's adventures in the Thor movies on the streamer as well.
Are you excited to see Darcy again? Let us know in the comments!
Your Daily Blend of Entertainment News