Those Who Wish Me Dead: 7 Things We Know About The New Movie From Yellowstone's Taylor Sheridan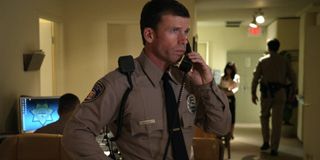 With all the talk surrounding Taylor Sheridan's hit Paramount series Yellowstone, its spinoff, and other television projects in the works, now is the perfect time to talk about the former Sons Of Anarchy star and Academy Award nominee's upcoming film, Those Who Wish Me Dead. Featuring a plot that sounds like The Client meets The Revenant, and a cast that includes Angelina Jolie, Tyler Perry, and Nicholas Hoult, to name only a few, the soon-to-be-released survival thriller sounds like it will be up there with Sheridan's previous film and television series.
But, as we approach the release date for Those Who Wish Me Dead, it seems like it's one of the many movies to slip between the cracks in the early goings of 2021, which is a shame considering everyone involved with the project. So, to help people better understand the movie, what it's about, and when we'll get to see it, here are seven things we know about Those Who Wish Me Dead.
Those Who Wish Me Dead Follows A Survival Expert As She Protects A Young Murder Witness In The Wilderness
Taylor Sheridan is no stranger to having movies and television series feature intense action sequences and chase scenes in the middle of the American wilderness, and Those Who Wish Me Dead will be no exception. Back around the time the cast started to come together in the spring of 2019, Deadline described the movie as being a hardcore chase thriller set against a wildfire in the Montana wilderness (which sounds a lot like the setting of Sheridan's 2017 murder mystery Wind River and its Wyoming setting).
The movie will reportedly center on a teenage boy who receives a new identity and is placed in a wilderness training program after witnessing a brutal murder (hence the comparisons to The Client). When the killers come looking for the boy to eliminate any trace of the crime, it's up to a survival expert to lead him to safety.
Angelina Jolie And Newcomer Finn Little Lead This Chase Thriller
Leading the all-star cast in Those Who Wish Me Dead is Angelina Jolie, who will be playing the firefighter and survival expert who sets out to protect the teenage boy at the center of the narrative's conflict, per The Hollywood Reporter. Taking on that role is Finn Little, a relative newcomer who has appeared in a few episodes of the Australian drama Harrow, but his biggest claim to fame is a performance in 2019's Storm Boy alongside Geoffrey Rush and Jai Courtney.
In Michael Koryta's novel on which Those Who Wish Me Dead is based, the characters were named Hannah Faber and Connor Casserly, but it has not yet been made official if those names will carry over into Taylor Sheridan's upcoming thriller.
Nicholas Hoult, Tyler Perry, And Jon Bernthal Will All Appear In Taylor Sheridan's Neo-Western
Outside of Angelina Jolie and Finn Little, the rest of the Those Who Wish Me Dead cast is equally impressive, with actors who have appeared on everything from The Walking Dead to Mad Max: Fury Road getting a spot in Taylor Sheridan's neo-western. In April 2019, Deadline reported the casting of Nicholas Hoult, Tyler Perry, Jon Bernthal, Aidan Gillen, Medina Senghore, and Jake Weber, bringing together names that had appeared in movies like Dawn of the Dead and shows like The Wire and Game of Thrones for this thrilling crime drama.
Taylor Sheridan Wrote The Screenplay With The Original Book's Author
Taylor Sheridan, who has received acclaim for writing movies like Sicario, Hell or High Water, Wind River, and the Yellowstone series on the Paramount Network, was one of three co-writers credited for Those Who Wish Me Dead, with the others being Charles Leavitt and Michael Koryta, the author responsible for the source material. According to Deadline, Leavitt and Koryta first attempted adapting the screenplay several years ago, but Sheridan penned the later draft that eventually became the movie's final form.
Production on Those Who Wish Me Dead Was Completed In 2019
Although Those Who Wish Me Dead is primarily set in the Montana wilderness, Taylor Sheridan and company decided on filming in various locations throughout New Mexico in the summer of 2019. In a statement provided to the Albuquerque Journal, Sheridan noted:
The production, which wrapped in early July 2019, was just the latest of Taylor Sheridan's to be filmed in New Mexico as Sicario, Sicario: Day of the Soldado, and Hell or High Water were all filmed in the state in the center of the American Southwest.
Amazingly Enough, This Is Only Taylor Sheridan's Second Time Directing A Feature-Length Film
Taylor Sheridan is responsible for several of the most decorated crime thrillers of the past decade, but amazingly enough, Those Who Wish Me Dead is only the second feature-length film he has directed. Sheridan's first directorial credit was for the 2017 intense murder mystery, Wind River, which is a masterclass in the pacing, tension, and earned action sequences that remains just a phenomenal four years after its release. If Sheridan's latest effort even comes close to his first go at directing then we're going to have one hell of a movie on our hands.
Those Who Wish Me Dead Lands In Theaters (And On HBO Max) May 14
Now that we know about the basic premise, cast, and other details about Those Who Wish Me Dead, the only thing to go over is its release. Included in the list of Warner Bros. productions set to be released in theaters and on HBO Max on opening weekend, the neo-western was originally one of the titles with a big TBA in place of its release date. That changed in February 2021 when it was revealed by Deadline that Those Who Wish Me Dead will now debut May 14. You can check out the full list of movies included in this initiative by clicking here.
Although there is a lot we know about Those Who Wish Me Dead, there are still several aspects of Taylor Sheridan's thriller that we don't yet know, like the official names of the central characters and when we'll finally get to see a trailer. While we're waiting for that, now is the perfect time to catch up with CinemaBlend's 2021 movie release schedule.
Philip grew up in Louisiana (not New Orleans) before moving to St. Louis after graduating from Louisiana State University-Shreveport. When he's not writing about movies or television, Philip can be found being chased by his three kids, telling his dogs to stop yelling at the mailman, or yelling about professional wrestling to his wife. If the stars properly align, he will talk about For Love Of The Game being the best baseball movie of all time.
Your Daily Blend of Entertainment News
Thank you for signing up to CinemaBlend. You will receive a verification email shortly.
There was a problem. Please refresh the page and try again.