Could Halloween Kills Arrive Straight To Home? Here's What John Carpenter Thinks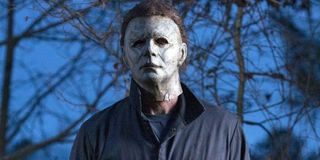 The ongoing COVID-19 pandemic has completely changed how most of the country consumes its entertainment. Theaters have closed, streaming services are now bringing movies straight to your home and a number of major blockbusters have been delayed. Horror legend John Carpenter recently shed some light on how fans may be able to watch Halloween Kills when it releases.
In a recent interview Halloween creator John Carpenter discussed the possibility of Halloween Kills coming straight to viewers at home, rather than the big screen. As he put it,
The director revealed that it's definitely a possibility that the sequel will be released straight to PVOD. In his interview with NME, he addressed the reality of the current situation and the perilous state that most theaters are in right now. While it's certainly not ideal, the director mentions that there's always the possibility that things will get better and fans can enjoy Halloween Kills on the big screen.
Halloween Kills is a sequel to 2018's Halloween, a soft reboot of the iconic horror franchise. Fan favorite Jamie Lee Curtis reprised her role as Laurie Strode and will return in the upcoming sequel. While John Carpenter won't be back in the directors chair, he is attached to work on the music, which makes sense considering the theme for 1978's Halloween is one of the most recognizable in film history.
David Gordon Green will be returning for Halloween Kills as director. His partnership with Danny McBride on the writing team was a successful one, as 2018's Halloween was a box office hit, taking home more than $255 million on a $10-15 million budget.
The highly anticipated sequel has been described as "the ultimate slasher" by John Carpenter, who was the mastermind behind the original Halloween. Not bad, as Carpenter is considered one of the best to ever do it in the horror genre. As of now Halloween Kills is scheduled to release in theaters October 15, 2021, but with the current state of the pandemic that could change at any time.
While there is no telling what the 2021 movie schedule will look like come October, it sounds like Halloween Kills will be an awesome return to form regardless of where it releases. Until then, fans of the franchise can return to the film that started it all on Shudder, or head on over to Amazon to check out the most recent entry. I know that I'll be crossing my fingers that we will be able see Halloween Kills in all of its gory glory on the big screen, like it's meant to be seen.
Your Daily Blend of Entertainment News
Into tracksuits by Paulie Walnuts, the Criterion Channel and Robert Eggers.