5 Marvel Characters Andra Day Would Be Perfect For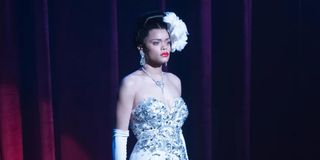 Well, folks, I think we can officially say that Hollywood now has its eye on Andra Day following her Best Actress win for her breathtaking performance in The United States vs. Billie Holiday at the 2021 Golden Globes. Of course, that also means that a part in Marvel movies (or Disney+ exclusive TV shows, even) may only be one phone call from Kevin Feige away.
If there is one thing that modern comic book films have in common with each other (behind the scenes, at least) it is a reputation for putting a talented cast of award-winning (or multi-award-nominated) actors in spandex. Before playing the legendary jazz music icon in director Lee Daniels' Hulu original biopic, the 36-year-old songstress' most honorable accolade was a pair of Grammy nominations for her 2015 debut album, Cheers to the Fall, and its inspirational lead single "Rise Up." Now that the Hollywood Foreign Press and her additional acclaim for The United States vs. Billie Holiday has solidified her as a double threat in the industry, her chances of defending the world from its greatest threats on the big screen have also increased.
While Andra Day only has one major acting role to her name so far and may want to explore this talent a bit more before transitioning into the superhero genre, I just cannot help but imagine who she should play in a future installment of the Marvel Cinematic Universe. I have five characters in mind whom she could help rise up in the ranks of popular crimefighters (or evildoers), starting with one also known for having a record deal.
Dazzler
The closest most comic book heroes come to living in ink and our reality is through the Spider-Men or Wonder Women on Hollywood Boulevard making a living off of photos with tourists. However, in the early 1980s, this mutant almost became the first superhero to have her own concert tour in real life (as portrayed onstage by an actress, of course) before plans were scrapped. Dazzler would become popular in the Marvel Universe among music fans and the X-Men, whom she would fight alongside using sound-to-light conversion.
With a new life for the X-Men in the MCU on the horizon, I think some would agree it might be time for this powerful pop star to get more than a brief cameo (i.e. Dark Phoenix) in a future installment, and Andra Day is my top pick at the moment. They may have to age up the role for her a bit, but they would not have to change a thing about her vocal talents. Not to mention, Dazzler is not the only character for whom good pipes would come in handy.
Songbird
Another alias that Dazzler (whose real name is Alison Blaire) has gone by is Songbird, which is also the current alias of Melissa Gold, and aptly so. Her superhuman vocal chords have led her to become an aspiring singer, which is only one reason I think Andra Day would be a perfect fit to bring the character to life.
Before her music career took off, or she fought alongside the Avengers, or helped form another superhero team know as the Thunderbolts, Songbird was introduced in 1979 as "Screaming Mimi," in a squad of female criminals who double as professional wrestlers. I said earlier that I imagine Andra Day would like to try out different kinds of roles in her blossoming acting career, and playing a former supervillain who knows how to throw down in the ring would be a golden opportunity to explore unfamiliar territory while also crossing a Marvel character off of her list.
Ladyhawk
Somewhat keeping with the theme of heroes overcoming a criminal background, we have Rosetta and Regina Morgan - sisters whose father is known best for murdering Sam Wilson (better known as The Falcon), which would inspire them to become heroes instead of villains. In honor of Falcon, they chose to use the alias Ladyhawk, which they are able to share due to them being identical.
My first reason for wanting to bring Ladyhawk into the MCU (which could require a bit of a reinterpretation) is to finally add a set of crimefighting twins into the mix who are not fraternal. My second reason is to give Andra Day yet another acting challenge: playing alongside herself as a co-star in the same superhero movie.
Heather Hudson
Of course, when it comes to comic book movies, the greatest acting challenge of all is to introduce a long-awaited, major character into a pre-existing franchise for the very first time. Fortunately, if Andra Day was chosen to play Heather Hudson (who is best known for being married to Wolverine) in the MCU, she would at least have the advantage of being introduced alongside a whole new cast of X-Men actors. On the other hand, this is one character whose depiction is not one to be taken lightly. Wolverine would fall in love with Heather after she helped him escape from the Weapon X program, nursing him back to health, and keeping this famously ill-tempered Canadian calm for once. He would soon learn that she has a few animalistic abilities of her own as she can shapeshift into a Sasquatch. That should be the flagship romance of the MCU's X-Men reboot, if you ask me.
Storm
If I am being completely honest, though, there is only one X-Men character I believe Andra Day would deserve to be cast as over any of them. Ororo Munroe (better known as Storm, and previously portrayed by Alexandra Shipp and Halle Berry) is one of the most powerful and popular women in comic book history, and should, undeniably, be a major part of the MCU once she and her fellow mutants are inducted.
The only issue is that Andra Day would have a little competition to face, as fellow singer/actress Janelle Monae has also campaigned for the role in the past. Plus, we would not be able see Storm share the screen with her husband, T'Challa, following the death of Black Panther star Chadwick Boseman in 2020. On the bright side, if Day were to win the role, the possibilities of what she could do to make it all her own, by bringing the same unstoppable fierceness she brought to Billie Holiday, are endless.
Andra Day is already taking the world by storm, but could Storm be her ticket to entering the comic book movie world as well? Do you think she stands a better chance with the other characters I recommended? Until we at CinemaBlend hear the hypothetical news that the Golden Globe winner has officially joined the MCU, vote on what Marvelous heroines (or villains) you believe the Billie Holiday actress should play.
This poll is no longer available.
Jason has been writing since he was able to pick up a washable marker, with which he wrote his debut illustrated children's story, later transitioning to a short-lived comic book series and (very) amateur filmmaking before finally settling on pursuing a career in writing about movies in lieu of making them. Look for his name in just about any article related to Batman.
Your Daily Blend of Entertainment News
Thank you for signing up to CinemaBlend. You will receive a verification email shortly.
There was a problem. Please refresh the page and try again.