10 Great Movies Coming To Netflix In April 2021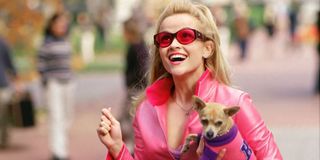 Streaming services have evolved pretty exponentially over the course of the past few years. With new, original films becoming premium offerings to subscribers, every month brings a new chance to gain some market share in the world of the movies. But that hasn't totally overwritten the desire for platforms such as Netflix to still score some pre-existing titles for its streaming library. April 2021's lineup shows the value of maintaining a fresh batch of incoming films from legacy libraries, and Netflix has done a rather fine job with its latest additions.
If you're looking forward to April's new field of titles, but want to see the full picture, you can see April's full incoming lineup below. And if you're compelled to revisit the best and the brightest add-ons from March's crop of titles, that'll be provided further down as well. But for now, let's highlight some of the most excellent movies headed to Netflix in April 2021.
Insidious
The world is still waiting on actor Patrick Wilson to make his directorial debut with the latest installment of the Insidious franchise. Which makes now the perfect time to revisit the first film in the saga, which introduced Wilson's Josh Lambert and his family that makes up the bulk of the Insidous universe's foundation. No matter how many times we watch it, there's still some moments that scare the hell out of us, and we're hoping Insidious 5 gives us more of the same when it arrives.
Legally Blonde
Speaking of legacyquels, Legally Blonde has that long awaited third entry coming, with Reese Witherspoon set to become Elle Woods yet again. It's hard to believe that this year marks 20 years since Elle first went to Harvard, and proved that it totally wasn't hard to become a legal mind of our time. We won't see Elle again until 2022's debut of Legally Blonde 3, so we're just going to have to make do with bending and snapping back to the case that started it all.
Leprechaun
Before she took a break from Ross on Friends and butted heads with Reese Witherspoon on The Morning Show, Jennifer Aniston did battle with the Leprechaun from the famed horror franchise of Leprechaun films. That first film left quite the impression, spawning sequels, reboots, and memes aplenty, and even Spiral director Darren Lynn Bousman wants to bring back the Leprechaun saga, as it rightfully should be allowed to do. Though it is hard not to enjoy the low-budget charm of that first film, deadly puns and all.
The Pianist
Before he struck it big as a member of the Wes Anderson Repertory Company, actor Adrien Brody made a name for himself with a huge Oscar win through the film The Pianist. Based on the true story of composer and Holocaust survivor Wladyslaw Szpilman, Brody's central performance was so charged that it netted him awards and accolades upon the film's release. It's no secret why, as the intensity of The Pianist's story is something that still resonates with audiences to this very day.
The Time Traveler's Wife
Here's a hell of a time loop for you readers to dig into: former Doctor Who showrunner Steven Moffat was inspired by the book The Time Traveler's Wife, and created the character River Song as a result. And now, years after his departure from running the TARDIS and its universe, Moffat will be adapting another version of Audrey Niffenegger's best-selling book as an HBO series. While he's worked with the material before, we still wish him the best of luck, as watching Eric Bana and time travel expert Rachel McAdams deal with a romance out of order is a hard act to beat.
Yes Man
It's really funny that the Jim Carrey comedy Yes Man would be headed to Netflix not too long after the platform has debuted its own spin on the same story. Much like the Jennifer Garner comedy Yes Day, Carrey finds himself in a spot where he's encouraged to say "yes" to everything that comes along. What results is a movie that would make a good natured double feature with Netflix's own family comedy, and a case for the two worlds to collide, just to see Jim Carrey and Jennifer Garner goof it up a bit on screen.
The Master
Here we are, staring down another year where Amy Adams has been passed over for an Academy Award nomination. Though finding the talented actor nominated doesn't mean she'll win, as she's yet to score a trophy at the big show, despite putting in amazing work in films like Paul Thomas Anderson's The Master. You'll find a lot of people talking about sterling performances from Phillip Seymour Hoffman and Joaquin Phoenix when they talk this film up, but pay close attention to Ms. Adams' ruthlessly brilliant turn the next time you indulge in this masterpiece.
Available 4/15/21
Crimson Peak
If studios listened to Guillermo del Toro a little more, they might find themselves enjoying the results a bit better. Take the case of Crimson Peak as an example: del Toro wanted to make the film for $25 million, but the studio allowed the film to be made on a $50 million budget. While that extra money was definitely put to good use in this lush and haunting gothic romance, it raised the bar for what would have allowed the film to be considered a financial success. Though, to be fair, the end result is too beautiful to argue with, and already has its loyal legion of fans.
Available 4/16/21
Synchronic
Even in a year as chaotic as 2020, there were still some under the radar hits that had people talking, much like the film Synchronic. Directors Justin Benson and Aaron Moorhead continued to earn a reputation as outside the box thinkers, as this time travel drug drama starring Anthony Mackie and Jamie Dornan turned a lot of heads with its trippy tale. And now, Netflix subscribers will get to dive into the mystery head first thanks to Synchronic making its way into the April lineup.
Available 4/16/21
Miss Sloane
If you were looking for a good time to have a Jessica Chastain film festival, then you might want to start clearing your schedule out for some time later in April. Not only is Crimson Peak being added to Netflix's library, but The Zookeeper's Wife and Miss Sloane are also being loaded into the library next month. Though if you're strapped for time, we'd recommend keeping both Guillermo del Toro's twisted romance and this Michael Clayton-esque thriller on the bill, at the bare minimum.
Available 4/19/21
These titles and more will be the stuff that Netflix (opens in new tab) subscribers' dreams are made of, but be warned: titles are subject to change and availability, so contents may shift in the time between now and their planned debut. And don't forget, unless specifically noted, all titles above come online at the first of the month. Stay safe, stream responsibly and we'll see you back here around this time next month for June's movie highlights on the Netflix platform!
Senior Movies Contributor
CinemaBlend's James Bond (expert). Also versed in Large Scale Aggressors, time travel, and Guillermo del Toro. He fights for The User.