Dwayne Johnson Gives A+ Response To Prince William Being Named World's Sexiest Bald Man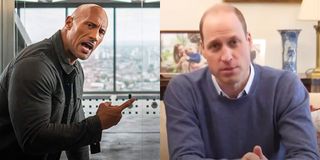 If you've been on the Internet this weekend, you've probably already heard that Prince William has been declared the World's Sexiest Bald Man -- not to be confused with Sexiest Man Alive Michael B. Jordan. This occurred after a research firm went through Google search data and found the English prince, who is second in line to the throne, had been searched in combination with the word "sexy" a sum of 17.6 million times. Now other sexy bald man Dwayne "The Rock" Johnson has shared his take on the title, and it's an A+.
While one might expect The Rock to take a little bit of offense to not being the sexiest bald man in the whole wide world, it seems he has never considered himself for the title in the first place. In fact, he was downright offended that Curb Your Enthusiasm Star Larry David did not land the title, noting on a Twitter post related to the title that he would be "demanding a recount."
Unfortunately for both Dwayne Johnson and Larry David, neither of them even made the Top 5 when it came to sexy famous bald men. Instead, the Top Five was rounded out by some other actors and sports stars. Along with Prince William in the #1 slot, famous boxer and bald man Mike Tyson was #2. Following Mike Tyson was Dwayne Johnson's Hobbs and Shaw co-star Jason Statham, singer Pitbull and Michael Jordan, who needs no introduction (info via The Sun).
Now that I have the full Top 5 in front of me, I'm realizing just how bald the Hobbs and Shaw franchise really is. Still, it's worth noting Dwayne Johnson is an actor who was actually famous before he was bald. As a wrestler his hair was varying lengths, but he started shaving it around 2010, when his movie career was kicking into gear with projects like The Tooth Fairy. By the time The Rock played Hobbs for the first time in 2011's Fast Five, he was rocking the shaved head look. It's also worth pointing out the actor did make it in the Top 10, landing in the 9th spot (2.6 million searches) just ahead of his other Fast co-star Vin Diesel, who nabbed the #10 slot (2.3 million searches).
As for Larry David, Curb Your Enthusiasm's "bald bastard" -- a nickname that used to make Larry David laugh on set -- told Jimmy Kimmel a few years ago that he had "never flirted with a toupee," embracing his baldness proudly after Kimmel asked him if he was self-conscious about his hair loss.
Anyway, as of yet, Larry David has not commented on The Rock's pronouncement, but I doubt The Jungle Cruise star is the only one on the interwebs to feel this way.
Amazing Race & Top Chef superfan with a pinch of Disney fairy dust thrown in. If you've created a rom-com I've probably watched it.
Your Daily Blend of Entertainment News
Thank you for signing up to CinemaBlend. You will receive a verification email shortly.
There was a problem. Please refresh the page and try again.