The Spoiler Articles To Read Once You've Watched The Last Dance On Netflix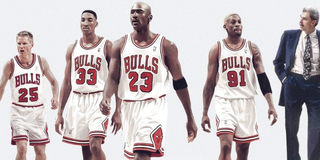 Before we dive into this list of articles for The Last Dance, we'd like to remind our readers that hardcore spoilers and discussion will be present in EVERY ONE OF THE STORIES BELOW.
Now that The Last Dance is on Netflix, we wanted to compile the most popular articles we've written on the 10 part docuseries and put them in one easy to find place. Below you'll be able to find opinion pieces, news and more. So without further adieu, enjoy!
Why Steve Kerr Was Rocking Golden Star Warriors Gear
Despite being a former Chicago Bull, Golden State Head Coach Steve Kerr was wearing his current teams gear instead of Chicago's during his interview in The Last Dance. Fortunately, he had a pretty hilarious reason for looking so scruffy... Check out his reasoning here.
The Next NBA Icon Getting An ESPN Docuseries
ESPN has already announced a partnership with NFL legend Tom Brady, but there is another NBA icon getting back into the lime light with a series of his own... Read on for what we know so far.
That Passionate Pacers Fan Finally Speaks Out
If you watch The Last Dance, and if you made it this far I assume you did, you know who I am talking about. During the 1998 NBA Eastern Conference Finals Market Square Arena was a particularly difficult place to play as a visiting team. One reason being the extremely passionate fans... Check out what one fan had to say about the outburst.
Carmen Electra Searches Went Way Up On Pornhub Because, Of Course
The old tried and true cause and effect at work here. Carmen Electra is on The Last Dance and what do you know, Pornhub searches for Carmen Electra go way up. Hmm, who would have guessed it... Check out the exact numbers here.
That One Story That Didn't Make It Into The Last Dance
The Last Dance did a great job of diving deep into the background of Michael Jordan, but there was one story from an interview with his mother that didn't make the cut... Read the whole story here.
Carmen Electra Hasn't Aged
The Last Dance is full of NBA legends, celebrities and larger than life characters. However, it's almost hard to focus on some of these big names like Scottie Pippen and Dennis Rodman without noticing that Carmen Electra hasn't aged a wink... Take a closer look at how much hasn't changed here.
Toni Kukoc And 3 Other People That Deserve More Screen Time In The Last Dance
The Last Dance was truly incredible. It set a new benchmark for all sports related docuseries moving forward. However, there are still a few people that could have used a little more time on screen... Check out the full roster here.
Why Michael Jordan's Wife And Ex-Wife Were Absent In The Last Dance
The Last Dance went deep into Jordan's personal life. However, his ex-wife Juanita Vanoy and current wife Yvette Prieto were notably missing. Producer Mike Tollin insist he had his reasons for not interviewing them... read what he had to say here.
Why Scottie Pippen Was Unhappy With The Last Dance
Scottie Pippen and Michael Jordan go together like peanut butter and jelly, but one half of the duo is reportedly not happy with his portrayal in The Last Dance... Check out Pippen's thoughts here.
Now that The Last Dance is over, keep your eyes peeled for coverage of Tom Brady's upcoming 2021 series. For anything else movie, news or entertainment related be sure to check back at CinemaBlend for the latest!
Into tracksuits by Paulie Walnuts, the Criterion Channel and Robert Eggers.
Your Daily Blend of Entertainment News
Thank you for signing up to CinemaBlend. You will receive a verification email shortly.
There was a problem. Please refresh the page and try again.