A24's New Movie Zola Has An Amazing Tagline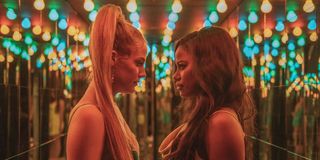 A24 has made a relatively big splash since distributing its first films back in 2013. The small, indie-focused distributor now has a number of major titles under its belt, with the awards to show for it. A24's latest project, Zola, just released its first trailer and it came with an amazing tagline.
Zola, which is based on a wildly popular Twitter thread, dropped the tagline today, along with a trailer that promises debauchery and comedy of all sorts. Check it out:
"Ya'll wanna hear a story about why me & this bitch here fell out? It's kind of long but full of suspense." How's that for a tagline? That quote is actually pulled from the exact tweet that kicked off the famous twitter thread that inspired the movie. For those of you who didn't catch the historic thread back in 2015, you can read the entire thing here. Be warned though, it will surely spoil the events of Zola.
From the trailer it looks like Zola will follow the same structure as the thread, where Zola meets Stefani (renamed for the movie) while waitressing at Hooters. After the pair bond over their mutual love for stripping, Stefani invites Zola on a trip to Florida. Zola agrees and subsequently finds herself caught up in a much more dangerous situation than she anticipated.
Although the film first premiered at Sundance in 2020, it will now be released on June 30, 2021. The cast for Zola is pretty stacked, too. Taylour Paige, who fans may recognize from Ma Rainey's Black Bottom, will star as Zola, while indie-star Riley Keough will play Stefani.
Zola was directed by up-and-coming director Janicza Bravo, who worked on FX's hit series Atlanta as well as 2017's Lemon. Based on early reviews, it looks like she's avoided the sophomore slump with twitter-based biography.
The tag line is fitting for both the film and A24, who has made headlines for some of their wilder promotions over the years. Back in 2019 the distributor hilariously offered free couples counseling while promoting Ari Aster's folk-horror hit Midsommar.
From this trailer and the twitter thread Zola is based on, it looks like some counseling could have been beneficial for those involved back in 2015, when A'Ziah-Monae "Zola" King first tweeted about the experience. I'm sure that A24 has another sneaky marketing scheme up its sleeve for this movie, so keep your eyes on A24's twitter account for the latest.
Amazing tagline aside, I'm pumped to see Zola when it comes out. The trailer looks fun, suspenseful and hilarious. Plus A24, who is known to distribute more off-beat indie fare, has a pretty damn good track record as of late, so I'm willing to bet it's a quality production.
Your Daily Blend of Entertainment News
Into tracksuits by Paulie Walnuts, the Criterion Channel and Robert Eggers.
Your Daily Blend of Entertainment News
Thank you for signing up to CinemaBlend. You will receive a verification email shortly.
There was a problem. Please refresh the page and try again.