Thunder Force's Director Reveals Exactly What Melissa McCarthy Was Eating In That Disgusting Final Scene With Jason Bateman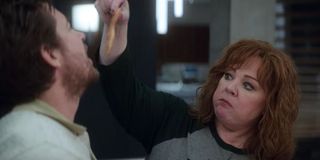 Melissa McCarthy's latest superhero comedy, Thunder Force, has made headlines recently for some of the bizarre scenes featuring Jason Bateman as Jerry, aka The Crab. After a particularly wacky sequence featuring some Crab-like sex, the duo once again shocked fans with a scene toward the end of the film, eating what appeared to be raw chicken. Delicious!
Recently, Thunder Force director Ben Falcone revealed exactly what she was eating alongside Ozark star Jason Bateman. Fortunately, they weren't actually consuming raw chicken (much to The Crab's chagrin). Instead, they had a much sweeter substitute on set. According to the director:
First reported by The Wrap, Ben Falcone, who is married to McCarthy, said the pears were so realistic looking that even the staff was grossed out. Melissa McCarthy herself had trouble actually getting through it, apparently because it was hard to envision the pears as anything but raw chicken.
To be honest, I can understand where she's coming from. Not only is raw chicken just disgusting to think about eating, it's also incredibly unsafe. Even if they were just pears at the end of the day, it can't be easy to convince yourself to eat them, let alone act like you are enjoying it!
The raw chicken bit is the cherry on top of Thunder Force's out-there brand of comedy. At one point in the film McCarthy's character has an impromptu dance sequence with Bateman's The Crab. Naturally, they dance to the sax-laden tune "You Belong To The City" by Eagles frontman Glenn Frey. But to be fair, it kind of rules.
That's just a taste of the shenanigans that happen while Thunder Force's Melissa McCarthy and Octavia Spencer take on the villainous King, played by Bobby Cannavale. Despite the all-star comedic talent involved, the cast recently revealed that the funniest person on set was MCU veteran, Pom Klementieff.
While fans and critics may have been lukewarm on the Netflix comedy, Thunder Force is a fresh spin on the increasingly popular superhero genre. Even with the gonzo comedy and disgusting raw chicken consumption, McCarthy's latest venture was able to satiate my superhero appetite until the long-awaited Black Widow releases later this year. Fans can check out Thunder Force on Netflix, where it's streaming right now.
Your Daily Blend of Entertainment News
Into tracksuits by Paulie Walnuts, the Criterion Channel and Robert Eggers.