Melissa McCarthy Talks About Having A 'Blast' During That Weird Thunder Force Sex Scene With Jason Bateman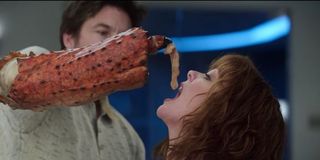 Sex scenes are controversial territory when it comes to filmmaking. While some are willing to bare all for the big screen, other major celebrities outright refuse to do them. Recently, Netflix's Thunder Force featured a pretty weird sex scene between Melissa McCarthy and Ozark star Jason Bateman.
In an interview with CinemaBlend's Jeff McCobb, Melissa McCarthy shed some light on what it was like to film such an intimate, yet hilarious moment with Jason Bateman, who plays a half-man half-crab. When asked about this scene in question, she had this to say:
Despite how weird the whole situation is, it sounds like McCarthy and Bateman had a good time filming the scene. While it wasn't as if she had prior experience with a crab-man to work off of, the duo still pulled it off, along with some hilarious Old Bay related jokes.
In Thunder Force, Melissa McCarthy's character, Lydia Berman, unwittingly becomes a superhero. During her crime fighting escapes alongside Emily Stanton, played by Octavia Spencer, a romantic relationship blossoms between Jason Batman's crustacean-like character, The Crab. Many, and I mean many, butter-based jokes ensue.
The movie is stuffed with jokes related to all things crab from the moment Bateman's character is introduced. Some may think that a few of the comedic bits venture into weird territory (the guy literally has crab arms, claws and all), but I thought the duo kept it relatively lighthearted and hilarious given the circumstances.
Thunder Force marks the first reunion between Jason Bateman and Melissa McCarthy since working together on 2013's Identity Thief. The pair also worked on 2016's Central Intelligence, but McCarthy's cameo was uncredited.
The Netflix comedy is the latest addition to the growing number of superhero movies. While some fans have been eagerly waiting for a major release from the MCU's Phase 4, Thunder Force is a welcome return to the genre. Although the project is more focused on comedy rather than the high-flying action that fans are used to, it's a fun spin on an old recipe.
Fans can check out the wacky-yet-oddly-hilarious Thunder Force on Netflix, where it's currently available for streaming. If Bateman's claws didn't completely scratch the superhero itch for you, be sure to check out our 2021 Movie Release Schedule for the latest on everything heading to the big (and small) this year.
Your Daily Blend of Entertainment News
Into tracksuits by Paulie Walnuts, the Criterion Channel and Robert Eggers.