Mehcad Brooks Reflects On Why Mortal Kombat Is The Perfect Franchise To Champion Diversity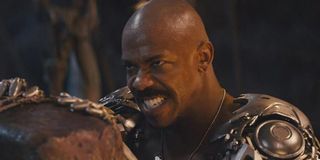 The upcoming Mortal Kombat reboot has been making headlines for it's beautiful brutality, record-breaking red band trailer and an impressive cast of characters. Not only will director Simon McQuoid's reboot feature a number of franchise favorites, the cast is a wonderfully diverse mix of talent from across the world. According to Mehcad Brooks, who plays Jax, the video-game-based franchise is the perfect opportunity to champion diversity.
In a recent interview with CinemaBlend, I had an opportunity to talk to Mehcad Brooks about the cast and how diversity fit into the context of the Mortal Kombat universe. When asked about his experience working on set with everyone from world-class martial artists like Lewis Tan, to Josh Lawson as the iconic Kano, he had this to say:
Mehcad Brooks pointed out that Mortal Kombat is the perfect example of a film that not only highlights diversity, but champions it as well. He used Lewis Tan, who plays franchise newcomer Cole Young, as an example. Seeing the struggles and experiences of Tan's character is a fantastic way to identify with the not only Cole Young, but the actor as well. He went on to explain that just because you don't look like someone, doesn't mean you can't identify with them:
Mehcad Brooks' response was a wonderful way to illustrate just one of the many benefits behind increasing diversity in entertainment, including Hollywood. Not only is Mortal Kombat a great place to feature characters (and actors) from all walks of life with culturally accurate casting, it fits into the context of the lore! The heavy lifting is already there from a story perspective.
The normalization of diversity has long been a struggle for Hollywood, but recent changes to Academy Award qualifications and this year's ceremony breaking diversity records inspire hope that things are changing in the industry. Only time will tell if Mortal Kombat ends up being Oscar material (seriously, let's nominate more movies where dude's heads get punched off), but one thing is for certain: The diverse cast worked hard to bring a campy, fun and brutal flick to the big screen that will represent cultures and people from across the world.
Now, it's up to us to enjoy that hard work, which shouldn't be too hard considering we've already seen Sub-Zero stab ole' Scorpion with his own blood. Fans can catch Mortal Kombat when it releases in theaters and on HBO Max on April 23rd, 2021. In the meantime, maybe you can break out one of the old games and try pulling off a fatality, or two.
Your Daily Blend of Entertainment News
Into tracksuits by Paulie Walnuts, the Criterion Channel and Robert Eggers.