Why Mortal Kombat's Johnny Cage Isn't In The New Movie, According To The Screenwriter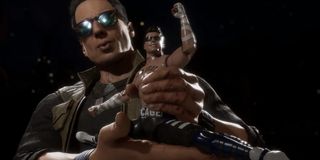 The Mortal Kombat universe is home to a number of over-the-top, brutal characters. As of today, the video game series has grown its roster to nearly a hundred different fighters. However, long-time fans of the franchise may remember that it all started with just seven playable characters. Every single one of those original characters made it into Simon McQuoid's upcoming reboot, with the notable exception of franchise-favorite Johnny Cage.
Recently, I had a chance to talk to Mortal Kombat screenwriter Greg Russo, who shared exactly why Johnny Cage is missing from the new movie. When asked about the high-kicking Hollywood star's absence, Russo had this to say:
Interestingly, Greg Russo mentioned that Josh Lawson's performance as the iconic Kano was the reasoning behind leaving Johnny Cage out, which I can understand. After all, Cage is kind of the 'good guy' version of Kano, with both characters touting a bit too much self confidence in both the video game and film adaptations.
Russo went on to mention that just because the Shadow Kick expert (and a number of other famous characters) didn't make it into the upcoming Mortal Kombat movie, the option to expand the roster in a potential sequel is always on the table:
While I'll always be just slightly salty that Johnny Cage isn't in McQuoid's version, I can understand where Greg Russo and the entire Mortal Kombat team is coming from. It's no easy task to try and jump start a franchise (fingers crossed) with hundreds of characters and a comically complicated lore. Just look at the MCU. It had to start with Iron Man to get to Endgame, you know?
Putting Cage's absence aside, the upcoming Mortal Kombat reboot looks like it's chock full of the beautiful brutality that fans of the franchise know and love. From the importance of fatalities to the potential for a secret character to appear, I'm straight up pumped for it.
Mortal Kombat is scheduled to release in theaters and on HBO Max (opens in new tab) this Friday, April 23. While Johnny Cage won't be making an appearance this time around, fans can rest assured that Simon McQuoid's version will be filled with plenty of campy, high-flying martial arts. In the meantime, be sure to check out the opening 7 minutes of the movie for a sneak preview of what's in store.
Into tracksuits by Paulie Walnuts, the Criterion Channel and Robert Eggers.
Your Daily Blend of Entertainment News
Thank you for signing up to CinemaBlend. You will receive a verification email shortly.
There was a problem. Please refresh the page and try again.