Sebastian Stan And His Co-Star Reveal Catchphrase They Used To Joke About Filming Naked In Greece All the Time For Monday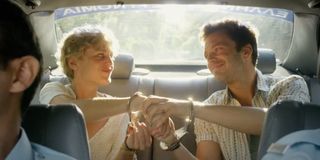 Sebastian Stans's new movie Monday is a steamy rom-com that features him alongside Denise Gough as two strangers who meet on a fateful night in Greece. Outside of The Falcon And Winter The Soldier and dealing with fans reciting Bucky's trigger words to him in public, Stan has been busy getting fully nude for his role in Monday and talking about his favorite rom coms that influenced the movie. Recently Sebastian Stan and co-star Denise Gough reveal the catchphrase they used to joke about filming naked in Greece so much for Monday.
Pulling off nudity in movies is tricky. There are probably many factors and people's comfort levels that have to be taken into consideration for friendly and safe nude scenes. Monday seems to have been pretty liberal with the number of scenes its two stars were nude and what they were doing naked for so many nights in Greece. Sebastian Stan and Denise Gough told ET Canada about the inside joke they used while filming:
Sebastian Stan and his co-star Denise Gough remark on the lax nature of their filming, basically citing "hey, it's Greece" as they pranced around naked for the sake of their film. In the clip in question, Sebastian Stan explains how worried he was about driving a scooter naked just for some context for why the actors felt they couldn't get away with everything they did anywhere except Greece, where such things are apparently commonplace according to Stan and Gough.
Sebastian Stan, who many fans think should play a young Luke Skywalker, is having a great year from The Falcon And The Winter Soldier and now Monday, which has been released this month. Going from formerly brainwashed super-assassin to romantic lead in a steamy rom-com shows some real range for Stan.
We will assuredly be seeing a lot more Sebastian Stan in the future. He has ideas for his and his The Falcon And The Winter Soldier co-star Anthony Mackies next TV project, and a wrestling movie so the possibilities are really endless. If we are going to get Sebastian Stan being a staple in the Marvel Universe and churning out random entertaining rom-coms, that's a win for everyone involved.
Movie and TV obsessive. A good Heist movie is the way to my heart. Enjoyer of everything from Marvel Movies to Rom-coms.
Your Daily Blend of Entertainment News
Thank you for signing up to CinemaBlend. You will receive a verification email shortly.
There was a problem. Please refresh the page and try again.