Melissa McCarthy Reveals The Other Gross Options For Thunder Force's Icky Final Scene With Jason Bateman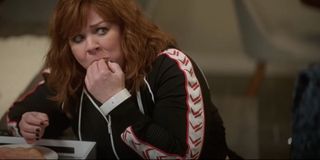 Since releasing a few weeks ago Melissa McCarthy's Thunder Force has made headlines for the comedic chops of its all star cast, wild sex scenes and a particularly disgusting ending. After saving the residents of Chicago, McCarthy's character shares a plate of what appears to be raw chicken in an intimate celebration with Jason Bateman's The Crab. It's particularly nasty due to just how realistic the raw chicken looks, and apparently the crew had one hell of a time finding the perfect supplement for actual raw chicken.
In a recent interview Melissa McCarthy revealed the painstaking process of simulating actual raw chicken for the camera. In her own words:
She dished the details in an interview with co-star Octavia Spencer on BuzzFeed. Fortunately, McCarthy didn't end up eating actual raw chicken, as the crew found a surprisingly sweet substitute:
I mean, on one hand I'm happy they pulled off such a convincing substitute. On the other hand, I can't imagine it was easy to scarf those things down. The raw chicken bit is just the tip of the iceberg in terms of gonzo comedy found in Thunder Force. At one point there's a particularly intimate dance number between her character and Jason Bateman's The Crab (who is sporting straight up crab claws as arms), all to the sultry saxophone of Glenn Frey.
While the superhero comedy may not have been as warmly received by critics as it was by fans, there was still plenty to like. A number of viewers were quick to praise it's diverse representation and Jason Bateman's half-crab character.
If you haven't seen it yet, Thunder Force is now streaming on Netflix (opens in new tab). While it's certainly not an MCU flick, the Netflix comedy offers a fun and fresh spin on the superhero genre, even if things get a little zany at times.
Your Daily Blend of Entertainment News
Into tracksuits by Paulie Walnuts, the Criterion Channel and Robert Eggers.
Your Daily Blend of Entertainment News
Thank you for signing up to CinemaBlend. You will receive a verification email shortly.
There was a problem. Please refresh the page and try again.