The Princess Switch 3: 6 Quick Things We Know About The Vanessa Hudgens Movie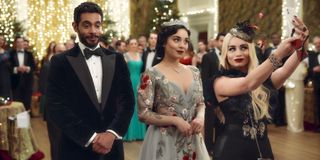 Ah, Christmas time on Netflix. Where we get to see a combination of strange royal families, a knight comes back from the 1300s, and Vanessa Hudgens split into three versions of herself. Truly an interesting time to be alive. The Princess Switch, when it first came out in 2018, was a massive holiday hit for Netflix, spinning off a sequel, The Princess Switch: Switched Again in 2020.
But, it seems that we just can't get enough of the switching, because soon, a third installment in the Vanessa Hudgens princess saga is coming to your computers and streaming devices. The Princess Switch 3 is officially happening. Because of that, here is everything we know about the upcoming third royal switcheroo.
The Princess Switch 3 Is Expected To Come Out Around Christmas 2021
While it did take some time for the sequel to the original The Princess Switch to release, I'm happy to say that we will not have to wait long to continue the crazy story of Vanessa Hudgens and all her mischief with her doppelgangers. The Princess Switch 3 is expected to drop during the holiday season of 2021, according to Entertainment Tonight.
I know, I can't believe it's that close either. Looks like we can finally add this movie to our 2021 Netflix movies list, because it won't be long before we are seeing Margaret, Stacy, and Fiona back on our screens.
All Three Vanessa Hudgens Characters Will Be Back In The Princess Switch 3
I'm pretty sure all of us were surprised in The Princess Switch 2 when Vanessa Hudgens showed up as a third version of herself. I mean, let's be honest, as ridiculous as the movies can get sometimes, you have to give props to Vanessa Hudgens. I could never imagine playing three different characters in the same story.
Even so, it seems that that's not the last time we will be seeing all three versions of those characters. While the first Princess Switch was dedicated solely to the love stories of Queen Margaret and Stacy, the second movie introduced Margaret's identical cousin, Fiona, who will be back in The Princess Switch 3 as well. Although one has to wonder how she will fit in considering she was arrested at the end of the second film.
The Princess Switch 3 Will Have All Three Identical Characters Working Together To Retrieve A Stolen Relic
While the first and second movies usually focused a bit heavily on the love-lives of their main characters, it seems that the third Princess Switch film will be taking a different turn. In the official synopsis released by Netflix, an important relic will be the main driving point of the third entry into the series.
In The Princess Switch 3, this relic is stolen, and both Queen Margaret and Princess Stacy must receive the help of their cousin, Fiona, who strangely looks like the two of them as well. Together, the three of them team up with a mysterious man (who is also quite handsome) from Fiona's past to find a way to retrieve it – but of course, this rekindles the sparks of a classic Christmas romance, creating another switch in the process.
From the sound of it, it looks like Fiona might be getting the love treatment in The Princess Switch 3. Or they could be going in a completely new direction. Regardless, the film still sounds like the fun Christmas adventures – with a hint of love on the side – that we all crave.
But There Won't Be Any New Versions Of Vanessa Hudgens in The Princess Switch 3
When that first The Princess Switch: Switched Again trailer dropped, and we saw a third version of Vanessa Hudgens, I believe all of us were shook. Judging by the trend, most of us would expect possibly a fourth version, but that won't be happening.
Vanessa Hudgens, in an interview that she did with The Wrap, talked about the possibility, and how it was definitely not in the works for the third The Princess Switch film.
While that is completely understandable, I'm going to miss the chance to hear Vanessa Hudgens attempt a Scottish accent. Maybe in another film some other time.
The Rest Of The Core Cast Is Expected To Return in The Princess Switch 3, Along With Some New Faces
It wouldn't be The Princess Switch without Vanessa Hudgens, so obviously she will be back. However, according to Deadline, we can expect plenty of familiar faces – plus a few new ones as well.
The regular ensemble cast will return, featuring Sam Palladio as Prince Edward, Nick Sagar as Kevin Richards, Ricky Norwood as Reggie, Suanne Braun as Mrs. Donatelli, and Mark Fleishmann as Frank De Luca, faces that you've seen in previous The Princess Switch films. However, according to Deadline's report, three new faces are set to premiere alongside the familiar ones.
Will Kemp, known for his roles in Reign and Slumber, will be joining the cast, alongside Amanda Donohue, known for parts in Emmerdale and Murder City, and Remy Hii, known for roles like Crazy Rich Asians as well as Spider-Man: Far From Home.
While it's always fun to see the same characters we've all come to love, the addition of new characters is always a welcome change.
The Princess Switch 3 Has Wrapped Filming
Since The Princess Switch 3 is confirmed to premiere at the end of 2021 on Netflix during the holiday season, it's not surprising to find out that the movie has officially wrapped filming. In an Instagram post uploaded on March 3, 2021, Vanessa Hudgens talked about how the film has wrapped on production, praising the cast and crew.
With this in mind, that 2021 release feels even closer now. I'm eager to add The Princess Switch 3 to the 2021 new movie releases because with every passing day, it seems we're getting closer to see the adventures of the lookalikes once more.
What are you most excited for in The Princess Switch 3? The romance? The Christmas feels? The adventures? Whatever the case, it will surely be a ridiculous royal ride – I hope you're all strapped on a ready for another wild Vanessa Hudgens Christmas fairytale.
Your Daily Blend of Entertainment News
Big nerd and lover of Game of Thrones/A Song of Ice and Fire. Will forever hate season eight. Superhero and horror geek. And please don't debate me on The Last of Us 2, it was amazing!