The Best New Movies To Watch On Christmas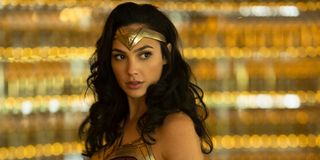 By the looks of it, most of us will be cooped up in our houses and won't be able to continue the tradition to going to theaters over the holiday season, but that doesn't mean there aren't plenty of new movies to watch on Christmas. From Wonder Woman 1984 finally dropping on HBO Max, and Pixar's Soul finding its new home on Disney+, to all those Netflix original movies that came out throughout the month of December, there are plenty of streaming options for the whole family.
In the spirit of giving, we have provided an extensive list of all the best new movies to watch on Christmas no matter if you're watching with your extended family, household, or just by yourself when you're escaping a certain uncle. In addition to all those streaming options, at the bottom of the list you will find a breakdown of all the movies that will only be found in theaters this holiday season. Let's get started because there is a ton to unpack.
Wonder Woman 1984 (December 25 - HBO Max)
This biggest movie streaming this Christmas is, without a doubt, Patty Jenkins' Wonder Woman 1984 which will see Diana Prince (Gal Gadot) take on media mogul Maxwell Lord (Pedro Pascal) and Cheetah (Kristen Wiig), in a homage to everything '80s. The latest DCEU blockbuster will be playing in theaters this holiday season but you can also watch from the comfort of your home (and device of choice) and check it out on HBO Max (for one month).
Soul (December 25 - Disney+)
Next up is Pixar's Soul, which is forgoing a theatrical release entirely and will be exclusive to Disney+ starting Christmas morning. The latest offering from the acclaimed animation studio follows jazz pianist and school teacher Joe Gardner (Jamie Foxx), after his soul becomes separated from his body following an accident. As his spirit tries to make it back to the physical world, Joe encounters an assortment of crazy characters and learns something about himself along the way.
We Can Be Heroes (December 25 - Netflix)
Robert Rodriguez will welcome audiences back into the world of Sharkboy and Lavagirl with We Can Be Heroes, the director's star-studded followup to his 2005 family-friendly adventure epic. This time around, the children of earth's superheroes are forced to come together when their parents are abducted by a menacing alien threat.
Sylvie's Love (December 23 - Amazon)
If you have a love for romance, jazz, and 1950s New York City, Eugene Ashe's drama Syvie's Love is the movie for you this holiday season. The movie centers on Sylvie (Tessa Thompson) as she meets and falls for an aspiring saxophonist named Robert (Nnamdi Asomugha), after the musician takes a summer job at the young woman's father's record store. This is just the beginning of the years-long journey of love and growth for the pair.
The Midnight Sky (December 23 - Netflix)
George Clooney is no stranger to science fiction, nor is he a stranger to pulling off double duty by starring and directing himself in movies. Both of those are applicable for Clooney's new Netflix thriller, The Midnight Sky, which follows Augustine (Clooney), a lonely scientist in the Arctic as he tries to save the lives of a group of astronauts who could return to a post-apocalyptic world brought to its knees by a mysterious global catastrophe.
Ma Rainey's Black Bottom (December 18 - Netflix)
Ma Rainey's Black Bottom, George C. Wolfe's biographical drama about the trailblazing Chicago singer who became a worldwide sensation in the 1920s, features an impressive cast in this high-energy affair centered on a tense recording session. Viola Davis portrays the "Mother of the Blues," while Chadwick Boseman, in his final performance, takes on the role of her ambitious trumpeter who wants bigger things in life.
Greenland (December 18 - VOD)
There are few better ways to bring in the holidays than with another Gerard Butler disaster film, which makes Ric Roman Waugh's Greenland a near-perfect addition to your movie marathon, if you and your family are big fans of seeing the action star flirt with death for a couple of hours. This time, Butler plays John Garrity, a man who must reconnect with his estranged wife (Morena Baccarin) and young son and get to safety before a planet-killing comet collides with Earth.
The Prom (December 11 - Netflix)
Ryan Murphy has been one of the hardest working writers, directors, and producers in recent years, and so it should be no surprise that he recently led things for the Netflix original musical The Prom. With a star-studded cast that includes the likes of Nicole Kidman, Ariana DeBose, Andrew Rannells, and Meryl Streep, the movie tells the story of a group of a down-on-their-luck Broadway stars who take to a small Midwestern town to help out a high school student who wasn't allowed to take her girlfriend to prom.
Wander Darkly (December 11 - VOD)
Sienna Miller and Diego Luna co-star in Tara Miele's mindbending and timeline jumping romantic drama Wander Darkly, which follows Adrienne (Miller) and Matteo (Luna) after a tragic car accident which leaves them stuck in a surreal state and jumps between different moments of their lives and the world around them. This eye-catching and thought provoking drama is perfect for anyone looking for romance and the exploration of the soul all in one package.
I'm Your Woman (December 11 - Amazon)
Julia Hart's crime drama set in the 1970s, I'm Your Woman, follows a woman by the name of Jean (Rachel Brosnahan) who's forced to go on the run with her baby after her husband pulls of a scheme on his business partners. This sets them off on a perilous journey where safety is not guaranteed.
Songbird (December 11 - VOD)
Set in a world brought to the brink of destruction by the COVID-23 virus, Adam Maon's Songbird tells the stories of people dealing with the mysterious contagion. A large chunk of the narrative focuses on an immune courier by the name of Nico (KJ Apa), as he tries to rescue Sara (Sofia Carson) from within one of the many quarantine zones. This Michael Bay-produced thriller was one of the first films to shoot following worldwide shutdowns put in place during the COVID-19 pandemic, using intense safety measures throughout.
Wild Mountain Thyme (December 11 - VOD)
John Patrick Shanley's 2020 romantic comedy Wild Mountain Thyme follows Irish farmer Rosemary Muldoon (Emily Blunt) as she tries to win over the heart of her oblivious neighbor Anthony Reilly (Jamie Dornan). But when things don't go according to plan and Anthony's father (Christopher Walken) threatens to sale the family farm to a distant American relative (Jon Hamm), the story only becomes more complicated for all involved parties.
Safety (December 11 - Disney+)
Everyone loves a great inspirational sports movie, especially one from Disney, and that's what makes the Disney+ original Safety such a great option this holiday season. Inspired by the story of former Clemson University football safety Ray McElrathbey (Jay Reeves), the movie follows the young man as he fights battles both on and off the field, including being the caregiver to his 11-year-old brother.
Let Them All Talk (December 10 - HBO Max)
The new HBO Max original Let Them All Talk is one of the best and most inventive movies you'll see this holiday season and shouldn't be missed. Directed by Steven Soderbergh over the course of a transatlantic crossing by the Queen Mary II, the movie follows a world-renowned writer (Meryl Streep) as she, two of her best friends from college (Diane Wiest, Candice Bergen), and young nephew (Lucas Hedges) travel to England to accept a prestigious award. Armed with only a script outline, a camera, and some of the best actors of all time, Soderbergh creates another great addition to his already impressive filmography with this one.
Mank (December 4 - Netflix)
David Fincher's latest Netflix project, Mank, follows embattled Hollywood screenwriter Herman J. Mankiewicz (Gary Oldman) as he races to finish Orson Welles' iconic Citizen Kane, while also dealing with a myriad of issues (both personal and professional). Based on a script written by Fincher's late father, this black-and-white love letter to the Golden Age of Hollywood is a must for film historians and as well as general movie fans.
Godmothered (December 4 - Disney+)
This recent Disney+ original fantasy comedy Godmothered from Sharon Maguire tells the story of an inexperienced godmother (Jillian Bell) who tries to not only prove herself but also prove why the world still needs fairy godmothers in the first place. This delightfully funny movie also features Isla Fisher as a TV producer in need of some special help, as well as Saturday Night Live alum Jane Curtin as the headmistresses of the Motherland.
Black Bear (December 4 - VOD)
Another good VOD option this holiday season is the dark comedy thriller Black Bear, which follows a filmmaker (Aubrey Plaza) during her extended stay with a couple (Christopher Abbott, Sarah Gadon) at a remote lake house. As the relationship grows, the lines between truth and lies, and reality and fiction, begin to blur into a mind-boggling state of confusion. This physically and mentally grueling feature will leave you not knowing who to trust.
Love, Weddings & Other Disasters (December 4 - VOD)
If you are looking for a romantic comedy featuring a cast made up of some of the biggest names in the genre, Dennis Dugan's Love, Weddings & Other Disasters is going to be a good option this holiday season. Over the course of several different vignettes, the move tells the story of a celebrity caterer, a blind woman, a tour-bus guide, and a wedding planner in over her head as they all search for love in their own ways. And, with Diane Keaton, Jermey Irons, Diego Boneta, Elle King, Maggie Grace, and King Bach all lending their acting chops, this could be a good way to spend an afternoon.
Anything For Jackson (December 3 - Shudder, AMC+)
Justin G. Dyck's 2020 horror flick Anything For Jackson centers on a satanist couple (played by Julian Richings and Sheila McCarthy) who kidnap a young pregnant woman (Konstantina Mantelos) so they can channel the spirit of their dead grandson into the woman's unborn child. Things don't go according to plan and the situation quickly becomes more dire for all involved. Bring some spills and chills to your Christmas festivities with this family-centric fright fest.
Movies With Theatrical-Only Releases
As mentioned above, there are a handful of movies coming out only in theaters (for now at least) on Christmas or in the days leading up to the holiday. Movies coming out on December 25 include One Night in Miami, Promising Young Woman, News of the World, and Pinocchio. Movies that have already been released but are still in theaters include Fatale and Monster Hunter, which both came out on December 18.
That should all be more than enough movies to hold you and your family over this holiday season. Make sure to sound off in the comments below and let everyone know which of these you are most excited to see.
Philip grew up in Louisiana (not New Orleans) before moving to St. Louis after graduating from Louisiana State University-Shreveport. When he's not writing about movies or television, Philip can be found being chased by his three kids, telling his dogs to stop yelling at the mailman, or yelling about professional wrestling to his wife. If the stars properly align, he will talk about For Love Of The Game being the best baseball movie of all time.
Your Daily Blend of Entertainment News
Thank you for signing up to CinemaBlend. You will receive a verification email shortly.
There was a problem. Please refresh the page and try again.