Disney+'s Launchpad Directors Share Inspirations Behind Season One Stories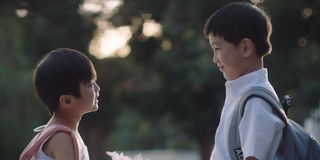 Disney's incredible new Launchpad program has given six filmmakers from underrepresented backgrounds the tools and opportunity to work with some of the best in the business. These filmmakers used their unique perspectives to create Season 1 of Launchpad on Disney+. A few of the directors have shared the inspirations behind their films.
Growing Fangs, written and directed by Ann Marie Pace, tells the story of a girl who's having trouble fitting in. I spoke with Pace for an interview with CinemaBlend, and she mentioned drawing from personal experience to create this short film. In her own words:
Ann Marie Pace absolutely accomplishes telling the story of a misunderstood outsider while celebrating everything that is beautiful and unique about this character. The monster element brings a great deal of fun, with the main character Val attending a school for monsters and magically gifted but having a human best friend who has no idea these monsters exist.
Stefanie Abel Horowitz wrote and directed Let's Be Tigers, which follows Avalon during a night of babysitting. Here is what Horowitz shared with me about the inspiration behind her film:
While Let's Be Tigers may be the heaviest subject matter of the Launchpad shorts, it's presented in a brilliant way that is suitable for families and young children to view and understand. We see a young adult who is not quite ready to grieve the loss of her mother and a young boy who just wants to play but quickly picks up on his babysitter's emotions. The result is powerful.
Season 1 Launchpad short titled The Little Prince(ss) follows 7-year-old Gabriel who loves ballet. Gabriel's friend Rob's father becomes suspicious of Gabriel's feminine behavior and decides to intervene. Writer/director Moxie Peng also drew from personal experience for their film, and here's what they told CinemaBlend:
Peng's film The Little Prince(ss) is perfectly summed up in their words above. The message of being yourself and not allowing others to force you into what they think you should be rings loud and clear.
All six Launchpad shorts are now streaming on Disney+. Disney is ready to get started on Season 2, but while you wait, check out these other options to stream on Disney+.
Your Daily Blend of Entertainment News
Obsessed with Hamilton and most things Disney. Gets too attached to TV show characters. Loves a good thriller, but will only tolerate so much blood.