Black Is King And 14 Other Great Black Stories Streaming On Disney+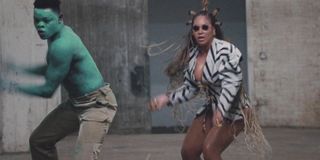 Beyoncé and Disney originally teamed up for 2019's The Lion King live-action movie. She voiced adult Nala and helped give the movie its spirit. Along with starring in The Lion King, Beyoncé recorded an album specifically for the film, The Lion King: The Gift. Her movie Black is King is the film companion to the album. The movie is not only a tribute to The Lion King, but also to black stories.
Black is King is just one of the movies available on Disney+ that showcases stories about black characters. Here are some of the movies and TV Shows on Disney+ with black main characters that you should check out.
Black Is King
Beyoncé and her team create a visual spectacle with 2020's Black Is King. It takes inspiration from The Lion King story, which in turn draws inspiration from Hamlet, so it's the story of a young African prince who is exiled when his father dies. He goes on a journey and becomes a man worthy of the throne. The adult prince is played by Nyaniso Dzedze. Beyoncé plays his spirit guide and ancestor. Black Is King's cast includes Nandi Madida, Warren Masemola, and Sibusiso Mbeje.
Black is King also had some celebrity cameos, including Jay-Z, Naomi Campbell, Blue Ivy Carter, and Kelly Rowland. If you enjoy the Lemonade concept movie, then you'll likely enjoy this celebration of black heritage and tribute to The Lion King story and its African roots. Beyoncé and her team created the movie to represent black beauty in its many different forms, and it succeeds at that goal.
Stream it on Disney+ here (opens in new tab).
Soul
Despite having its domestic theatrical release cancelled due to the COVID-19 pandemic and the global health crisis' impact on movie houses, Soul quickly became one of Pixar's best features in recent memory when it dropped on Disney+ Christmas Day 2020. The animated fantasy follows Joe Gardner (Jamie Foxx), a school music teacher and aspiring jazz pianist as he finally gets his big break in the industry. But just as he gets a chance of a lifetime, Joe falls into an open manhole and into the Great Before where he is transformed into a soul forced to find his way back to the life he once knew.
At times hilarious and at times emotional, Soul was not only one of the most fulfilling movies of 2020, it was also one of the creative and poignant of the year for its depiction of the human spirit and power of motivation. Not only that, Soul was made history for being the first Disney-Pixar film to be led by a black character, something star Jamie Foxx took great pride in.
Stream it on Disney+ here (opens in new tab).
Safety
Disney has released its fair share of inspirational sports movies over the years (some of which are found on this list), and Safety, the company's latest offering, fits perfectly on that list. Inspired by the story of former Clemson University safety Ray McElrathbey (Jay Reeves), the biographical drama follows the college freshman as he splits his time with football practice, his studies, and taking care of his young brother after rescuing him from a broken home.
One part sports movie and one part family drama, Safety takes the best aspects of those two genres and creates one of the most fulfilling and emotional additions to either genre in the recent years. Another aspect of the movie that makes Safety so inspirational is the fact that the film's producers spent 14 years trying to find a way to best tell the unlikely story of Ray McElrathbey.
Stream it on Disney+ here (opens in new tab).
Black Panther
Black Panther is the story of Marvel superhero, King T'Challa (Chadwick Boseman,) and his homeland of Wakanda and its people. The 2018 Marvel movie follows T'Challa as he fully took over the role as Black Panther after his father's death, and all the duties, honors, and problems that came with being a king and superhero. The Black Panther cast includes Michael B. Jordan, Lupita Nyong'O, Letitia Wright, and Danai Gurira.
Black Panther was revolutionary at the time because Hollywood rarely produces blockbuster films starring a cast mainly consisting of black actors. It was a huge box office success and generally received good reviews. Black Panther 2 was one of the most anticipated sequels, but now with Chadwick Boseman's unexpected and heartbreaking death, the films have also become more significant as a timeless tribute to the wonderful man that brought Black Panther to the big screen.
Stream it on Disney+ here (opens in new tab).
Also try: Chadwick Boseman: A Tribute for a King on Disney+ here (opens in new tab).
A Wrinkle In Time
A Wrinkle In Time is based on the novel of the same name. Ava DuVernay directs this 2018 version and it stars Storm Reid, Mindy Kaling, Reese Witherspoon, and Oprah Winfrey. Meg (Storm Reid) and her brother Charles Wallace (Deric McCabe) travel across galaxies with their friend Calvin (Levi Miller) in search of Meg and Charles's father, played by Chris Pine.
A Wrinkle in Time is a story of a young girl finding her strength to do what is necessary to help her father and save the world. It's a fun adventure story that combines science fiction with a touch of humanity. A Wrinkle in Time wasn't a huge success for Disney, but it was nice seeing a black actor portraying such a beloved literary character.
Stream it on Disney+ here (opens in new tab).
Queen Of Katwe
Queen of Katwe is a 2016 biopic about Phiona Mutesi, who lives in Katwe. It's about her journey as a chess player who becomes a Woman Candidate Master. Queen of Katwe stars Lupita Nyong'O, David Oyelowo, and Madina Nalwanga. The story for Queen of Katwe was adapted from an ESPN article and the book The Queen of Katwe by Tim Crothers.
Queen of Katwe is about a girl who dreams of rescuing her family with her talent as a chess player. It's one of those inspirational Disney films that teaches children to dream, work hard, and persist. It's a feel-good Disney movie that puts Katwe and Uganda at the forefront. It also includes an array of good performances from the entire cast.
Stream it on Disney+ here (opens in new tab).
The Color Of Friendship
The Color of Friendship was a 2000 Disney Channel original movie about Mahree (Lindsey Haun) and Piper (Shadia Simmons), an American girl and a girl from apartheid South Africa who become friends. Piper hosts a South African exchange student expecting to meet a black South African, but instead, a white South African arrives.
The Color of Friendship is about two people from very different cultures and racial backgrounds learning from each other. They both enter their friendships with misconceptions about the other, but grow and learn from this encounter. The friendship really helps Mahree see how apartheid affects the black South Africans. It's films like The Color of Friendship that help show children the importance of being open to learning from others, especially those who are different. The Color of Friendship is one of the Disney Channel's most memorable films.
Stream it on Disney+ here (opens in new tab).
The Cheetah Girls
The Cheetah Girls film is based on the popular book series of the same name. It follows four teenage girls as they become a pop group. The Cheetah Girls' cast includes Raven-Symone, Adrienne Bailon, Kiely Williams, and Sabrina Bryan. The film inspired Disney to turn the fictional group into a real-life band. The group was active from 2003 to 2008.
The Cheetah Girls had three Disney Channel Original Movies, and two of the three were hit films for the Disney Channel at the time. Some themes of The Cheetah Girls films were friendship, going after your dreams, and confidence. The Cheetah Girls were role models for young girls of all races. It's also considered one of the Disney Channel's best movies.
Stream it on Disney+ here (opens in new tab).
The Proud Family
The Proud Family is a Disney Channel animated series that aired from 2001 to 2005. It followed the adventures and misadventures of Penny Proud (Kyla Pratt). It dealt with typical problems of a teen girl, like embarrassing parents, friend drama, and peer pressure. The Proud Family also revolves around Penny's strange but lovable family. The voice cast includes Karen Malina White, Tara Strong, Jo Marie Payton, Paula Jai Parker, and Tommy Davidson.
The Proud Family showed a typical American family who shared laughs and love as they encountered normal family struggles, like a child wanting independence and the parents having to allow their child to have it. The Proud Family was such a funny animated series because of the characters, especially Oscar Proud, Dijonay, and Sugar Mama. The series had a conclusion movie and is expected to release a continuation series on Disney+ in the near future.
Stream it on Disney+ here (opens in new tab).
Smart Guy
Smart Guy was a series about child genius T.J Henderson (Tahj Mowry), who moves from fourth grade to 10th grade. T.J attends school with his two older siblings Marcus (Jason Weaver), Tasha (Essence Atkins), and Marcus's best friend Mo (Omar Gooding). John Marshall Jones played Marcus, T.J, and Tasha's father Floyd. Smart Guy aired from 1997 to 1999.
Smart Guy was a family sitcom that got most of its comedy from the fish out of water situations with T.J. Mo is also a major source of comedy as the quirky best friend character. Smart Guy followed in the footsteps of shows like Boy Meets World with part of the comedy coming from the family dynamic and the situations the characters find themselves in while at school.
Stream it on Disney+ here (opens in new tab).
Sister Act
Whoopi Goldberg stars in Sister Act, a movie about a lounge singer who joins a convent as a part of the witness protection program. While there, she helps bring some musical soul to the gospel choir and the nuns of Saint Katherine's Parish. Sister Act's cast also includes Maggie Smith, Kathy Najimy, Wendy Makkena, and Harvey Keitel.
Sister Act spun off another film, a musical, and has a third film in development. Sister Act is one of those films with a ridiculous concept, but it makes you not care about the logic of the situation and just enjoy some good music and the fun story. Sister Act is one of Whoopi Goldberg's most well-known and beloved roles because Deloris is clever and charming.
Stream it on Disney+ here (opens in new tab).
Cool Runnings
1993's Cool Runnings is based on the true story of Jamaica's national bobsled team during the 1988 Winter Olympics. Cool Runnings's cast includes Leon Robinson, Doug E. Doug, Malik Yoba, Rawle D.Lewis, and John Candy.
Like the many sports films that came before it, Cool Runnings is about a group of men who aspire for something greater, but just need the right guidance, motivation, and confidence to achieve their goals. The film is unlike most American sports movies because it focuses on a Jamaican team and a bobsled one at that. We rarely see American movies about Jamaican athletes and even less about bobsledding.
Stream it on Disney+ here (opens in new tab).
Remember The Titans
Denzel Washington stars in Remember the Titans, a 2000 film based on the true story of Herman Boone. Set in Alexandria, Virginia in the 1970s, Boone is an African-American head coach who must help ease racial tensions to lead his team to victory. Through Boone's intense training and motivational speeches, the once divided team begins to become a unified football force.
Remember the Titans is considered one of the greatest sports movies because, unlike some movies about sports, it's less focused on thrilling game scenes and more on the heart of being a team and the friendship and understanding that comes from it. Remember the Titans cast includes Will Patton, Wood Harris, Ryan Hurst, Donald Faison, and Ryan Gosling.
Stream it on Disney+ here (opens in new tab).
That's So Raven
That's So Raven follows Raven Baxter (Raven Symone), a young girl with psychic abilities. Viewers watch Raven have a vision, and then see how it eventually plays out. Raven often finds herself in some scheme that leads to some wacky costumes. Raven is usually accompanied by her best friends Chelsea (Annelise van der Pol) and Eddie (Orlando Brown). The series aired from 2003 to 2007.
That's So Raven showcased Raven dealing with body image issues, self-esteem, racism, and many other pressing topics. It was a really funny family sitcom that wasn't afraid to tackle some of the most controversial issues facing American families. That' So Raven got a reboot that premiered in 2017.
Stream it on Disney+ here (opens in new tab).
Hidden Figures
Perhaps one of the most inspiring stories in the past five years is Hidden Figures, the 2016 drama about the women at NASA, who, despite playing key roles in America's space program, only recently received the recognition they deserve. Starring Taraji P. Henson, Octavia Spencer, and Janella Monaé as just three of the women who proved to be instrumental in sending man to the moon, the movie highlights the obstacles these often overshadowed mathematicians overcame in one of the most turbulent times in United States history.
This brilliantly empowering tale of black women provided much need inspiration for millions of young girls at the time of its release and its impact is something that is still felt a half-decade later. Hidden Figures remains a cultural milestone with a story worth revisiting from time to time.
Stream it on Disney+ here (opens in new tab).
Black is King and these movies and TV shows are just a few of the wonderful options available on Disney+, and I hope to see this collection of black stories continue to grow.
Spent most of my life in various parts of Illinois, including attending college in Evanston. I have been a life long lover of pop culture, especially television, turned that passion into writing about all things entertainment related. When I'm not writing about pop culture, I can be found channeling Gordon Ramsay by kicking people out the kitchen.
Your Daily Blend of Entertainment News
Thank you for signing up to CinemaBlend. You will receive a verification email shortly.
There was a problem. Please refresh the page and try again.