Marvel's Namor: Everything You Need To Know About The Sub-Mariner From The Comics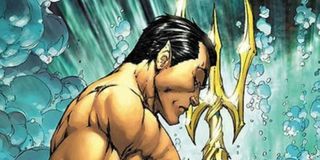 CinemaBlend participates in affiliate programs with various companies. We may earn a commission when you click on or make purchases via links.
Lately, it seems that fans of the Marvel movies believe that it may be about time to finally take the MCU under the sea with Marvel's Namor as our guide. The rippling rumors that the aquatic, arrogant, anti-hero they also call the Sub-Mariner may be debuting in the highly anticipated upcoming sequel, Black Panther 2 (officially titled Black Panther: Wakanda Forever) is just one of the many reasons why. In case the rumors are confirmed, to prepare yourself for Namor's debut, the following are five of the most essential facts every comic book fan should know about the superhero commonly referred to as the Marvel Comics equivalent of DC's Aquaman, including one that proves why that phrase should actually be reversed.
Namor Was Actually Introduced Earlier Than Aquaman
Sea-dweller. Superhero. Atlantean royalty. These are words that describe Namor the Sub-Mariner, yet some might be quicker to guess Arthur Curry, better known as Aquaman, since the DC character (despite his polarizing history before Jason Momoa played him in the DC movies) is easily the more popular water-based hero. In fact, there are many who often assume that Namor was Marvel's attempt to cash in on the success of Aquaman, but that could not be further from the truth.
Namor McKenzie, created by Bill Everett, is not only one of Marvel's very first superheroes, but he appeared in the very first issue of Marvel Comics in October 1939 after officially debuting six months earlier in Motion Picture Funnies Weekly #1. Aquaman did not debut in More Fun Comics #73 (a precursor to DC Comics) until November 1941 - more than two years later - with only a few distinct differences from his Marvel counterpart, including hair color and amount of skin shown. In fact, their origin stories are not too short of identical.
Namor Is A Half-Human, Half-Atlantean Being
You know, I actually really do hope that the rumors of Namor appearing in Black Panther: Wakanda Forever are true because, sadly, it is a bit too late for Marvel Studios to explain the Sub-Mariner's backstory in his own solo movie. At this point, it would appear as if they were copying the Aquaman movie from 2018 even if it would be a faithful representation of the character's past.
As the story goes, Cmdr. Leonard McKenzie led a vessel to conduct experiments off the coast of Antarctica that cost the lives of many from the underwater city of Atlantis. An Atlantean princess named Fen infiltrated the vessel to investigate the disturbance, but unexpectedly fell into a romantic affair with Leonard, who fathered her child, Namor. The child's half-human, half-Atlantean physiology resulted in him appearing to have the flesh of a human (as opposed to pure Atlanteans' blue tint) but retaining much of the same abilities.
Namor Can Communicate With Fish, Fly, And More
The combination of human DNA and Atlantean DNA also qualifies Namor as a mutant. In fact, he is recognized as the first superhero to fall under the category of mutants, before Apocalypse was retconned as the earliest of the species on record. Thus, he is gifted with a slew of pretty badass powers that come in handy when fighting evil.
Before you ask, yes: Namor has just about all the same aquatic abilities that Aquaman possesses including aquatic telepathy (talking to fish), aquakinesis (controlling the flow of water), and even flight. For Aquaman, performing the latter two requires assistance from Neptune's Trident, however. Of course, Namor also has his own Marvel Universe equivalent of that mythological weapon, which the expert combatant and tactician rarely needs when holding his own against bad guys anyway.
Namor Fought With Captain America In World War II
One of Namor's defining characteristics is blunt arrogance, mostly due to his strong disdain of those on the surface. Fortunately, that has rarely affected his ability to collaborate with land-dwellers in the name of justice (or even injustice - such his work with Doctor Doom). As a result, the Sub-Mariner has been able to call himself an ally of the X-Men and the Avengers, but one of his earliest and most notable alliances came during a very real time of need.
During World War II, after it was revealed that a group of divers found near Atlantis were really soldiers of the Third Reich, Namor joined a superhero team dubbed the Invaders to fight Nazi Germany and Imperial Japan. Involved in this team was Steve "Captain America" Rogers himself and the original Human Torch - an android not to be confused with Johnny Storm of the Fantastic Four. However, the Sub-Mariner is also pretty tight with Marvel's first superhero family and in ways that you might not have expected.
Namor Has Had An On-And-Off Affair With Invisible Woman
There was a time when Namor was shell of himself - stricken with amnesia and suffering from PTSD due to memories of his World War II service. The Atlantean prince remained a derelict for years while away from his home until he was discovered by Johnny Storm, who shaved off his beard with his flame and dumped him in a river, restoring his memories of who he is. Unfortunately, this also was what triggered Namor's signature hate for the surface, putting him at odds with the Fantastic Four, but also triggering a certain attraction to one of the superhero team's members.
Namor's crush on Sue Storm has never truly faltered and, to make matters worse, the wife and crime fighting partner of Reed Richards, has expressed feeling the same way and even left Mr. Fantastic for the Sub-Mariner at one time. This display, ranging from playful flirting to undeniable romance still lasts to this day, last showing signs in Marvel Comics' King of Black storyline in December 2020.
I think it would be quite interesting to see this problematic romantic attraction explored in the Marvel Cinematic Universe. Of course, I am even more interested in seeing the Wakandans take on Namor - a historic rivalry in the comics that has seen many fierce battles and easily the Number One reason to continue holding out hope for the Sub-Mariner to make his debut in the upcoming MCU sequel, Black Panther: Wakanda Forever.
Your Daily Blend of Entertainment News
Jason has been writing since he was able to pick up a washable marker, with which he wrote his debut illustrated children's story, later transitioning to a short-lived comic book series and (very) amateur filmmaking before finally settling on pursuing a career in writing about movies in lieu of making them. Look for his name in just about any article related to Batman.