Upcoming Owen Wilson Movies And Shows: What's Ahead For The Loki Actor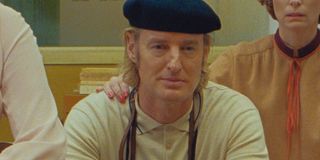 In some respects, Disney+'s Loki serves as not merely the return of the titular Marvel malefactor but a comeback for Owen Wilson, who plays a standout supporting role in this popular new program. While the Oscar-nominated screenwriter didn't disappear from the public eye, necessarily, it has been at least a few years since he appeared on screens either big or small. Along with February's Bliss and October's upcoming The French Dispatch, 2021 is promising to be quite a big year for The Royal Tenenbaums actor/writer, and he has a few more exciting projects lined up in the future, including proposed sequels to Wedding Crashers and Shanghai Noon/Knights. Now that Wilson is back in the spotlight, let's take this time to see what's in store for Loki's scene-stealer.
The French Dispatch - October 22nd, 2021 (Completed)
Generally speaking, it's usually a given that Owen Wilson will appear in a new movie from writer-director Wes Anderson. While he was absent for Moonrise Kingdom and Isle of Dogs, the filmmaker's previous film, Wilson will reunite with Anderson to play Herbsaint Sazerac, a magazine writer based on The New Yorker's Joseph Mitchell, in the auteur's latest feature, The French Dispatch. While it's currently unknown how big Wilson's role is in this much-anticipated ensemble piece, he'll be joined by several other famous faces, including (but not limited to) Jeffrey Wright, Timothee Chalamet, Frances McDormand, Tilda Swinton, Elisabeth Moss, Saoirse Ronan, and Jason Schwartzman, another frequent Anderson collaborator, to name only a few stars attached to the film.
Previously scheduled for July 24th, 2020, the COVID-19 pandemic pushed The French Dispatch back to its current release date, October 22nd, 2021, which follows its scheduled premieres at the Cannes Film Festival and the New York Film Festival. Certainly, expectations are always extremely high for a brand new Wes Anderson film, and this one looks like one of the acclaimed filmmaker's most distinguished works yet.
Marry Me - February 11th, 2022 (Completed)
While Jennifer Lopez's eventful love life has been quite a whirlwind of late, her latest romantic comedy, Marry Me, sounds like a bit of a throwback. Paired with Owen Wilson, the actress-musician stars in a romantic comedy about a pop star who is getting ready to marry her fiancé (Maluma), only to discover that he has been unfaithful. In a moment of spontaneity, the world-famous singer decides to pick a random person from her audience (Wilson) and marry him instead. Indeed, it's easy to see how a rom-com with the stars of The Wedding Planner and Wedding Crashers, respectively, could provide audiences with an appealing on-screen wedded duo. Hopefully, that proves to be the case when the new film arrives on February 11th, 2022, i.e. in time for Valentine's Day.
Directed by Kat Coiro, Marry Me is completed but it's waiting for couples to feel more comfortable returning to the movies. Certainly, this type of rom-com could easily be a crowd favorite. It'll be Owen Wilson's first theatrical starring vehicle since 2017's Father Figures. Also, it's fun to see Wilson and Jennifer Lopez reunite after 1997's Anaconda.
Paint - TBA 2022 (Post-Production)
Have you ever imagined what it would be like if Owen Wilson played Bob Ross? Well, that's not exactly what you'll get with Paint, the feature screenwriting and directorial debut of Brit McAdams (Tosh.0), but it might be the closest we ever get to conjuring such an image on the big screen. Per Deadline, this new indie comedy sees Wilson plays Carl Nagle, a Vermont-based public access painter who soothes his devoted viewers with his smooth voice and even smoother brush strokes. His show has resulted in decades of adorning fans, particularly women. But when Carl enters a creative rut, he's dismayed to discover that the station hired a new painter to take over his time slot, in an effort to revitalize the flailing channel. From there, Nagle's insecurities bubble.
Also starring Wendi McLendon-Covey and Stephen Root, Paint is in post-production and it's expected to premiere next year, presumably around the film festival circuits. It should be noted that, along with starring in this new film, Owen Wilson also produced it.
Secret Headquarters - August 12th, 2022 (Filming)
Turns out, Loki won't be Owen Wilson's sole superhero project. Shortly before the Disney+ show's premiere, it was announced that Wilson joined the cast of Secret Headquarters, a high-concept family action movie that follows an ordinary kid who discovers the headquarters of the world's most famous superhero, which is located underneath his house. Directed by Henry Joost and Ariel Schulman (Project Power), this Paramount movie is produced by Jerry Bruckheimer and it's currently filming. It's unclear who Wilson plays, but he's joined by Michael Peña in another undisclosed role.
If Owen Wilson is playing a superhero, it'll be enjoyable to see how the actor fares wearing the tights. If he's playing the villain, it'll be entertaining to see him ham it up in a mischievous part. Suffice it to say, Secret Headquarters could easily be a very fun project for Wilson's easygoing screen presence. It's scheduled for August 12th, 2022.
Wedding Crashers 2? - TBA (Reported)
Now that restrictions are loosening a bit, people are slowly but ever surely starting to live their lives to the fullest again. With that, prepare to be invited to a lot of weddings. If you don't get too many RSVP requests but still feel inclined to attend the ceremonies, though, we know a couple of crashers looking to return to the scene — and the screen.
Recently, it was announced that the long-promised Wedding Crashers 2 might finally happen thanks to HBO Max. In June, Twitter was aflutter with reports that the follow-up was finally scheduled to shoot this summer, with production expected to take place in Puerto Rico in August, which is a big turnaround for a sequel that many people didn't know would ever actually exist. Granted, nothing is confirmed just yet, and Owen Wilson dampened expectations a bit by claiming that the movie might not be coming together quite so quickly. Still, it's apparently on the way. Better get your dresses and suits ready.
Shanghai Dawn? - TBA (Rumored)
Likewise, another long-in-the-works, late-in-the-game comedy sequel is Shanghai Dawn, the proposed trilogy conclusion to 2000's Shanghai Noon and 2003's Shanghai Knights. Now that 20 years have passed, it's hard to know how much interest there would be in this long-delayed follow-up, notably as the first two Shanghai films (while well-liked) aren't remembered quite as quickly as other wacky genre-bending comedies from this time. In any case, should the movie come together, it would be nice to see Owen Wilson reunited with Jackie Chan, who shared playful buddy chemistry with the comedy actor.
When Shanghai Dawn was being proposed a few years earlier, it was reported that Napoleon Dynamite's Jared Hess would direct this long-awaited sequel, based on a script written by Miles Millar and Alfred Gough, who wrote the previous two Shanghai movies. There have been no signs of development (at least publicly) since then, so it's possible that Shanghai Dawn is dead in the water now. Especially in a time when IPs are all the rage, though, maybe we can expect Shanghai Dawn to arrive at a future date.
Loki Season 2? - TBA (Announced)
On June 9th, 2021, Owen Wilson entered the Marvel Cinematic Universe with Loki, the latest Disney+ show inside the ever-expansive superhero multiverse. Playing the part of the mustachioed Morbius M. Morbius, an advisory agent who uniquely specializes in the investigations of particularly dangerous time criminals, Wilson plays a therapeutic counsel for our mischievous Marvel miscreant in this newly-released streaming series. But how long can someone be truly close to Loki? Morbius may learn the hard way that he's not to be trusted, which should add some spice to their buddy cop-esque dynamic.
Unlike WandaVision and The Falcon and the Winter Soldier, Loki is expected to get another season, though it's unclear what that might entail. The creators are (obviously) keeping mum about what Season 2 might be until closer to the first season's finale; Marvel is all about their secrets. Therefore, we don't know who might return for this proposed new season, though Wilson has expressed interest in returning to this role. We'll have to wait to see what happens between Moribus and Loki in the weeks ahead.
Recent Owen Wilson Projects
Earlier this year, Owen Wilson gave audiences a bit of a mindfuck (if you pardon my french) with Bliss, Amazon Prime's reality-distorting, genre-melting sci-fi drama that follows a dissatisfied middle-aged man (Wilson) who spirals into a reckless lifestyle when a mysterious woman (Salma Hayek) claims that reality isn't how it's perceived. Despite its lofty ambitions and the lead actor's thoughtful performance, Bliss became a disappointing misfire, lacking the genuine intrigue to pull off its intellectual pondering. Nevertheless, it's nice to see Wilson push himself into some soulful dramatic depths.
It should also be noted that Bliss served as Owen Wilson's return to acting, as he was briefly absent from the screen following a string of 2017 movies, including Father Figures, Wonder, Lost in London, and his voice work in Cars 3. During that time, Wilson's only screen credit was a limited role in a pair of episodes of IFC's Documentary Now! The actor also voiced Lightning McQueen in 2018's video game, LEGO The Incredibles.
Stream the latest episodes of Loki on Disney+.
Will is an entertainment writer based in Pittsburgh, PA. His writing can also be found in The Playlist, Cut Print Film, We Got This Covered, The Young Folks, Slate and other outlets. He also co-hosts the weekly film/TV podcast Cinemaholics with Jon Negroni and he likes to think he's a professional Garfield enthusiast.
Your Daily Blend of Entertainment News
Thank you for signing up to CinemaBlend. You will receive a verification email shortly.
There was a problem. Please refresh the page and try again.