Angela Bassett: Malcolm X And 5 Other Performances That Deserved An Oscar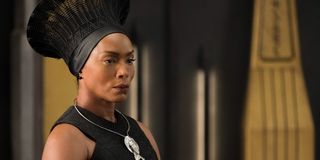 From classic films such as Boyz n the Hood to Marvel's Black Panther to Pixar's Soul, Angela Bassett has always given top-notch film performances. Oftentimes, her performances have even elevated whatever material she is given. The impression of those performances can be seen in the work of actresses such as Zendaya, Regina King and so many more.
Despite receiving critical praise for her superb acting chops, Angela Bassett received her only Oscar nomination for her performance in 1993's What's Love Got to Do With It. But that isn't the only Oscar-worthy performance from Bassett's decades-long career. So, here are just a few of Angela Bassett's best movies that were worthy of an Oscar.
What's Love Got To Do With It (Tina Turner/Anna Mae Bullock)
For Angela Bassett, this role in What's Love Got To Do With It was a major turning point in her acting career as her first lead role in a film. She played larger-than-life music icon and survivor Tina Turner and knocked it out of the park.
The Yale-trained actress proved she was more than worthy of an Oscar with her performance. Angela Bassett transformed from naive ingénue Anna Mae Bullock to rock's most powerful superstar of the 1980s and 1990s. That transition tapped into the music legend's emotions and sensibilities, allowing Bassett to capture the future Rock and Rock Hall of Famer's life seamlessly. In addition, the actress even got Turner's dialect and speech pattern down. Her scenes with Laurence Fishburne's Ike Turner alone should've made her a shoo-in for Best Actress.
For her performance as the music icon in What's Love Got To Do With It, Angela Bassett did receive a Best Actress Oscar nomination. Despite winning a Golden Globe, she ended up losing the Oscar to Holly Hunter for the critical darling The Piano. But Bassett's nomination wasn't in vain as she and co-star Laurence Fishburne became the first Black actor and actress to be nominated for Best Actor and Actress for the same film.
Malcolm X (Betty Shabazz)
Angela Bassett has a penchant for playing some of history's pivotal female figures. Before becoming Tina Turner in What's Love Got to Do With It, the actress played civil rights icon and Malcolm X's wife Betty X (or Shabazz) in the Spike Lee-helmed biopic, Malcolm X.
Marked as one of her best-supporting roles, the acting titan went toe-to-toe with two-time Oscar winner Denzel Washington. Their acting prowess allowed Malcolm and Betty's relationship to flow naturally throughout the film. That showcased the couple's progression from a traditional Islamic relationship to equals. Much like her transformation from Anna Mae to Tina, viewers were able to see her metamorphosis by playing off Shabazz's fragility and strength, especially towards the end of her husband's life.
While Denzel Washington got all the spotlight and an Oscar nom, Angela Bassett deserved a Best Supporting Actress nomination. Without Betty Shabazz, Malcolm X would've lacked a softer side in this powerful biopic.
Strange Days (Lornette "Mace" Mason)
While real-life figures are the actress's forte, Angela Bassett made a detour into the futuristic sci-fi genre. She got the chance to play lead Ralph Fiennes' right hand Mace Mason in the 1996 cult classic, Strange Days.
The Oscar nominee's performance was memorable as she shifted between moods in every scene without any hesitation. But it was tackling the film's heavy themes that made Angela Bassett's performance award-worthy. The actress became even more nuanced as her dynamics with Ralph Fiennes shifted.
Though she did win a Saturn Award for Best Actress for the role, as one of Bassett's most acclaimed performances (via Rolling Stone), the actress deserved an Oscar nomination for her work on Strange Days. Angela Bassett was able to challenge herself and rose to the occasion.
Sunshine State (Desiree Strokes Perry)
Sticking out amongst an all-star ensemble has been one of Angela Bassett's biggest strengths. Bassett's performance as a wayward daughter and actress Desiree Strokes Perry in Sunshine State is one of her finest.
The actress seemed to tap into her own Hollywood experience as she channeled Perry's struggles and secretive past. Throughout the 2002 drama, Bassett was able to play off multiple dynamics with ease. She came off as sophisticated and demure while coming to terms with her troubled past. Angela Bassett's mix of strength and vulnerability in the melodrama rivaled the nuances of co-star Edie Falco and other actresses at that time.
While the actress was singled out by many critics, Bassett's performance screamed for a Best Actress Oscar nom. Sunshine State allowed Angela Bassett to show a different side of her skills.
Akeelah And The Bee (Tanya Anderson)
Throughout her decades-long career, Angela Bassett has played her fair share of mothers or motherly roles. But her performance as widowed working mother of four Tanya Anderson in the beloved 2006 coming-of-age film truly stands out.
While the Oscar nominee was a big name for the indie drama, it was co-star KeKe Palmer's breakthrough as a film lead. Through that dynamic, Bassett served as a strong supporting player to Palmer's spelling savant in Akeelah and the Bee. The two actresses displayed a natural mother-daughter connection as Angela Bassett gave nuance to the typical loving yet overbearing mother. Her performance heightened Palmer's as she tackled multiple emotions and feelings in the film.
But the real get was teaming up with her What's Love Got to Do It co-star Laurence Fishburne once again. Just like their previous team-ups, the two displayed palpable chemistry and dynamic.
While KeKe Palmer received acclaim from critics and Oscar buzz, Angela Bassett deserved a trip to the Oscars with a Best Supporting Actress nom. Playing off all those dynamics allowed Angela Bassett to truly shine in the drama.
Black Nativity (Aretha Cobbs)
Like Akeelah and the Bee, the Oscar nominee played another matriarch role with an extra twist. This time, Angela Bassett portrayed church first lady and estranged matriarch Aretha Cobbs in Black Nativity, the film adaptation of Langston Hughes' play.
The actress brought all the history of her wayward daughter (played by Oscar winner Jennifer Hudson) in supporting estranged grandson Jacob Latimore. Angela Bassett crafted a motherly essence with a sense of vulnerability and strength. The rocky family dynamics allowed Bassett to display a sense of dignity and gentleness against co-star Forest Whitaker's gruff and stern preacher. For the musical drama, the actress mixed a sense of reserve with warmth and sincerity without sacrificing her performance.
Having been one of Bassett's best film performances, she deserved to receive an Oscar nomination for Black Nativity. Angela Bassett was able to turn a seemingly standard role into an acting showcase.
The above performances place her in the same league as Oscar winner Meryl Streep and Glenn Close. But Angela Bassett's career hasn't stopped going as evident by the number of 2021 new movie releases and beyond, including Black Panther: Wakanda Forever. So, here's to hoping Bassett eventually gets the competitive Oscar she deserves.
Your Daily Blend of Entertainment News
A boy from Greenwood, South Carolina. CinemaBlend Contributor. An animation enthusiast (anime, US and international films, television). Freelance writer, designer and artist. Lover of music (US and international).