Sonic The Hedgehog 2: An Updated Cast List, Including Jim Carrey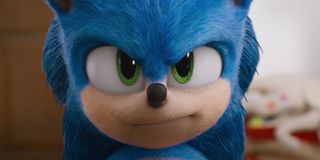 Between video games movies often being hit or miss with audiences and the outcry over the titular character's original design, 2020's Sonic the Hedgehog faced an uphill battle with its theatrical run. Fortunately for all those involved in its production, the popular SEGA character's cinematic debut proved to be a hit, scoring a lot of positive reception and making over $319 million worldwide. By May 2020, it was announced that Sonic the Hedgehog 2 had been greenlit, and it was later announced that it would release in spring 2022.
Now that Sonic the Hedgehog 2 is filming, this is a great time to go over who's making up the sequel's cast. But before discussing the voice behind the rapid mammal, let's first talk about the biggest on-camera actor from the first movie who's back for another round of Sonic action, Jim Carrey.
Jim Carrey
For decades, Dr. Ivo "Eggman" Robotnik has been Sonic the Hedgehog's arch-nemesis in the video game franchise, so it was only appropriate to select him as the main villain for the Sonic the Hedgehog movie. When we last left off with Jim Carrey's iteration of the antagonist, he'd been stranded on the mushroom planet, looked much more like his video game counterpart and become insane. But Carrey's Robotnik is still as smart as ever and vowed to escape the alien world to exact revenge on Sonic, and he'll finally succeed with that goal in Sonic the Hedgehog 2. But he won't be alone: Robotnik will be accompanied by Knuckles the Echidna, with the two of them teaming up to find a magical emerald that will give them the power to build and destroy civilizations.
Ben Schwartz
While many of you are likely most familiar with Ben Schwartz from his role as Jean Ralphio in Parks & Recreation, he also has an extensive voice acting resume, from Ducktales to M.O.D.O.K. As far as film work goes though, it's safe to say that Sonic the Hedgehog marked Schwartz's biggest vocal gig, and he's back to voice the hedgehog in the sequel. Having been adapted by Tom and Maddie Wachowski at the end of the first movie, Sonic the Hedgehog 2 sees its eponymous protagonist longing for more freedom, and he finally gets it when the couple let Sonic stay at home alone when they go on vacation. Unfortunately, Sonic's chill session is interrupted by Robotik's return, so he'll need to team up with Tails (who cameoed in Sonic the Hedgehog's mid-credits scene) to stop the mad scientist and Knuckles from obtaining that emerald.
James Marsden
Sonic the Hedgehog is super fast, but even he needs help. Luckily, as already mentioned, he has a family in his corner, starting off with X-Men and Enchanted actor James Marsden playing Tom Wachowski, the sheriff of Green Hills, Montana. Although Tom started off in Sonic the Hedgehog looking to get out of Green Hills, resulting in him almost taking a job with the San Francisco Police Department, his adventure with Sonic made him realize that Green Hills is truly his home. But as already noted, Sonic the Hedgehog 2 will have Tom and Madde traveling out of town, though don't be surprised if their vacation is cut short and they're drawn into the sequel's action.
Tika Sumpter
Veterinarian Maddie Wachowski, played by Get on Up and Mixed-ish actress Tika Sumpter, didn't learn about Sonic the Hedgehog's existence at the same time time as Tom, but once her husband and Sonic met up with her San Francisco while they were fleeing Dr. Robotnik, it didn't take her long to get up to speed and join the adventure. We'll have to wait and see how involved Maddie is involved in Sonic's shenanigans in the sequel, though I suspect that she'll have more screen time compared to the first movie. It's also worth mentioning that Sonic the Hedgehog 2 will reportedly feature a character named Randall who will only interact with Tom and Maddie.
Adam Pally
Green Hills, Montana may be a small town, but it takes more than one law enforcement officer to look after its citizens. As such, Tom Wachowski is aided by his chief deputy, Wade Whipple, played by Happy Endings and Crossing Swords actor Adam Pally. Wade was present in Sonic the Hedgehog's final battle to try and stop Dr. Robtnik from hurting Tom, and he got to see Sonic battle the mad scientist. Aside from presumably still working with Tom as his chief deputy, it's unclear how Wade will fit into Sonic the Hedgehog 2, though it's reasonable to expect him to provide more comedic relief.
Natasha Rothwell
Natasha Rothwell of Insecure and Wonder Woman 1984 fame starred in Sonic the Hedgehog as Rachel, Maddie's older sister who disapproved of Tom and kept urging Madde to leave him. Unless Rachel and her daughter Jojo (played by Melody Niemann) have moved to Green Hills, I'm guessing that Tom and Maddie will go visit her in San Francisco. Though that then begs the question of if Rachel and Jojo will get to see Sonic, let alone be involved in any of Sonic the Hedgehog 2's action. I'm also curious to see if Rachel's opinion of Tom has improved at all.
Shemar Moore
So far, the only new actor who's been announced for Sonic the Hedgehog 2 is Shermar Moore, who is best known for playing Derek Morgan on Criminal Minds and Hondo on S.W.A.T., both CBS shows. There's no word yet on who Moore is playing, although the fact that he was photographed on set with James Marsden, Tika Sumpter and Natasha Rothwell indicates he'll be a human character rather than voicing one of Sonic's animated costars. This is Moore's first time appearing in a theatrically-released movie since 2016's The Bounce Back.
Sonic the Hedgehog 2 races into theaters on April 8, 2022. While we wait for more casting news and other updates about the sequel's progress, keep track of the movie still set to arrive this year with our 2021 release schedule.
Connoisseur of Marvel, DC, Star Wars, John Wick, MonsterVerse and Doctor Who lore. He's aware he looks like Harry Potter and Clark Kent.
Your Daily Blend of Entertainment News
Thank you for signing up to CinemaBlend. You will receive a verification email shortly.
There was a problem. Please refresh the page and try again.