F9: What To Remember About Every Fast & Furious Character Before The Sequel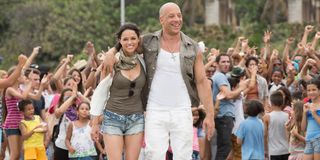 Over the years, the list of Fast and Furious characters has continued to grow to the point where it's damn near impossible to keep track of everyone, especially with several familiar faces showing up in F9 after being absent for several years. While everyone surely recognizes Vin Diesel as franchise star Dominic Toretto, other characters in Fast and Furious 9 maybe aren't as recognizable.
So, to help everyone get up to speed before the Fast Saga entry from a returning Justin Lin rolls into theaters on June 25, we've put together a quick rundown of all the major Fast and Furious characters, what they were up to the last time we saw them, and a few important things to remember about each of them.
Dominic Toretto (Vin Diesel)
Dominic Toretto (Vin Diesel), the man on which the Fast and Furious franchise was built, has been thrilling audiences with his "quarter-mile at a time" philosophy since the 2001 release of The Fast and the Furious. Over the years, we've watched Dom as he transitioned from a notorious street racer who boosts DVD players and VCR/TV combos on the side to one of the world's most wanted criminals, who is pretty much a superhero at this point. Through it all, there is one thing and one thing only that motivates Dom: family.
This was abundantly clear in The Fate of the Furious, which saw Dom become a wheelman for Cipher (Charlize Theron), who kidnapped his son and used him as leverage. Even though it appeared Dom had turned his back on his crew, looks can be deceiving, as we saw his masterful plan play out thanks to some very unlikely allies.
Letty Ortiz (Michelle Rodriguez)
Letty Ortiz (Michelle Rodriguez) has been a major player throughout the Fast and Furious franchise, even when she was presumed dead following 2009's Fast and Furious, and later returned in Fast and Furious 6 as a member of Owen Shaw's (Luke Evans) crew after suffering from amnesia. Loyal as can be, Letty has stayed with Dom through thick and thin, and was willing to do anything to protect her husband and their crew.
The Fate of the Furious gave Letty one of her more realized storylines, when she was left wondering what was going on with Dom after he seemingly turned on the team to work with Cipher. Not willing to give up on the love of her life (much like Dom didn't give up on her in Furious 7), Letty never lost faith. We last saw Letty helping raise her stepson, Brian Toretto, alongside Dom following the death of the young boy's mother, Elena Neves (Elsa Pataky).
Roman Pearce (Tyrese Gibson)
First introduced as Brian O'Conner's (Paul Walker) childhood best friend in 2 Fast 2 Furious, Roman Pearce (Tyrese Gibson) became a major part of the Toretto crew in Fast Five, where he proved instrumental in the improbable vault heist and subsequent chase through the streets of Rio. A more-than-capable wheelman, Roman also provides much of the comic relief throughout the franchise, most notably whenever he lets his nerves get the best of him, like in the logic-defying skydiving cars scene in Furious 7.
He just missed the cut in the top 10 of Interpol's Most Wanted list in The Fate of the Furious, but Roman proves that he can carry his own weight, whether it be from his engineering skills to his proficiency with all kinds of firearms. It also doesn't hurt that he can talk his way out most situations.
Tej Parker (Chris "Ludacris" Bridges)
Like Roman Pearce, Tej Parker (Chris "Ludacris" Bridges) was introduced to the Fast and Furious universe in 2 Fast 2 Furious and then became a core member in Fast Five. The Fast and Furious crew's longtime tech guru, Tej is often behind much of the gadgets, gizmos, and other remarkable devices that have come in handy over the years. With the introduction of Ramsey (Nathalie Emmanuel) in Furious 7, the team is still big enough for two engineering experts.
Never one to allow his family put themselves in danger without getting involved himself, Tej had a close call in The Fate of the Furious when he finds himself trapped inside the Akula submarine being hijacked by Cipher. He made it off the craft not long before it was blown to pieces, but didn't have nearly as much luck with Ramsey in the final moments of the movie.
Mia Toretto (Jordana Brewster)
One of the core members of the Fast and Furious from the beginning has been Mia Toretto (Jordana Brewster), who was introduced as the kid sister of Dom and love interest of Brian O'Conner in The Fast and the Furious. Even though she doesn't make the best tuna sandwich, Mia has been an integral member of the Toretto crew, one who's always more than willing to lay everything on the line for her family and friends.
Mia will be back in F9 after not appearing in the Fate of the Furious, in which she was briefly mentioned when Letty told Roman they promised not to get the O'Conners involved. What happened between then and the latest chapter of the Fast Saga will hopefully be explained in F9.
Ramsey (Nathalie Emmanuel)
A member of the Toretto crew since Furious 7, Ramsey (Nathalie Emmanuel) has proved time and again that despite being the newest member of the team, she is more than capable of handling herself quite well. The creator of God's Eye, Ramsey is a mastermind when it comes to all things tech-based.
Ramsey played a major role in The Fate of the Furious, which saw her use her skills and intellect to help track down Dominic Toretto's actual location after Cipher masked his whereabouts from the powerful God's Eye program. When tracking down the nuclear submarine, the hacker even directed the team to the best course to stop Cipher from carrying out her plan.
Han Lue (Sung Kang)
If you are watching the Fast and Furious movies by their release order, then The Fast and Furious: Tokyo Drift, released in 2006, is your introduction to Han Lue (Sung Kang). But, if you go by the franchise's timeline, then Fast and Furious, released in 2009, is the first time the fan-favorite character showed up as a member of the Toretto crew. Confusing, right?
Chronologically, the last time we saw Han was when his character was killed off during a street race in Tokyo Drift, but as we learned in Furious 7, it was no accident, but instead the doing of Deckard Shaw (Jason Statham). Despite this violent death, a funeral, and all sorts of tributes, Han appears to be alive and well in F9, where, hopefully, his return is explained.
Magdalene "Queenie" Shaw (Helen Mirren)
Introduced in The Fate of the Furious, Magdalene "Queenie" Shaw (Helen Mirren) quickly became one of the most powerful figures in the franchise as the matriarch of the Shaw family criminal enterprise. As cunning and dangerous as her three children — Deckard, Owen, and Hattie Shaw (Vanessa Kirby) — Magdalene became an unlikely ally of Dominic, who found one hell of a way to earn her trust: a love of family.
At some point after helping Dom get revenge on Cipher, Magdalene ended up behind bars prior to the events of Hobbs & Shaw, but after a visit from two of her three kids, it doesn't look like she'll be there long. If we go off one of the many F9 trailers, it looks like Magdalene will finally get behind the wheel of a car in the summer blockbuster.
Mr. Nobody (Kurt Russell)
Mr. Nobody (Kurt Russell), the mysterious government operative who proves to be a valuable ally for the Toretto crew, has been a major entity since being introduced in Furious 7. One to remain calm in all situations, even when he's suffering from a gunshot wound, Mr. Nobody never loses his cool and seems to get a thrill out of the danger that comes from being associated with Dom.
This continued into The Fate of the Furious where Mr. Nobody and Little Nobody (Scott Eastwood) provide Toretto's crew with anything and everything they need to track down Dom and stop him from carrying out Cipher's diabolical plan. He is last seen at the Toretto BBQ, though this will surely not be the last we hear of this mysterious figure.
Cipher (Charlize Theron)
The intelligent, charismatic, and dangerous cyber-terrorist Cipher (Charlize Theron) was introduced in The Fate of the Furious and revealed herself as the criminal mastermind behind the events of the previous two movies in the franchise, before forcing Dominic to do her bidding if he wanted his son to live. After having her plan fail when it's discovered that Dom was actually playing her behind the scenes, Cipher evades capture from Deckard and Owen Shaw, parachuting to safety.
In the final moments of the movie, Mr. Nobody tells Dom he believes Cipher is somewhere in Athens. But something tells me this wasn't the last we'll see of Cipher.
Sean Boswell (Lucas Black)
We first saw Sean Boswell (Lucas Black) in The Fast and the Furious: Tokyo Drift just as he was preparing to be sent off to live with his dad in the Japanese megacity. The troublemaker with a knack for driving cars at high rates of speed quickly learns that being the fastest is everything, as he is taken under the wing of Han Lue in the Tokyo drifting scene. Sean briefly appears again in Furious 7 when we see a continuation of his race with Dominic first shown at the end of Tokyo Drift. The character will be making his long-awaited return in F9.
Twinkie (Bow Wow)
There are several other characters from The Fast and the Furious: Tokyo Drift returning for F9 alongside Sean Boswell, with the most notable being his high school friend and fellow transplant Twinkie (Bow Wow). In the franchise's third installment, Twinkie helped Sean adjust to life in Tokyo and even introduced him to the world drifting, having his back through it all.
Earl Hu (Jason Tobin)
Earl Hu (Jason Tobin) was first introduced in The Fast and the Furious: Tokyo Drift as one of Han Lu's close friends and mechanic who helps Sean Boswell prior to his Mountain Race showdown with D.K. (Brian Tee). When all hope appears lost after Han's cars are confiscated, Earl helps Twinkie and Sean install the engine of a salvaged Nissan Silvia Spec-R to make Sean's dad's Ford Mustang into a muscle car capable of drifting.
You may have noticed this list doesn't include John Cena's Jakob Toretto, but please be assured this was not an oversight. Since the character has yet to be introduced (or even acknowledged) prior to the events of Fast and Furious 9, there's no way to properly breakdown his backstory. This cannot be said about Deckard Shaw and Luke Hobbs (Dwayne Johnson), but neither character has officially been revealed for the upcoming ninth installment. As for all the other characters on this list, you can take a deep dive and watch all the Fast and Furious movies streaming if you have the time.
Your Daily Blend of Entertainment News
Philip grew up in Louisiana (not New Orleans) before moving to St. Louis after graduating from Louisiana State University-Shreveport. When he's not writing about movies or television, Philip can be found being chased by his three kids, telling his dogs to stop barking at the mailman, or yelling about professional wrestling to his wife. If the stars properly align, he will talk about For Love Of The Game being the best baseball movie of all time.