The Best Dominic Toretto Moments In The Fast And Furious Movies So Far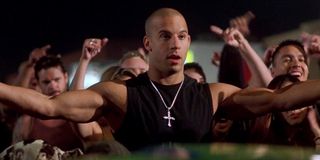 Whether he's taking life "one quarter mile at a time," drinking any beer as long as it's a Corona, or putting his skin on the line to protect his ever-growing family, Dominic Toretto has had his fair share of great moments ever since Vin Diesel brought the on-screen badass to life in 2001's The Fast and the Furious. While not always the easiest person to deal with in the franchise, Dom has always been the linchpin of the series, the glue that keeps everyone together, and the bridge that makes complete strangers into "familia."
But what are the best Dominic Toretto moments, those iconic speeches, races, and brutal fights that have audiences coming back to the theater for more and more over the past 20 years? As we look toward the release of F9, let's take a step back and check out the franchise star's best moments from his humble beginnings as mechanic-turned-racer-turned-low-level-criminal to someone who is pretty much a superhero with his insane stunts. These are the best Dominic Toretto moments in the Fast and Furious movies in order.
Dominic Toretto's 'A Quarter Mile At A Time' Speech (The Fast And The Furious)
As cheesy as it may be, Dominic Toretto's "a quarter mile at a time" speech in The Fast and the Furious is hands down one of the character's best moments and does a tremendous job of setting up his motivations and desires in the movies that follow. Coming about halfway through the movie, the iconic line is spoken just after Dom tells Brian O'Conner (Paul Walker) about the death of his father and the way a younger version of the character brutally attacked the man responsible.
When Dom says he turns to racing and the thrill of the 10-second quarter-mile, he explains that it allows him to not think about the madness in his life or those around him, giving him a much-needed escape from the world. It also tells you everything you need to know about why Dom continues to push himself to the limit, even when death is a possible outcome.
Dominic Toretto Challenges Sean Boswell To A Race (Tokyo Drift)
Dominic Toretto wasn't in 2 Fast 2 Furious (Vin Diesel was busy starting the xXx franchise) and it looked like he wasn't going to be in The Fast and the Furious: Tokyo Drift. That all changed when Dom shows up in Tokyo to challenge Sean Boswell (Lucas Black) to a race in the film's final moments.
And while the scene is no longer than a couple of minutes, it accomplishes quite a bit. Not only does it see the return of Vin Diesel's most badass character, it also does a great job of building the world of the Fast and Furious franchise, shedding light on the Han Lue's (Sung Kang) past and how he fits into the bigger picture. It is a wonderful scene, even if it makes the Fast and Furious timeline a little confusing.
Dominic Toretto And Brian O'Conner Fight (Fast And Furious)
We had heard all about Dominic Toretto's white-hot rage through stories told in The Fast and the Furious, but we finally got to see it in action in 2009's Fast and Furious when he confronts Brian O'Conner about Letty Ortiz (Michelle Rodriguez) being an FBI informant prior to her "death" earlier in the movie. As soon as Brian sees Letty's name come across his phone, he knows he's in trouble with Dom, who is slowly walking toward him.
First throwing Brian into a shelf, Dom proceeds to beat the tar out of his old friend, viciously at that. Blinded by rage, pain, and all other sorts of emotions, Dom becomes the version of himself he told Brian about all those years ago, one that will do anything to get back at those who harmed his family.
Dominic Toretto And Luke Hobbs Square Off (Fast Five)
As soon as Dwayne "The Rock" Johnson joined the Fast Five cast (replacing Tommy Lee Jones), you knew his character would cross paths with Dominic Toretto at some point, and boy, do they cross paths. Over the course of 2011 heist film, Johnson's Luke Hobbs and Dom have several run-ins, but the biggest and baddest of these takes place when Hobbs attempts to arrest the Toretto crew, kicking off one hell of a one-on-one fist fight.
During the brutal melee, Dom and Hobbs bust through walls, throw each other through windows, and pretty much destroy every piece of furniture in their path. But just before Dom, who is blinded by rage, is preparing to smash in Hobbs' head with a wrench (a callback to The Fast and the Furious?), he listens to reason and lets him live, even if it means the team is placed under arrest.
Dominic Toretto's 'Salute Mi Familia' Speech (Fast Five)
The big vault heist in Fast Five makes for one of the most insane scenes in the franchise and surely caused a ton of collateral damage in the process. But just before the team prepares to carry out the $100 million job, they get together for one more "family" moment, which includes a meaningful speech and toast from Dominic Toretto.
With a beer in hand (that's not a Corona, by the way), Dom tells his crew that money will come and go and that the most important thing in the world is the group of people in the room before saying "Salute mi familia." This brief yet impactful scene helps better build up the badass with a heart of gold character of Dominic Toretto and helps justify the madness he's about to cause.
Dominic Toretto Flies Through The Air To Save Letty Ortiz (Fast And Furious 6)
By the time Fast and Furious 6 came around, the franchise had become a full-on action franchise that was no longer centered on the street-racing aspect of earlier installments, nor was it really tied to reality. Despite that, the sixth installment in the franchise does feature one of the most badass scenes involving Dominic Toretto and further proof he is not human.
After the film's villain, Owen Shaw (Luke Evans) commandeers a tank alongside Letty Ortiz (still suffering from amnesia following her "death" in Fast and Furious), Brian O'Conner and Roman Pearce (Tyrese Gibson) cause it to flip over, throwing Letty into the air. Seeing this go down, Dom jumps out of his speeding car and flies through the air to grab his wife before she can fall to her death. It's an outlandish moment that makes no sense and both should have died, but I'll be damned if it's not one of the coolest things I've seen.
Dominic Toretto Almost Dies (Furious 7)
For a franchise that has continued to up the ante as much as the Fast and Furious, it should have come as no surprise that 2015's Furious 7 was going to be one hell of a thrill ride from start to finish. And event though the movie is one logic-defying moment after another (skydiving cars, driving cars through skyscrapers, Luke Hobbs breaking a cast by flexing), it also has a lot of heart (and tears, plenty of tears).
One of the biggest tear-jerkers of Furious 7 comes when Dominic Toretto is pretty much dead after being in the wrong place at the wrong time when a parking garage collapses. Dom lies unresponsive at first but when Letty Ortiz tells him she remembers everything, our hero comes back from the brink of death and responds with "it's about time" before explaining he didn't tell her they were married because "You can't tell someone they love you."
Dominic Toretto's Speech About Brian O'Conner (Furious 7)
Before Furious 7 even came out, you knew the movie was going to bring on the waterworks following Paul Walker's November 2013 death. And how the seventh installment in the franchise handled the actor's death was truly something to behold. Following the touching moment where Brian O'Conner and his family play on the beach while the rest of the crew watch on and enjoy the beauty of the moment, Dominic Toretto goes for a drive. When he gets to a crossroad, Brian pulls up beside him saying "Thought you could leave without saying goodbye?" and the tears really start pouring.
But then comes the creme de la creme of Dominic Toretto speeches when he goes back to the "quarter mile at a time" line and ties it into his bond with Brian before saying Brian will always be his brother as their cars head in two different directions, creating one of the most beautiful moments.
Dominic Toretto Faces Off With A Submarine (The Fate Of The Furious)
In The Fate of the Furious, after Dominic Toretto has already turned against Cipher (Charlize Theron) and is working with his old crew again, his former tormentor and boss fires a homing missile at him as payback for his treachery. I guess Cipher forgot that Dom is unmatched behind the wheel and not only dodges the missile but leads it towards a nuclear submarine the cyberterrorist was hellbent on using to start a nuclear war.
This improbable, ridiculous, and insane stunt makes absolutely no sense, but this is Dominic Toretto we're talking about here. Not only is the threat of nuclear war stomped out, Dom somehow survives the explosion and lives to see another day… another day in F9.
With a character like Dominic Toretto, a franchise like Fast and Furious, and an actor like Vin Diesel, it is safe to say we'll be seeing more touching and badass moments in the years to come. If you want to revisit all of these moments, and others like it, now's the perfect time to go back and watch all the Fast and Furious movies streaming.
Philip grew up in Louisiana (not New Orleans) before moving to St. Louis after graduating from Louisiana State University-Shreveport. When he's not writing about movies or television, Philip can be found being chased by his three kids, telling his dogs to stop yelling at the mailman, or yelling about professional wrestling to his wife. If the stars properly align, he will talk about For Love Of The Game being the best baseball movie of all time.
Your Daily Blend of Entertainment News
Thank you for signing up to CinemaBlend. You will receive a verification email shortly.
There was a problem. Please refresh the page and try again.