Sylvester Stallone And Arnold Schwarzenegger Reunite For First Time In Over A Year In Sweet Photos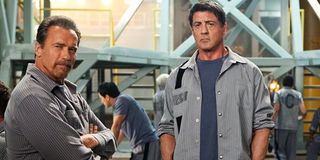 After more than a year of social distancing measures being enforced in numerous parts of the world, some areas -- like Hollywood -- are resuming something that resembles pre-pandemic life. That means plenty of old friends are seeing each other for the first time in a long time. For people like Rocky superstar Sylvester Stallone and the Terminator himself, Arnold Schwarzenegger, that made for both a poignant reunion and an amazing social media moment.
Sylvester Stallone recently shared a new pair of photos on his Instagram account. Both featured him standing alongside his (fully vaccinated) rival-turned-good friend Arnold Schwarzenegger. It's clear from both the caption and the happy expressions on their faces that the actors were thrilled to be back in each other's presence after many months. Take a look at the sweet photos here:
While obviously the big takeaway here is that Sly and Arnold are back in action (or, at least, back in face-to-face communication), the Expendables co-stars also met up with Ralf Moeller and Frank Stallone, making for a truly sweet reunion for all. But ahead of meeting up with each other, both actors managed to keep themselves pretty busy on social media over the last few months while they waited for California to open back up.
As former governor of California, Arnold Schwarzenegger seemed to feel a responsibility to provide some PSAs. He used his Twitter account to post useful reminders to follow COVID-19 safety measures. In October, he also took time out to focus on his own health when he underwent surgery to replace an aortic valve at the Cleveland Clinic.
Sylvester Stallone, on the other hand, took up a unique pandemic hobby -- editing together his director's cut of Rocky IV. He also made it pretty clear that he was longing for the days when he could see his old celebrity friends in person when he shared a slideshow of some of his favorite memories on Instagram.
Despite their pandemic productivity, it's clear that both prefer to be out and about again. The very concept of the two action superstars being happy to see each other was, of course, once a very foreign concept, given the legendary, years-long rivalry. It was once serious enough that Sylvester Stallone threw a bowl of flowers at Arnold Schwarzenegger (at the Golden Globes!). These days, they've buried the hatchet and any competitive energy between the two is now seemingly quite good-natured and friendly.
As for their working relationship, it may be too much to hope that their reunion included some shop talk about The Expendables 4. Still, the last we heard that is still a thing that will happen eventually, so maybe it won't be too much longer before we see these two screen legends back on the big screen together again.
Your Daily Blend of Entertainment News
Thank you for signing up to CinemaBlend. You will receive a verification email shortly.
There was a problem. Please refresh the page and try again.