What Harry Potter Actress Emma Watson's Been Up To Since Her Last Movie Role In 2019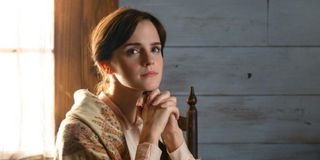 Since her years with the Harry Potter franchise, Emma Watson has accomplished the difficult feat of transitioning from child star to well-respected adult actress. She's proven she has what it takes to rule the box office on her own with Beauty and the Beast and that she can tackle a variety of complex roles in films like Perks of Being a Wallflower and The Bling Ring. However, since her last movie role at the end of 2019, Emma Watson has taken a more low key approach to her acting career -- though that doesn't mean she hasn't been keeping busy.
After completely nailing her performance as Meg March in Greta Gerwig's Little Women adaptation, Emma Watson has made a surprising career move -- she has, at least for now, chosen not to take on any new acting roles. Her absence from the Hollywood scene has been so notable that earlier this year, rumors began to swirl that she had retired from acting.
In response, she told fans those rumors were false. If she has any news, she said, she will announce it personally. She also statted she has spent the last few months like so many others, trying her best to stay healthy during the global pandemic.
That's not all she's been up to, though. Emma Watson, who has made philanthropy and advocacy a big priority over the years, has taken on several interesting initiatives that speak to the issues she's most passionate about. In addition to using her sizeable Twitter platform to recommend anti-racism materials and send love to transgender fans last summer, she also helped Women of the World announce a new project aimed at spreading awareness about women's history in London.
Emma Watson was also working quietly behind the scenes to invest her time and money into environmental initiatives. In 2020, she joined the Board of Directors of Kering, on which she is the chair of the company's sustainability committee (via Vogue). Just last month, she was announced as one of the donors for FabricNano, a London-based startup that aims to reduce dependence on plastics and other environmentally-harmful materials.
Though we know she's also enjoying time with her boyfriend, Leo Robinton, Emma Watson has always been a pretty private person. That's understandable -- navigating life in the public eye can't be easy, especially if you're someone as famous as she is (and she's been doing this for nearly 20 years).
It's good to see Emma Watson is taking the time to work on projects that speak to her, even if they're happening off-screen. And since she made it clear that she has not chosen to retire from acting yet, if she ever chooses to take on a new film role -- or maybe even reprise one -- it seems likely she'll still have plenty of fans behind her to support her.
Your Daily Blend of Entertainment News