Why We Haven't Seen Harry Potter's Emma Watson Act In Anything Recently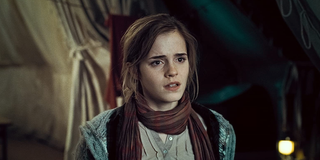 Being a big shot Hollywood actor is one of those seemingly unattainable dreams that a lot of people have. It happens for children and adults alike, whether it's an ambition or just a deep seeded fantasy. It's somewhat rare that the dream becomes a reality, but for Emma Watson stardom happened early on with her iconic role as Hermione in the Harry Potter franchise. But surprisingly Watson has somewhat faded into the background in the time following Little Women. She hasn't been on the big screen for a little while and won't be for the foreseeable future, as she has not started up any new projects. She's young, has a strong resume and name in Hollywood, so why haven't we seen her act in anything recently?
While Emma Watson's childhood success as an actor has given her the stardom and potential to go even farther in Hollywood may be the dream for a lot of people, maybe that dream has just already been fulfilled for Watson. According to Daily Mail's source, Watson has taken a break to settle down with her partner Leo Robinton, possibly wishing to start a family.
Emma Watson and Leo Robinton, who works in the legal cannabis industry, have been dating for around a year and a half and are rumored to be engaged. The couple have apparently been laying low and secretly living in Ibiza together until the beginning of this year. Even though she has been seen back in LA (or could it have been her doppelgänger?), Watson's agent has reportedly said the Perks of Being a Wallflower actress is staying dormant, which may mean she's done with the acting game.
It is possible, though, that Emma Watson is just taking some time to enjoy her youth with the person she loves. It couldn't have come at a better time either, as these pandemic times are perfect for laying low and taking a break from work if you have the means to. And Watson presumably has the means to do whatever she wants. Even if she were only living off the income Hermione brought her she should be set to live a life of leisure, but Watson has starred in a number of other big films post Harry Potter.
Most recently, Emma Watson played the role of Meg in Little Women, which was released just a few months before the pandemic hit. Historically, Watson has only taken one or two roles every year or so, so this gap in projects shouldn't be too alarming considering we have a pandemic going on and Watson is choosy about the projects she joins. Even so, the threat of never seeing Watson on the big screen again is a little unnerving for her many fans.
While it's true Emma Watson has the ability to be living the dream of many by playing the Hollywood game and snagging big budget roles, it sounds like she was actually living the role of a lifetime while in love in Ibiza. If I were her, I would trade the hectic life of a movie star on sets all day for my own leisurely love story too.
Constantly thinking about books, coffee, and the existential dread I feel from Bo Burnham's Inside. While writing I'm also raising a chaotic toddler, who may or may not have picked up personality traits from watching one too many episodes of Trailer Park Boys.
Your Daily Blend of Entertainment News
Thank you for signing up to CinemaBlend. You will receive a verification email shortly.
There was a problem. Please refresh the page and try again.