Harry Potter: Is It Time For A New Adaptation Of J.K. Rowling's Books? Let's Talk It Out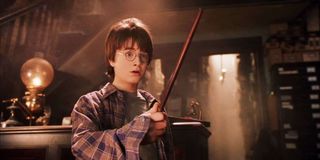 Earlier this week, it was reported that Warner Bros. was pondering discussions to make a Harry Potter TV series for HBO Max. While this report caught some fans off-guard, it's not terribly surprising. This fantasy franchise is one of the most beloved IPs out there, and there's a lot of corporate interest in returning to J.K Rowling's popular franchise. While it's not yet determined what this TV show will entail, it's possible that this potential series might serve as a television reboot of the famous films, thus returning us to the early days of our boy wizard and his misadventures inside the walls of Hogwarts.
While that's far from official at this point, the prospect isn't off the table either. Should WB decide to do it, they'd be making a TV series that lives in the lofty shadow of this immensely popular film franchise. Is there potential in doing this coming-of-age story once more? Or would it be a huge mistake? Let's weigh the pros and cons of this hypothetical Harry Potter reboot.
CON: It's Only Been Ten Years Since The Original Movie Series Ended
This year marks the tenth anniversary of Harry Potter and the Deathly Hallows — Part 2. It's hard to believe that a whole decade has passed since this movie series wrapped up in a spectacular two-part fashion. Whether or not you found the final film(s) to be a fitting farewell for this expansive fantasy film franchise, the simple fact of the matter is that it's just too soon to be thinking about redoing these stories — even in a television format.
The original eight movies are still fresh in the minds of viewers everywhere. More time will need to pass if you want viewers to look at this proposed TV series with fresh eyes. Unless this show is set to be radically different, it's just too soon to be thinking seriously about Harry Potter's return to Hogwarts. Maybe in another decade or two, the idea will be enticing. But Harry Potter is an institution at this point. It'd be nearly impossible for this reboot to establish itself outside of its predecessor.
PRO: Rebooting Harry Potter Could Add Details, Characters, And Storylines Left Out Of The Movies
Almost every Harry Potter book is a massive tome in its own right, particularly when it comes to children's literature. While the first two novels are a reasonable length at around 300 pages apiece, each consecutive installment ranges between 435 pages to 870 pages. Certainly, in the process of making two-to-three-hour movies, lots of characters, storylines, and other details were left on the page and/or on the cutting room floor. You can't blame the filmmakers; they only have so much time to tell their overarching stories. But for many book lovers, there's always some disappointment whenever certain moments don't transition from page-to-screen.
If the Harry Potter books were to be turned into a television series, however, that would afford the showrunners with the chance to include said details that didn't make the cut in the movies. That's not to say that the show is guaranteed to include each and every side character or plot, but there would be more opportunities to expand the material where the movies fell short.
CON: The Original Movies Are So Iconic That It's Hard To Top Them
You remember the characters. You remember the sets. You remember the music. You can hear it in your head now, can't you? For all these reasons and so many more, it's safe to say that Harry Potter is one of the most iconic film franchises of the early 21st century. The series continues to have a hold on the cultural zeitgeist, even after it finished a decade prior (not counting Fantastic Beasts, obviously). It remains such a grand fixture of our cultural and collective nostalgia that it's crystal clear why WB wants to return to the well.
Alas, if the studio tried to redo this magic-based story, they would almost certainly fall short. These movies are such a distinctive part of people's nostalgic childhoods that any attempt at a do-over would have a mountain to climb. A reboot will be meticulously compared to the original films, and this hypothetical reboot would likely be considered inferior to its predecessor. In that respect, it's basically setting itself up to fail.
PRO: A New Harry Potter Adaptation Could Give A New Generation Their Own Harry Potter Franchise To Grow Up With
If you're around my age, you had the privilege of growing up with the Harry Potter franchise. And when I say "grow up," I mean literally growing up with the series itself. As the books and movies went along, the characters got older, and so did the actors and, subsequently, the audience.
When it comes to the Harry Potter film franchise, it's a communal cinematic bond that's unlike many others. That's one of the key reasons why these blockbusters became such enormous hits with young audiences — and why they hold such a special place in the nostalgic hearts of millennials and Gen Z viewers everywhere.
But as a new generation comes of age, it would be nice if young audiences had their own Harry Potter series to watch and grow up with, discovering the magical world of Hogwarts for themselves and progressing with the series into their adulthood. While they can always watch the original movies, it's not the same as growing up with the characters in real-time. A new Harry Potter could provide that opportunity for younger viewers today.
While there are the Fantastic Beasts movies, they haven't captured the cultural zeitgeist quite like the Harry Potter movies, and that's likely because those characters don't resonate with children in this way. By returning to our boy wizard and his wand-wielding friends, that magical spark may be reborn.
CON: A Reboot Might Feel Like A Cynical Attempt To Cash In On The Popularity Of The Franchise
While one might want to believe that Warner Bros.' plans to revisit the wizardry world of Hogwarts are based on a desire to expand and enrich this fertile franchise, the likely truth of the matter is that the studio is fervently chasing the money train here. In the age of cinematic universes, IP is king, and WB presumably wants to milk this magical series for all its worth. Especially as they're looking to draw more attention to HBO Max, it sadly makes sense that WB is might want to revisit the property.
Ultimately, at the end of the day, money is the greatest driving force out there. If WB rebooted Harry Potter, it might seem solely based on their shareholders' interests, which is pretty depressing.
PRO: Rebooting Harry Potter Would Allow WB To Re-Introduce Characters We Love And Return The Franchise To Its Whimsical Origins
One of the most enticing aspects of a hypothetical Harry Potter reboot is returning the franchise back to its whimsical origins. While Harry Potter and the Sorcerer's Stone isn't without its faults, there's such a wealth of fanciful delight to those early days of Hogwarts, as we're discovering the magical wonders of this enchanting world with our youthful characters and taking in the spellbinding bedazzlements of this otherworldly environment. As the franchise went along, the movies expectedly matured with their protagonists. The plots grew denser, the characters developed in various ways, and we lost some of that playfulness. That's not to say that the later sequels are bad; they just don't have the same awe-inspiring wonder and mysticism.
If we went back to the early days of Hogwarts for Harry, Ron, and Hermione, we could revisit that joy and mesmerism. We would also have a chance to get reacquainted with various characters we loved in the earliest installments.
CON: Any New Harry Potter Project Comes With Baggage Based On JK Rowling's Recent And Ongoing Controversies
Now it's time to address the elephant in the room. As you're probably aware, J.K. Rowling has found herself in a great deal of controversy for her disagreeable stance regarding infringed trans rights. Particularly last summer, when she published a lengthy essay related to this topic, Rowling faced a great deal of backlash for her gender-identity beliefs. It has since hindered the reputation of the multi-million dollar franchise she originally conceived.
If one were to make another Harry Potter adaptation, it would unquestionably come with heavy baggage based on J.K. Rowling's recent and ongoing controversies. Especially as any new adaptation directly profits the famous author, many people would understandably be hesitant to watch and support this return to the magical world of Hogwarts. While some audiences will separate the art from the artist, that's not a luxury afforded to everyone, and it might ultimately limit the number of viewers willing to engage with this rebooted fantasy material.
PRO: To Overcome The Problems The IP Has Faced, A Reboot Could Make Strides By Being More Inclusive
Since the book series wrapped, J.K. Rowling has made several awkward attempts at making her work seem more progressive than it ultimately was. She has grown a reputation for announcing the racial or sexual identities of her characters, often in what some feel is a cheap attempt to earn inclusion points from her devoted fanbase. While the desire to expand the Harry Potter series beyond its white main characters is noble, J.K. Rowling's efforts haven't always been received positively. If WB did a reboot, however, that might provide the showrunners with a great opportunity to make Harry Potter more inclusive and progressive than it was previously.
While we would be seeing the same stories we heard before, the casting department could expand the ensemble to include actors of various ethnicities and genders, which would help overcome several problems associated with the IP. Including trans actors might be a great way to make this franchise more progressive.
But what do you think? Do you think Harry Potter should be rebooted? Or do you think the movies are magical enough? Let us know in the comments!
This poll is no longer available.
Your Daily Blend of Entertainment News
Will is an entertainment writer based in Pittsburgh, PA. His writing can also be found in The Playlist, Cut Print Film, We Got This Covered, The Young Folks, Slate and other outlets. He also co-hosts the weekly film/TV podcast Cinemaholics with Jon Negroni and he likes to think he's a professional Garfield enthusiast.
Your Daily Blend of Entertainment News
Thank you for signing up to CinemaBlend. You will receive a verification email shortly.
There was a problem. Please refresh the page and try again.