What The I Know What You Did Last Summer Cast Is Doing Now, Including Jennifer Love Hewitt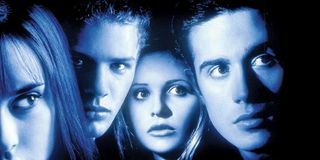 I Know What You Did Last Summer is the kind of movie that you really needed to experience as a teenager to truly appreciate. It wasn't smart like Scream or scary like Final Destination, but it was fun. Starring Jennifer Love Hewitt, Sarah Michelle Gellar, Ryan Phillippe and many others, most of the I Know What You Did Last Summer cast went on to do some major other projects following this popular film about four friends who are haunted by a hook-handed killer after their role in a fatal car accident.
The film was ultimately very successful and would spawn the sequels, I Still Know What You Did Last Summer, which brought in Brandy and Mekhi Phifer, and I'll Always Know What You Did Last Summer, which went straight to DVD. Neither film captured the magic of the first movie, but as I said up top, I guess you just had to be there to really experience why it was so popular. So, what's the cast of the '90s slasher flick doing today? Well, quite a lot, actually, and you're about to find out.
Jennifer Love Hewitt (Julie James)
The Ghost Whisperer herself and official face of the first two movies ("What are you waiting for!?"), Jennifer Love Hewitt mostly stopped acting in films back in 2012, with her last film role being Alison Marks in the independent comedy film, Jewtopia, but she's managed to stay relevant in the realm of television. Her first big break in the TV realm was on the hit Fox TV show Party of Five, which she starred in before and after her role in I Know What You Did Last Summer.
She would then go on to do Ghost Whisperer from 2005-2010, and a spate of other shows, with main roles on The Client List and Criminal Minds where she played the undercover agent, Kate Callahan. Her most recent role is in the Ryan Murphy procedural, 9-1-1, where she was introduced in Season 2 as 911 operator, Maddie Buckley Kendall and still has a role on the show. But that's not all, as she also did a bit of writing since her role in the popular slasher film. Jennifer Love-Hewitt had a five issue comic book series called Jennifer Love Hewitt's Music Box back in 2009-2010, which she helped come up with the ideas for, and she also wrote the book, The Day I Shot Cupid. Not only that, but she coined the term, "vajazzling," which is pubic decoration with gems and stones. Movie star, TV star, author, and coiner of words. What can't this woman do?
Sarah Michelle Gellar (Helen Shivers)
Sarah Michelle Gellar will probably always most be known for her starring role in Buffy the Vampire Slayer, but she's been acting since 1983 in the TV film, An Invasion of Privacy. Since then, she's done everything from movies, TV shows, and even music videos, such as Stone Temple Pilot's "Sour Girl", appearing as an authentic-looking goth girl.
Film-wise, Sarah Michelle Gellar jumped from I Know What You Did Last Summer to Scream 2 (in the same year!), went on to do Cruel Intentions, Scooby-Doo 1 and 2 as Daphne, and also terrified the living daylights out of me in The Grudge 1 and 2. Her last film was 2013's The Illusionauts. TV-wise, besides Buffy, and appearances in its spin-off, Angel, she has since had a main role on 2013's The Crazy Ones, which co-starred Robin Williams, and has also lent her voice talents to animation, like her 5-episode run as Seventh Sister on 2015's Star Wars Rebels. She will next be heard in the upcoming animated series, Masters of the Universe Revelation as Teela.
Ryan Phillippe (Barry Cox)
Like a lot of actors, Ryan Phillippe got his first big break on a soap opera, his being One Life to Live for a 13-episode run back in 1992-1993. He would go on to do a number of TV shows and movies (most notably, the excellent Crimson Tide) before he would land his role as Barry Cox in I Know What You Did Last Summer. Since 1997, he's done a number of TV shows and movies. And like Sarah Michelle Gellar, he also did some music videos, most notably as a blink and you'll miss it cameo as the TV host in Outkast's phenomenal video, "Hey Ya!"
On television, Ryan Phillippe kept himself busy in the aughts in shows like 2015's Secrets and Lies, 2016's Shooter, and most recently, in 2020's Big Sky as Cody Hoyt. Film-wise, Phillippe played roles in Gosford Park, Crash, Flags of Our Fathers, and most recently 2020's Brothers by Blood. His next films will be the true-crime drama film, American Murderer, and the comedy, Lady of the Manor, both of which are still upcoming.
Freddie Prinze Jr. (Ray Bronson)
Freddie Prinze Jr., who married his I Know What You Did Last Summer co-star, Sarah Michelle Gellar, has kept super busy in TV and film, and even in pro-wrestling. On the film end, he was one of the only survivors who made it to I Still Know What You Did Last Summer, but he was also in Wing Commander, both Scooby Doo movies, again with his wife, as Fred Jones, and most recently as a voice cameo in Star Wars: The Rise of Skywalker as Kanan Jarrus.
On the TV end, he's been on everything from Frasier to Friends, from Boston Legal to WWE Raw. My favorite Freddie Prinze Jr. role was as Cole Ortiz on 24 in Season 8, but he's also had roles in Psyche, Bones, and Punky Brewster as well. Also, the force is strong with this one, since he not only had a voice cameo in the The Rise of Skywalker, but also the Star Wars shows, Rebels, and most recently, in 2021's Star Wars: The Bad Batch as the character Caleb Dume on the episode "Aftermath". Cool!
Bridgette Wilson (Elsa Shivers)
Yes, Bridgette Wilson played Elsa Shivers in I Know What You Did Last Summer, but to me, she will always be Sonya Blade from 1995's Mortal Kombat. But since those two films, she did a few TV episodes, most notably on the shows Frasier, CSI: Miami, and 2008's Carpoolers.
On the film end, she went on to have roles in Love Stinks, House on Haunted Hill, and Shopgirl. Her last film was 2008's Phantom Punch, though she's credited for voicing the role of Sonya Blade in the video game Mortal Kombat 11.
Anne Heche (Melissa "Missy" Egan)
Anne Heche has had a long and rich career as an actor, but she's also done some directing and even wrote the book Call Me Crazy: A Memoir, back in 2001. Like Ryan Phillippe, she got her start on a soap opera, hers being Another World. She would then go on to do several shows following her role in I Know What You Did Last Summer, such as Ally McBeal, Nip/Tuck, Hung, and Dancing With the Stars as a dancer back in Season 29. But my personal favorite role of hers is her voice acting on The Legend of Korra as Toph's daughter, Suyin Beifong.
On the movie end, she did a number of films, like John Q, The Other Guys, and Catfight. Her most recent role in a film was 2020's The Vanished, and her most recent in a TV show was 2021's legal drama, All Rise. She had a two-episode run on the show. We'll keep you posted on whatever film or TV project she does next.
Johnny Galecki (Max Neurick)
For some, Johnny Galecki will always just be Dr. Leonard Hofstadter from the immensely popular The Big Bang Theory, which will likely live on in syndication forever. But for me, he will always be Darlene's boyfriend, David Healy, from Roseanne. Well, outside of those two shows, he's done a number of projects in both TV and film. On the film side of things, he was in Vanilla Sky, Hancock, Rings, and 2019's A Dog's Journey, which was currently his last film role.
On the TV end, he was of course on The Big Bang Theory, but also My Name Is Earl, Hope & Faith, and most recently again reprising his role as David Healy on The Conners. He looks to have taken a break from acting for the time being, so we'll have to wait and see what's ahead for the actor.
Stuart Greer (Officer)
Stuart Greer began his acting career in off-Broadway plays, but would eventually land his first film gig in I Know What You Did Last Summer. From there, some of his most notable film performances were Runaway Jury, The Mechanic, and his last film role being 2015's American Ultra.
On the TV side, he was on the Sundance original series RETIFY, the AMC show, TURN: Washington's Spies, and also as the character, Roman, on a couple of episodes of The Walking Dead. He had a stroke in 2016 and has retired from acting.
Muse Watson (Ben Willis/The Fisherman)
And lastly, the dude who actually knows what you did last summer, it's Muse Watson! He played the fisherman in the movie. Muse Watson has had a prolific career in both films and television. On the TV end, he's been in everything from JAG, to Prison Break, to The Mentalist, to even Ghost Whisperer for one episode. His most recent TV role was 2014's Justified, and he can next be found in the TV miniseries, Diary of a Lunatic, as The Creator.
On the film side, he is also one of the few characters to return in I Still Know What You Did Last Summer, but his role as The Fisherman was probably the biggest role in his filmography, as he mostly did much smaller films like American Outlaws. His most recent film was 2014's Suburban Gothic, where he played a character named Ambrose.
So, in the end, was I Know What You Did Last Summer one of the greatest horror movies of all time? No, not really. But it didn't have to be, because as I said up top. It was fun. But if you do want to know about some of the best horror movies, or upcoming horror movies, then you can find that here as we love our horror flicks at this website. And if you're not into horror flicks and just want to know about 2021 movies or even 2022 movies, you can find that here, too! So, what are you waiting for? Make sure to stop by often!
Your Daily Blend of Entertainment News
Rich is a Jersey boy, through and through. He graduated from Rutgers University (Go, R.U.!), and thinks the Garden State is the best state in the country. That said, he'll take Chicago Deep Dish pizza over a New York slice any day of the week. Don't hate. When he's not watching his two kids, he's usually working on a novel, watching vintage movies, or reading some obscure book.