What The Pulp Fiction Cast Is Doing Now, Including John Travolta And Samuel L. Jackson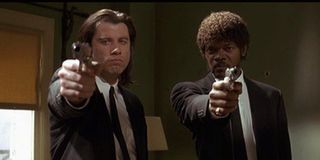 While Reservoir Dogs turned Quentin Tarantino into a hot, up-and-coming filmmaker, Pulp Fiction, his sophomore film, paved the way for the director to become one of the most adored (and controversial) storytellers in Hollywood. With its inventive non-linear structure, endlessly quotable lines, and a number of iconic performances from John Travolta, Uma Thurman, Bruce Willis, Ving Rhames, Christopher Walken, and Samuel L. Jackson, it's no wonder that the endlessly cool classic is one of the most beloved movies of all-time — let alone the '90s. Now that we're only a few short years away from its 30th anniversary, what's the Pulp Fiction cast working on now? Let's find out!
John Travolta (Vincent Vega)
As Vincent Vega, a cool, long-haired hitman, John Travolta is the protagonist (such as there is one) of 1994's acclaimed masterwork, Pulp Fiction. First rising to fame through Welcome Back, Kotter, John Travolta transitioned into stardom through his acclaimed Oscar-nominated performance in Saturday Night Fever, as well as his lead roles in Grease, Urban Cowboy, Blow Out, and the Look Who's Talking movies. Pulp Fiction's Oscar-nominated role rejuvenated the actor's fledgling career, resulting in him starring in Get Shorty (for which he won a Golden Globe), Face/Off, Primary Colors, Broken Arrow, and Wild Hogs. His other famous (and infamous) film credits include Battlefield Earth, Swordfish, Hairspray (2007), Old Dogs, The General's Daughter, The Punisher, From Paris With Love, The Taking of Pelham 123 (2009), Gotti, Bolt, and The Fanatic.
Additionally, on television, John Travolta won an Emmy for producing The People vs. OJ Simpson: American Crime Story, where he also played Robert Shapiro. Most recently, Travolta starred in Quibi's Die Hart. The actor also played Santa Claus in a Capital One commercial. Currently, Travolta is filming Paradise City, which will also star Bruce Willis.
Samuel L. Jackson (Jules Winnfield)
In the role of Jules Winnfield, a self-righteous hitman working alongside Vincent Vega, Samuel L. Jackson became a household name playing the deuteragonist in Quentin Tarantino's Pulp Fiction. He was Oscar-nominated for this foul-mouthed, star-making performance. He would later reunite with Quentin Tarantino with Jackie Brown, Django Unchained, and The Hateful Eight. His other film credits include Do the Right Thing, Jurassic Park, True Romance, Die Hard with a Vengeance, Shaft (2000), Goodfellas, Hard Eight, Coming to America, The Negotiator, Eve's Bayou, Snakes on a Plane, School Daze, and Unbreakable. Additionally, Jackson played Mace Windu in the Star Wars prequels and Nick Fury in the MCU. He also voices Frozone in The Incredibles movies.
Most recently, Samuel L. Jackson starred in Spiral: From the Book of Saw and The Hitman's Wife's Bodyguard. He also reunited with John Travolta for a Capital One commercial. Next, the A-list actor reprises his role as Nick Fury in What If...? and Secret Invasion. Also, Jackson will be seen in The Protege and heard in Blazing Samurai.
Uma Thurman (Mia Wallace)
Playing the part of Mia Wallace, Marsellus Wallace's mysterious, drug-addled wife, Uma Thurman was the female lead in 1994's Pulp Fiction. Outside of this Oscar-nominated performance, Thurman starred in Quentin Tarantino's Kill Bill movies. She also starred in Dangerous Liaisons, Gattaca, The Truth About Cats & Dogs, Henry & June, My Super Ex-Girlfriend, and Even Cowgirls Get the Blues. Thurman's other notable film credits include Batman & Robin, Les Miserables (1998), The Avengers (1998), The House That Jack Built, Nymphomaniac, The Producers (2005), Paycheck, Sweet and Lowdown, and The Adventures of Baron Munchausen. She also reunited with John Travolta for Be Cool.
Outside of film, Uma Thurman played main characters in NBC's The Slap and Netflix's Chambers. Her other TV credits include Imposters and Smash, the latter for which she was Emmy-nominated. She also won a Golden Globe for HBO's Hysterical Blindness. Most recently, Thurman played a supporting role in The War with Grandpa. Next, she'll be seen in Hollywood Stargirl. Currently, Thurman is filming Apple TV+'s Suspicion. She's also signed on to star in Tau Ceti Four.
Harvey Keitel (Winston Wolfe)
As Winston Wolfe, a professor cleaner who tidies up other people's messes, Harvey Keitel plays a sharp-dressed character in Quentin Tarantino's Pulp Fiction. Prior to this performance, Keitel worked with Tarantino on Reservoir Dogs, which he co-produced. He also starred in Bad Lieutenant, Blue Collar, Mean Streets, The Piano, and Cop Land. Additionally, Keitel was Oscar-nominated for Bugsy. His other big film credits include Thelma & Louise, The Last Temptation of Christ, Taxi Driver, From Dusk 'Til Dawn, Red Dragon, The Grand Budapest Hotel, Youth, Sister Act, Clockers, Get Shorty, U-571, Little Nicky, Little Fockers, The Congress, National Treasure, Isle of Dogs, and The Irishman.
Additionally, on TV, Harvey Keitel starred in ABC's Life on Mars. He also appeared in N.Y.P.D., Kojak, Hogan's Heroes, Amazing Stories, Dark Shadows, and Inside Amy Schumer. Most recently, Keitel starred in Lansky and Blood on the Crown. Last year, the actor appeared in The Painted Bird and Fatima. Next, he'll be seen in Gandhi of the Month, The Baker, Unto the Sun, The Legitimate Wiseguy, and Live Fast, Die Laughing.
Tim Roth (Ringo/"Pumpkin")
In the role of Ringo, i.e. "Pumpkin," a small-time stick-up artist, Tim Roth plays a supporting antagonist in Pulp Fiction. Prior to this performance, Roth appeared in Reservoir Dogs. Later, the actor reunited with Quentin Tarantino with Four Rooms and The Hateful Eight. Most notably, Roth was Oscar-nominated for his supporting turn in Rob Roy. Additionally, his other film credits include Vincent & Theo, Rosencrantz & Guildenstern Are Dead, Gridlock'd, Everyone Says I Love You, Planet of the Apes (2001), The Incredible Hulk, Youth Without Youth, Hardcore Henry, Selma, Funny Games (2008), Invincible, The Musketeer, The Hit, and The Cook, The Thief, His Wife, & Her Lover.
Additionally, on television, Tim Roth starred in Fox's Lie to Me and Sky Atlantic's Tin Star. Outside of acting, Roth directed The War Zone. Most recently, the actor had a supporting role in The Misfits. He also stars in Bergman Island, which premiered at the Cannes Film Festival. Next, Roth will be seen in The Jesuit. He'll also appear in Punch. Additionally, Roth reprises his role as Emil Blonsky/Abomination in Disney+'s She-Hulk.
Bruce Willis (Butch Coolidge)
Playing the part of Butch Coolidge, an over-the-hill boxer who agrees to lose a match for a bride from Marsellus Wallace, Bruce Willis was a protagonist in Quentin Tarantino's Pulp Fiction. Following his two-time Emmy-nominated role in ABC's Moonlighting, Willis became an action superstar for his portrayal of John McClane in Die Hard, spanning a film franchise. Additionally, he's known for starring in 12 Monkeys, The Sixth Sense, The Fifth Element, Hudson Hawk, Sin City, Armageddon, The Whole Nine Yards, Tears of the Sun, Unbreakable, Looper, RED, and RED 2. Also, the A-list actor was seen in Moonrise Kingdom, Cop Out, The Expendables, The Last Boy Scout, Planet Terror, Four Rooms, The Siege, Surrogates, Four Room, and Glass, reuniting him with Samuel L. Jackson.
Most recently, Bruce Willis was seen in Cosmic Sin. Next, he'll appear in Out of Death, Midnight in the Switchgrass, Reactor, Apex, American Siege, Gasoline Alley, The Fortress, Soul Assassin, and A Day to Die. Currently, Willis is filming Paradise City. Also, the actor is signed on to appear in Killing Field, White Elephant, and Hair of the Dog.
Amanda Plummer (Yolanda/"Honey Bunny")
As Yolanda, i.e. "Honey Bunny," Pumpkin's small-thief girlfriend, Amanda Plummer plays a supporting antagonist in 1994's Pulp Fiction. Most notably, Plummer won a Tony for her 1982 performance in Agnes of God. Furthermore, she was Tony-nominated for 1981's A Taste of Honey and 1987's Pygmalion. Her other notable film credits include The Fisher King, Joe Versus the Volcano, The Hunger Games: Catching Fire, A Simple Wish, The Prophecy, Needful Things, The World According to Garp, Made in Heaven, Freejack, and So I Married an Axe Murder. Moreover, Plummer is heard in Hercules.
Additionally, on television, Amanda Plummer won an Emmy for her supporting turn in NBC's Miss Rose White. Furthermore, she won two additional Emmys for her guest performances in The Outer Limits and Law & Order: SVU. Plummer was also Emmy-nominated for L.A. Law. Most recently, the actress played a recurring role in Netflix's Ratched. She also appeared in Night Raiders, which recently premiered at the Berlin International Film Festival. Currently, Plummer is filming Kelly Reichardt's Showing Up.
Ving Rhames (Marsellus Wallace)
In the role of Marsellus Wallace, the boss of Vincent, Jules, and Butch, Ving Rhames takes on a powerful personality in Quentin Tarantino's Pulp Fiction. Outside of this performance, Rhames is known for his recurring part in the Mission: Impossible movies — the only other actor besides Tom Cruise to appear in all six. Additionally, Ving Rhames is recognized for Bringing Out the Dead, Con Air, Entrapment, Out of Sight, Jacob's Ladder, Striptease, and Dawn of the Dead (2004). His other notable film credits include Baby Boy, Dave, The People Under the Stairs, Native Son, Stop! Or My Mom Will Shoot, Blood In Blood Out, Dark Blue, I Now Pronounce You Chuck and Larry, Piranha 3D, and The Goods: Live Hard, Sell Hard. Also, Rhames is the voice of Cobra Bubble in Lilo & Stitch.
Additionally, on television, Ving Rhames was Emmy-nominated for his title role in HBO's Don King: Only in America. The character actor also appeared in Kojak, The District, and ER. Next, Rhames will reprise his role as Luther Stickell in Mission: Impossible 7 and 8.
Rosanna Arquette (Jody)
Playing the part of Jody, Lance's wife, Rosanna Arquette has a minor role in 1994's Pulp Fiction. Away from this film, Arquette was Emmy-nominated for her work in NBC's The Executioner's Song. She also received a BAFTA nomination for her supporting turn in Desperately Seeking Susan. Her other notable film credits include After Hours, Crash (1996), The Big Blue, Buffalo '66, The Whole Nine Yards, Gone Fishin', The Wrong Man, Nobody's Fool, Silverado, New York Stories, and Nowhere to Run. Additionally, Arquette directed two documentaries, Searching For Debra Winger and All We Are Saying.
Furthermore, on TV, Rosanna Arquette starred in ABC's What About Brian. She also led Sideswiped and Shirley. Her other notable TV credits include Private Practice, Girls, Ray Donovan, Law & Order: SVU, Medium, Grey's Anatomy, Malcolm in the Middle, and The L Word. Most recently, Arquette had a recurring role in Netflix's Ratched. Coming up next, the actress is expected to appear in Aramingo Avenue, Not Born, and Futura Days. Additionally, Arquette will star in The Playboy Interview and The Velvet Gentlemen.
Christopher Walken (Captain Koons)
As Captain Koons, a Vietnam War veteran with a personal connection to Butch's past, Christopher Walken provides a memorable cameo in Quentin Tarantino's Pulp Fiction. An acclaimed actor with over 100 film and TV credits to his name, Walken is best known for his Oscar-winning supporting turn in The Deer Hunter. Additionally, he was Oscar-nominated for Catch Me If You Can. His other notable film credits include Annie Hall, A View to a Kill, Batman Returns, The Dead Zone, Wedding Crashers, Click, Vendetta, Seven Psychopaths, Joe Dirt, and The Prophecy. Furthermore, Walken was seen or heard in The Jungle Book (2016), Antz, Irreplaceable You, Kangaroo Jack, The Stepford Wives (2004), Balls of Fury, Domino, The Rundown, Hairspray, and Blast from the Past. Also, he was at the center of Fatboy Slim's "Weapon of Choice" music video.
Most recently, Christopher Walken starred in Percy Vs. Goliath. He also appeared in The Jesus Rolls, The War with Grandpa, and Wild Mountain Thyme. Next, Walken frontlines AppleTV+'s Severance and Amazon/BBC's The Offenders. He's also expected to return for Wedding Crashers 2, with Owen Wilson.
Maria de Medeiros (Fabienne)
In the role of Fabienne, Butch Coolidge's French girlfriend, Maria de Medeiros plays a secondary character in Pulp Fiction. A Portuguese actress-singer with over 100 acting credits to her name, Medeiros is best known for her work in Adao e Eva, Midsummer Madness, The Saddest Music in the World, The Forbidden Room, Chicken with Plums, Polygraph, Henry & June, My Life Without Me, and The Killer. Additionally, the actress wrote and directed A Prince's Death and wrote, directed, and starred in April Captains. She's also helmed Our Children, Welcome to Sao Paulo, Repare Bem, Je t'aime... moi non plus: Artistes et critiques, and several short films. Outside of film, Medeiros has four albums on her discography, including 2016's The Piano's Playing the Devil's Tune.
Most recently, Maria de Medeiros was seen in Moral Order and In the Country of Last Things. Additionally, this year, the actress appeared in Ordem Moral - A Minissérie — an extension of the film. Next, she will be heard in What Spring Does with the Cherry Trees.
You can stream Pulp Fiction on HBO Max.
Will is an entertainment writer based in Pittsburgh, PA. His writing can also be found in The Playlist, Cut Print Film, We Got This Covered, The Young Folks, Slate and other outlets. He also co-hosts the weekly film/TV podcast Cinemaholics with Jon Negroni and he likes to think he's a professional Garfield enthusiast.