Uma Thurman: 11 Great Movies And TV Shows She's Done Since Kill Bill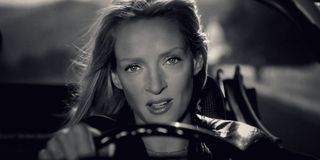 CinemaBlend participates in affiliate programs with various companies. We may earn a commission when you click on or make purchases via links.
When you hear the name Uma Thurman, what is the first movie title that comes to your mind? It could be Quentin Tarantino's instant classic crime drama Pulp Fiction from 1994, or the actress' second time working with the acclaimed director on the two-part revenge epic Kill Bill, or even one of the more infamous Batman movies: 1997's Batman & Robin, in which she plays Poison Ivy. Well, I cannot help but say that, if those are the only three titles from the Academy Award nominee's resume you recognize, we have many other recommendations of Uma Thurman movies and TV shows from more recent years you should check out, starting with a powerhouse collaboration between two of Hollywood's most talented leading ladies.
Prime (2005)
A divorced, career-driven photography producer in her late 30s (Uma Thurman) falls into a passionate affair with an artist who is 10 years younger than she is (Bryan Greenberg in his first credited feature film role). However, her therapist (three-time Academy Award winner Meryl Streep) ruins this long awaited moment of bliss when she reveals that the man she has recounted vividly intimate details about is her son. If not for the charming performances by Thurman and Streep, Prime is a romantic comedy from Ben Younger (also the writer and director of Boiler Room and Bleed for This) that will amuse you with its inventive concept, engaging wit, and surprising amount of heart.
The Producers (2005)
Uma Thurman continued to flex her comedy muscles in 2005 with this uproarious satire set in the world of musical theater directed by five-time Tony Award-winning stage choreographer Susan Stroman. In The Producers, based on the hit musical based on a hit movie by Mel Brooks, Nathan Lane and Matthew Broderick reprise roles they once played on stage as a disgraced Broadway producer and his accountant who cook up a scheme to profit off of the worst play that they can find in the late 1950s. Thurman enters the picture as a desirable, but quite dim, Swedish woman who is cast as the leading lady in the centerpiece show, Springtime for Hitler - written by an escaped Nazi (Will Ferrell).
Smash (2012-2013)
Years later, Uma Thurman would return to the world of musical theater on television with this short-lived, but much-acclaimed, series which lasted 32 episodes on NBC. Also featuring American Idol star Katharine McPhee and future Academy Award nominee Leslie Odom Jr. before scoring Hamilton, Smash follows the drama that occurs onstage and backstage among the performers and crew of a Broadway show inspired by the life of Marilyn Monroe. Thurman was nominated for an Emmy for her recurring stint in Season 1 as a movie star pushing for a role in the production, only to be forced out by nearly deadly means.
The Life Before Her Eyes (2008)
Speaking of deadly circumstances, Uma Thurman's character in this adaptation of the novel by Laura Kasischke is a wife and mother haunted by a devastating school shooting that resulted in the death of her best friend (Eva Amurri Martino) 15 years earlier. Her flashbacks to when she was a teen (as played by Evan Rachel Wood of the Westworld cast fame) begin to cause complications for her in her present day life, worsening the survivor's guilt she has lived with since the day of the tragedy. There is more to The Life Before Her Eyes, however, that I will not give away, but makes this somber, thought-provoking drama a ride worth taking.
Percy Jackson And The Olympians: The Lightning Thief (2010)
One of the more popular book adaptations starring Uma Thurman is this 2010 young adult fantasy adventure that could be described as "Harry Potter for fans of Greek Mythology." The first of a franchise that did not continue past its two installments (but reportedly has a Disney+ TV series reboot in the works), Percy Jackson and the Olympians: The Lightning Thief stars Logan Lerman as the titular teenager, who discovers that he is the son of Poseidon when he is accused of stealing Zeus' lightning bolt. His friends Grover (Brandon T. Jackson) and Annabeth (Alexandra Daddario) join him on a quest to clear his name - during which they encounter many mythical legends, such as Thurman as the furious, snake-haired Medusa.
Nymphomaniac Vol. I And Vol. II (2013)
Uma Thurman gives a brief, yet powerful performance that is less furious, but an inventive mix of helplessly broken and staunchly vengeful, in another drama from a prolific indie filmmaker that is split into two parts. Writer and director Lars von Trier's Nymphomaniac is framed as a conversation between a woman (Charlotte Gainsbourg) and a man (Stellan Skarsgård), to whom she retells the most significant events of her life as a self-diagnosed sex addict after he finds her beaten in an alley. One of these stories involves a sexual encounter interrupted by Thurman as the hysterical wife of the man she has been sleeping with, who decides to bring her children to witness the cause of the their parents' split.
The House That Jack Built (2018)
Uma Thurman has yet another brief, but undoubtedly memorable, role in her second collaboration with Lars von Trier, which deals with entirely different subject matter than that of Nymphomaniac, but would prove to be even more controversial in 2018. Not to be confused with the cherished nursery rhyme, The House That Jack Built stars Matt Dillon in the title role - a highly intelligent but deeply disturbed man who commits a series of increasingly brutal murders over the course of 12 years which he proudly reminisces on as an art form. Thurman plays his very first victim - a woman who repays him for helping her when her car breaks down on the side the road with persistent rudeness that ultimately unleashes his dark side.
The Slap (2015)
The concept of one seemingly minor incident causing a devastating ripple effect is actually the central focus of this eight-part limited series that aired on NBC. Uma Thurman joins an all-star cast - including Melissa George (reprising her role from the original Australian miniseries that The Slap is based upon), Zachary Quinto from the Star Trek movies, and Emmy-winner Brian Cox - as members of a Greek family and their friends torn apart by one man's choice to physically punish another person's misbehaving child at a party. What happens next is a gripping morality tale that challenges its viewers to question who they believe is on the right side of the argument.
Burnt (2015)
That same year, Uma Thurman once again was part of a stellar cast, led by Bradley Cooper, in this redemption story set in the world of culinary arts. The actress puts on a relatively convincing British accent in Burnt as a notoriously cruel food critic who, despite her rocky history with washed-up American chef Adam Jones (Cooper), is convinced to help him achieve his comeback at a top restaurant in London run by an uptight manager (Daniel Bruhl from the Falcon and the Winter Soldier cast). It is yet another brief, but memorable performance in an overall entertaining and flavorful dramedy.
Down A Dark Hall (2018)
Uma Thurman puts on a French accent and an unsettling disposition to play Madame Duret - headmistress of the Blackwood Boarding School in this supernatural horror thriller. Based on the novel by Lois Duncan (also the author of the book that inspired I Know What You Did Last Summer in 1997), Down a Dark Hall stars AnnaSophia Robb as a young woman whose behaviors lead her and a handful of other teenagers to be forcibly enrolled at the facility that promises to correct their troubled ways. However, the girls soon become plagued by unexplainable, horrifying events which Thurman's character seems to be connected to somehow.
Chambers (2019)
Uma Thurman's character in this series also seems to be somehow connected to unexplainable, horrifying events plaguing a teenage girl. She plays a wife and mother whose young daughter's heart was used in a transplant that saved heart attack victim Sasha Yazzie (Sivan Alyra Rose), who soon begins to suffer from strange hallucinations and sudden changes in her personality after the procedure. Also starring Tony Goldwyn from the Scandal cast, Chambers is one of twisted horror TV shows made exclusively for Netflix.
Currently, Uma Thurman is filming the upcoming Apple TV+ drama series Suspicion, along with Kunal Nayyar of The Big Bang Theory cast and, as well as Hollywood Stargirl - a sequel to the Disney+ original film Stargirl - opposite Grace VanderWaal and Judy Greer of Marvel movies fame - and Tau Ceti Four, a sci-fi thriller with Vikings cast veteran Travis Fimmell and Die Hard director John McTiernan at the helm, is now in pre-production. Is there a return to her role as Beatrix "The Bride" Kiddo in a Kill Bill Vol. 3 in her future? Unless Quentin Tarantino wants to make that long-anticipated third installment his tenth and supposedly final film, it is not too likely. But, never say never.
Your Daily Blend of Entertainment News
Jason has been writing since he was able to pick up a washable marker, with which he wrote his debut illustrated children's story, later transitioning to a short-lived comic book series and (very) amateur filmmaking before finally settling on pursuing a career in writing about movies in lieu of making them. Look for his name in just about any article related to Batman.