Marvel's What If...?: Premiere Date, Cast And Other Quick Things We Know About The Disney+ Series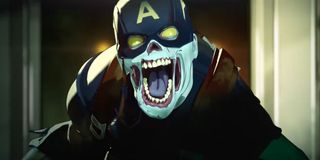 CinemaBlend participates in affiliate programs with various companies. We may earn a commission when you click on or make purchases via links.
Have you ever wondered how your favorite characters from the Marvel movies could have ended up if certain events canon to the Marvel Cinematic Universe had turned out differently? Well, soon you will not have to think about it for yourself because What If…?, one of the most anticipated upcoming Marvel TV shows, aims to explore that question by reinventing the timeline with a series of individual animated one-shots. Just like all the best Marvel movies, there is plenty of mystery that still surrounds this Disney+ exclusive, but the following is a quick, convenient guide of everything that we can tell you about it so far, such as when you can expect to stream it.
What If…? Premieres On Disney+ August 2021
Marvel Studios began to announce their plans for a slew of new episodic content to be made exclusively to stream on Disney+ in September 2018. Mentions of a show inspired by the anthological comic book series What If…? (which began imagining things like Spider-Man joining the Fantastic Four or Iron Man betraying the Avengers when it debuted in February 1977) was reported in early 2019 and officially announced that April.
More than two years later, it was announced that the premiere episodes of What If…? will be available to stream on Disney+ Wednesday, August 11, 2021. This is the first animated series produced by Marvel Studios since they became their own production company and helming the project is someone who has been involved with the MCU almost since the beginning.
Marvel Movies Storyboard Artist Bryan Andrews Directs What If…?
Bryan Andrews has won four Emmys for his work on acclaimed animated series like Star Wars: Clone Wars and Samurai Jack (which both have uncredited Iron Man 2 storyboarder Genndy Tartakovsky in common). The 2010 Iron Man sequel was actually Andrews' first gig with Marvel Studios as a storyboard artist himself, which was followed by several more that include 2012's The Avengers, both of the Guardians of the Galaxy movies, and Avengers: Endgame in 2019, most recently.
What If…? will be Bryan Andrews' third directorial effort, having helmed episodes of Men in Black: The Series and Jackie Chan Adventures. If that is not enough to convince you that the show is in good hands, he is not alone.
A.C. Bradley Is The Showrunner For What If…?
Serving as the head writer of What If…? is A.C. Bradley, who has never collaborated with Marvel Studios before, but does know a thing or two about comic book adaptations, having written an episode of Arrow - formerly of the most popular DC TV shows on The CW. He has also worked as a writer and story editor for the Netflix original animated series Trollhunters: Tales of Arcadia and its spin-off 3Below: Tales of Arcadia.
Also working behind the scenes of What If…? are composer Laura Karpman of HBO's Lovecraft Country fame, head animator Stephen Franck (known for the original 1996 Space Jam, Brad Bird's The Iron Giant, and the Tim Burton produced adventure 9), and, of course, Kevin Feige in the producer's position. As for the voice cast - well, that is a much longer list.
Many Marvel Movie Actors Return To Voice Their Characters On What If…?
One of the most exciting things about What If…? is that the same Marvel movie actors who brought these characters to life in live action on the big screen are returning to reprise them on the animated series. At least 20 familiar names are lending their voices to the What If…? cast.
You could honestly throw a dart on a board displaying most names in the Marvel movies cast and likely find one who also has a role on What If...?, including Hayley Atwell as Peggy Carter, Josh Brolin coming back as Thanos, Samuel L. Jackson's Nick Fury, and even This is Us' Chris Sullivan reprising his Guardians of the Galaxy Vol. 2 role as Taserface. Speaking of the Guardians, a new reimagining of that story will be featured in what is sure to be a very special and bittersweet episode.
What If…? Is Officially The Final Acting Role Of Chadwick Boseman
In 2020, the Marvel Cinematic Universe lost one of its most valuable players when Chadwick Boseman passed away on August 28. The Black Panther star had been battling colon cancer in private for years, which made his death at only 43 all the more shocking.
While his Academy Award nominated role in the Netflix original movie Ma Rainey's Black Bottom was recognized as his final performance, the beloved actor's true curtain call will appear on What If…? Chadwick Boseman voices the titular role from Black Panther in an episode that imagines T'Challa as the one Yondu Udonta (Michael Rooker) abducts from Earth to become Star-Lord instead of Chris Pratt's Peter Quill.
Jeffrey Wright Narrates What If…? As The Watcher
The What If…? cast is also not without its newcomers to the Marvel Cinematic Universe. The comic that the show is based on is narrated by Uatu, a member of the extra-terrestrial race known as the Watchers who observes Earth and the infinite possibilities that exist throughout the Marvel Multiverse from outer space.
Providing the voice of The Watcher is Jeffrey Wright, making his MCU debut on the animated series, but not his only comic book adaptation, having also been cast in 2022's The Batman and its upcoming HBO Max spin-off series as Jim Gordon. The 55-year-old actor, who won an Emmy in 2004 for the HBO miniseries Angels in America, has also lent his voice to shows like Netflix's Bojack Horseman is known for playing Bernard Lowe on Westworld.
What If…? Season 2 Is Already In Development
It was reported in 2019 that What If…? will produce 23 episodes, each supposedly depicting an alternate narrative for all 23 Marvel movies in order that had been released at that point. Well, with only 10 episodes scheduled to come out in 2021, that prediction just does not add up.
Never fear, as Kevin Feige would confirm in December 2019 that What If…? Season 2 is already being planned as we speak. With the story of the Marvel Cinematic Universe continuing to expand with each new movie and TV show and the endless amount of possibilities that exist in the Marvel Multiverse, I would not be surprised if this show was in it for the long haul.
I have always believed that no streaming service is complete without its own anthology series (like how Netflix has Black Mirror and Hulu has Castle Rock) and I think dipping into their Marvel property was a perfect way to make that a reality for Disney+. As an admirer of anthological storytelling and using the imagination to screw up canonical timelines, I am honestly looking forward to What If…? the most out of all the upcoming Marvel TV shows. Would you agree?