Space Jam: A New Legacy Streaming: How To Watch The Lebron James Looney Tunes Movies Online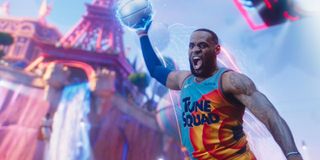 CinemaBlend participates in affiliate programs with various companies. We may earn a commission when you click on or make purchases via links.
The live-action/animation crossover event of the century is finally here! That's right, the long awaited (and even longer rumored) Space Jam: A New Legacy, which sees Lebron James team up with some of Looney Tunes and Warner Bros. all-stars, opens in theaters Friday, July 16, bringing on-court action we haven't seen in a quarter-century. But in addition to watching all the action on the silver screen, you can also watch the new and improved Tune Squad take on a new and even more formidable enemy from the comfort of your own home.
In fact, the process of watching Space Jam: A New Legacy streaming is fairly simple and won't require you to digitize yourself and attempt to save your son from a rogue artificial intelligence played by Emmy-nominee Don Cheadle. Here's your chance to do your dance at the Space Jam or at least watch it from home.
Where Is Space Jam: A New Legacy Streaming
Like the rest of the Warner Bros. 2021 theatrical slate, Space Jam: A New Legacy is playing in theaters and streaming HBO Max simultaneously. The movie will be available on HBO Max starting Friday, July 16. This groundbreaking model, which gave subscribers access to movies like Wonder Woman 1984, Godzilla vs. Kong, and Mortal Kombat, to name only a few, makes it easier than ever before to watch new movies. If you want to watch Space Jam: A New Legacy streaming, all you have to do is go to HBO Max on your preferred streaming device or web browser and you'll find the movie on the home screen.
There are a couple things to remember about this setup. First, Space Jam: A New Legacy will only be available on HBO Max (for now, anyway) for 30 days, meaning you have until August 15 to take in all the action and Warner Bros. characters. Second, HBO Max subscribers with the low-cost ad-supported membership won't be able to watch Space Jam: A New Legacy at this time. It's only available for subscribers with the ad-free membership.
Catch the trailer for Space Jam: A New Legacy on HBO Max (opens in new tab). If you're not an HBO Max subscriber, you can sign up here (opens in new tab).
Will Space Jam: A New Legacy Be Available On Netflix?
Netflix has a ton of great movies and shows but will Space Jam: A New Legacy be available on the streaming giant at some point in the future? If the Lebron James-led animated sports movie ever comes to Netflix, it will most likely be some time before we see it. All of the other Warner Bros. movies that have been released on HBO Max during their theatrical run have eventually come back to HBO Max a few months later. That being said, don't expect on seeing Bugs Bunny, Daffy Duck, or the rest of the Toon Squad on Netflix for quite some time.
How To Watch The Original Space Jam Online
If you want to check out the original Space Jam before jumping into A New Legacy, don't worry because you can watch the 1996 box office smash hit a few different ways. Whether you want to watch Space Jam streaming or maybe rent or buy a digital copy, we've got you covered.
Stream Space Jam on HBO Max. (opens in new tab)
Stream Space Jam on Hulu. (opens in new tab)
Rent/Buy Space Jam on Amazon. (opens in new tab)
All that is left to do now is try to fit into that old Tune Squad jersey that has been collecting dust for 25 years, find a spot on the couch, and get ready for the Space Jam. Before that don't forget to check out all the other 2021 movies coming to a theater (and streaming service) near you.
Philip grew up in Louisiana (not New Orleans) before moving to St. Louis after graduating from Louisiana State University-Shreveport. When he's not writing about movies or television, Philip can be found being chased by his three kids, telling his dogs to stop yelling at the mailman, or yelling about professional wrestling to his wife. If the stars properly align, he will talk about For Love Of The Game being the best baseball movie of all time.
Your Daily Blend of Entertainment News
Thank you for signing up to CinemaBlend. You will receive a verification email shortly.
There was a problem. Please refresh the page and try again.