Pray Away: Release Date And 6 Quick Things We Know About Netflix's Conversion Therapy Documentary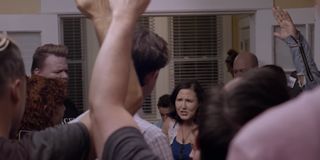 Over the years, Netflix has released award-winning and critically-acclaimed documentaries that have focused on everything from the unconventional bond between a diver and an octopus to the way social media and technology changes users' brains, and everything in between. The upcoming Pray Away Netflix documentary will soon touch on one of the most troubling and heartbreaking subjects: Conversion therapy.
This feature-length documentary, which was produced in a collaboration by Blumhouse Productions and Ryan Murphy, will expose viewers to a world in which certain members of the Christian faith feel they can use prayer, faith, and the Holy Bible to "cure" members of the LGBTQ+ community and the fallout of their actions. Below we will break down what Pray Away is about, when you can watch it, and other key details about the highly-anticipated documentary.
Pray Away Premieres August 3 On Netflix
Starting Tuesday, August 3, everyone with a Netflix subscription will be able to watch Pray Away streaming and learn about the conversion therapy movement, its leaders, and the harm it has caused to the LGBTQ+ community over the course of the past few decades as well as how some of those involved are still dealing with its effects all these years later.
Pray Away Tells The Story Of The 'Pray The Gay Away' Conversion Therapy Movement And Its Regretful Leaders
The Pray Away Netflix documentary will center on the rise of the "Pray the Gay Away" movement as told by former members of Exodus International, a group founded in the 1970s by a five "ex-gay" men in an evangelical church who felt prayer and their faith could cure them of their hoxosexuality and find out why they were that way. What started out as a small group became something much larger and dangerous in the years following after the men received 25,000 letters from people in similar situations who also wanted to be cured. What followed, and what will be told in Pray Away, was the formation of the largest conversion therapy organization the world has ever seen.
In the years following the rise of Exodus International, many of its core members, who were superstars of the religious right for a time, have expressed regret for their actions and the movement they helped start and push all those years ago.
Pray Away Also Spends Time With A Survivor Of Conversion Therapy Who Are Still Dealing With The Trauma
In addition to touching on the formation and legacy of Exodus International, Pray Away also spends a considerable amount of time with Julie Rodgers, who not only went through conversion therapy herself but actually was one of the group's most prominent speakers before playing a role in shutting it all down. Throughout the documentary, Rodgers' story of survival and redemption will be told in great detail as she still tries to overcome the trauma caused by the experience.
Director Kristine Stolakis Has Described Pray Away As A 'Personal Journey'
Documentarian Kristine Stolakis, who made her feature debut with Pray Away, has a personal connection to the new Netflix documentary, as she explained during a June 2021 interview with Women And Hollywood. When asked to describe the film in her own words, Stolakis had this to say:
The story of her uncle and her own questions about conversion therapy in general led to Kristine Stolakis embarking upon a four-year journey with Pray Away being the result of those questions.
Pray Away Is The Latest Collaboration Between Blumhouse And Ryan Murphy
The Pray Away Netflix documentary was made possible through a collaboration between Jason Blum's Blumhouse Television and Ryan Murphy, according to Netflix. When the documentary lands on the streaming service in August, it will be the third time the two have worked together in the past decade, with previous collaborative efforts being the 2014 HBO original movie The Normal Heart (which earned the pair a Critics' Choice Award, a Primetime Emmy, and several other accolades) and the 2020 Netflix documentary A Secret Love.
Pray Away Made Its World Premiere At The 2021 Tribeca Film Festival
Pray Away will be making its streaming debut on Netflix come August, but Kristine Stolakis' eye-opening and heartbreaking documentary already had its world premiere at the 2021 Tribeca Film Festival in New York City on June 16. The new documentary film was originally slated to open at both Tribeca and Telluride Film Festival in 2020, but those film festivals, as well as numerous others, were cancelled due to the ongoing COVID-19 pandemic. Following the screening during Tribeca in 2021, Pray Away was a hit with critics and currently has a 100% Certified Fresh rating on Rotten Tomatoes.
The Pray Away Trailer Is Out Now
If you want to see a little piece of Pray Away yourself to better understand the concept of conversion therapy and how it affects the lives of everyone involved in the process, you can check out the heartbreaking trailer for the upcoming Netflix documentary (which has a PG-13 rating) down below:
As you can see in the nearly three-minute trailer, director Kristine Stolakis doesn't hold back in her tackling of the controversial conversion therapy.
Pray Away, which looks to be one of the most gripping and talked about 2021 Netflix movies, premieres Tuesday, August 3. If you want to know what other documentaries (and other shows) are coming to Netflix, other streaming services, and standard television, check out CinemaBlend's 2021 summer TV schedule.
Philip grew up in Louisiana (not New Orleans) before moving to St. Louis after graduating from Louisiana State University-Shreveport. When he's not writing about movies or television, Philip can be found being chased by his three kids, telling his dogs to stop yelling at the mailman, or yelling about professional wrestling to his wife. If the stars properly align, he will talk about For Love Of The Game being the best baseball movie of all time.